Most of us have grown up hearing about the many miraculous properties of neem. It almost every Indian household, neem is an instant remedy for skin and hair related problems - from combating acne, pimples and chicken pox marks to reducing dandruff and frizzy hair. Neem is undoubtedly a power herb with as many as 130 types of bio-active compounds that work wonders for our beauty needs as well as in removing toxins from the body and promoting blood circulation. Regular intake of neem is also said to help in controlling high blood sugar, regulating blood pressure and improving digestive health.
If you have been wishing for beautiful skin, know that it won't just come about without you putting in a little effort. Apart from following a healthy lifestyle and a balanced diet, you also need to pamper your skin with natural beauty ingredients such as neem. In Ayurveda, neem is commonly known as an effective acne combatant and a great remedy for beautiful, glowing skin.
Here are three easy ways to include neem in your beauty routine:
1. As a skin cleanser
The antibacterial properties of neem help a great deal in keeping a check on breakouts like acne, pimples and black/whiteheads. It also helps in clearing excess oil and dirt from deep within the skin pores. The best way to use neem is to make a natural skin toner with it. Boil a handful of neem leaves in half a liter of water till it turns green. Cool, strain and store in a bottle. Use as a skin toner daily by applying it on your face and neck with the help of a cotton dab.
(Also read: 5 Skincare Habits That Are Unknowingly Damaging Your Skin)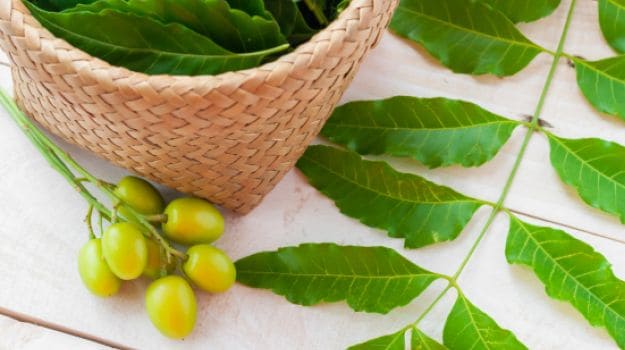 2. As a nourishing face pack
Neem helps in healing mild skin problems like rashes, irritation, burns and infections with its antibacterial and anti-inflammatory properties. It also helps in nourishing dry skin. Take two tablespoons of neem powder and sandalwood powder each, and add a little water and one tablespoon of rose water to make a paste. Apply it as a face pack and leave it on for 20 minutes. Wash with cool water and wipe clean.
Or make a mask with a paste of neem leaves and turmeric powder to bring black your skin's natural glow.
3. As an anti-dandruff hair solution
Dandruff and dry scalp can also be treated with neem. The change in weather can affect the scalp's pH balance, making your hair oily, frizzy or dandruff-prone, depending on your skin type. Dandruff, much like acne, can be significantly reduced with the purifying properties of neem. It can also be used to strengthen hair and prevent hair fall.
Take a handful of neem leaves and boil in a mixture of water and honey. Cool and strain, and then apply it to the scalp and hair, before washing with a mild shampoo. You can also use neem oil to massage the scalp.
Because of the amazing properties of neem, various skin and hair problems can be tackled with ease.
Comments
(Also read: 10 Food Ingredients That Can Help Keep Your Skin Acne Free)