Love oranges a bit too much? Well, did you know that you can also use the seasonal fruit to take care of your skin and keep it radiant? Citrus fruits like oranges are a great source of vitamin C, which is considered to be a powerful antioxidant that is responsible for fighting harmful free radicals and slowing down signs of ageing. Moreover, orange juice acts as a natural skin toner and a skin brightening agent that can help in improving your skin tone and its natural glow. As such it commonly features in natural skincare remedies and has been in use since the ancient times.
If you all for going the natural route to take care of you skin, then you should include oranges in your skincare routine. They are particularly a great ingredient for face packs. Wondering how to make the most of oranges? We list out three easy ways:
1. Orange and turmeric pack
The citric acids in oranges work as a skin toner that can help remove excess oil and tighten the skin pores. Turmeric, on the other hand, is known for its antimicrobial properties that can fight against skin breakouts like acne, pimples and blackheads. Combine these two ingredients to make a skin cleansing pack.
How to use: Peel an orange and then mash into a pulp. Add half a teaspoon of turmeric powder and mix well. You can thicken it with a tablespoon of gram flour and then apply it on your face and neck. Let it dry and then wash with cold water.
(Also read: So You Thought Haldi Was Just For Brides? Not At All)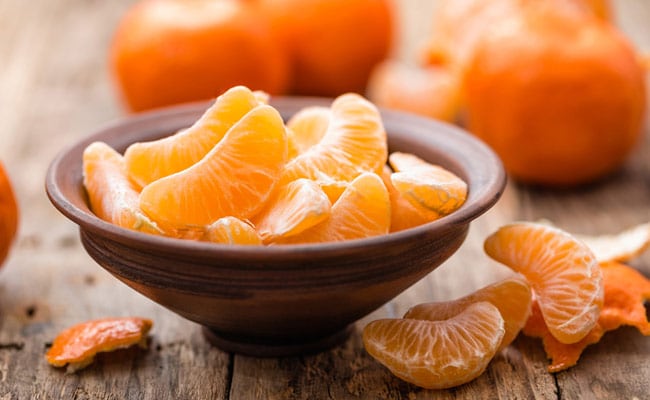 2. Orange, honey and banana
These ingredients are known for their skin nourishing properties and their ability to improve skin tone by reducing pigmentation and suntan.
How to use: Take an orange and a ripe banana and mash into a pulp. Add two tablespoons honey and then apply it generously on your face and neck in circular motions. Leave it on for 20 minutes and then wash with cold water.
(Also read: 3 Ways To Use Almonds For Soft And Glowing Skin)
3. Orange and sandalwood
Much like oranges, sandalwood too is an effective ingredient in cleansing the skin and bringing back its natural glow. It helps in removing dirt and grime from deep within the pores and in improving the skin tone.
How to use: Mash an orange and mix it with three tablespoons sandalwood powder and a few drops of rose water. Apply it on your skin after thoroughly cleansing and scrubbing the skin. Leave it on for 20 minutes and then wash with cold water.
Make the most of oranges and keep your skin healthy and happy.