Yes, you have read it right. It's not just banana or papaya, but watermelon too that can be added to your beauty regime to keep your skin glowing. The refreshing summer fruit is a powerhouse of essential nutrients like vitamins A, B complex and C, and potassium that are not only beneficial for health but your skin too. And the fact that watermelon is made up of 93 percent water, makes it the perfect ingredient to keep your skin nourished and hydrated.
Moreover, watermelon is a great source of antioxidants, such as lycopene (which gives it its rich red colour) and beta-carotene, which make it a great agent to fight dull looking skin and prevent sunburn and other skin problems. They also help in repairing damaged cells and regenerating new cells for a youthful look. Regular use of watermelon can help you fight oily skin, thus preventing clogged pores that lead to acne and pimples.
So if you are wondering how to get started with including watermelon in your beauty regime, we list our three easy ways:
As a skin toner
Since watermelon is slightly acidic, it works as a great skin toner to remove dirt and oil and keep the skin's natural glow.
How to use: Take half a cup of watermelon cubes and blend it along with a handful of mint leaves, and strain. Dip a cotton dab in it, and use it to apply on your skin after every wash.
(Also read: 9 Skincare Tips You Need To Follow To Be Monsoon Ready)
As a nourishing face pack
Team watermelon with banana and honey to make an effective face pack for smooth skin.
How to use: Take one cup of watermelon, one banana and one tablespoon honey, mash well and apply on your face. Leave it on for 15 minutes and then wash with cool water.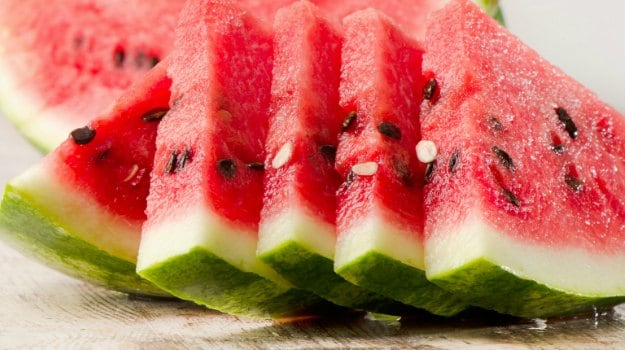 As a face and body scrub
Watermelon is an excellent scrub as it is rich in malic acid that helps remove dead skin cells.
How to use: Grate a big slice of watermelon and add one cup of granulated brown sugar and rose water. Use it to scrub your body and face and wash clean.
(Also read: 5 Reasons To Exfoliate Your Body Right Now)
Comments
Make the most of the nutritious watermelon and keep your skin healthy.