From the moment we have grown up, our worlds have been filled with homemade remedies and ayurvedic practices that has been answering most of the beauty and skincare woes for years now. Everyone in their households have been exposed to the yellow paste that's applied all over the body and skin, whether one likes it or not! That paste is none other than Ubtan, a traditional Ayurvedic recipe to detoxify the skin and body. Made with simple yet powerful ingredients, Ubtan is a magical formula that pampers your skin leaving it rejuvenated. Ubtan's popularly used for beautification and protection of skin dates back to years now and it's quite magical how this simple homemade blend works wonders for our skin till now!
How To Make Ubtan?
The concoction of Ubtan features herbs, spices, cereals, pulses, and nuts that work together to deeply cleanse the skin to reveal a natural glow. The various recipes of ubtan use different ingredients but some of the most common ingredients are chickpea flour, turmeric, sandalwood powder. However, if you're feeling experimental, you can definitely add more skin-friendly ingredients to it. Essentially, all the ingredients that can be found easily at home, and don't require you to spend a fortune on. Even, brands have started pre-formulated, herbal ubtan products that you can just apply to skin and nourish it. We understand, not everyone has the time to blend these ingredients and make pastes.
Swirlster Ubtan Skin And Body Care Products
(
237 ratings & 844 reviews
)
(
16 ratings & 36 reviews
)
(
884 ratings & 6,897 reviews
)
You Cannot Miss These Benefits Of Ubtan For A Glowing Skin
We all want that glowing skin and ubtan can help you achieve your skin goals.
1. Get That Glow
Ubtan is a natural face mask that's filled with loads of goodness. Gentle exfoliation with natural ingredients like gram flour leaves the skin feeling fresh. Regularly using ubtan to exfoliate your body and face will help you get radiant and spot-free skin.
2. Cleanse It Well
The importance of cleansing the skin well is emphasized in all beauty routines. However, choosing the right cleanser can be a nightmare. You can leave behind all that fuss and count on ubtan for clearing out all the dirt, impurities from within.
3. Hello To Clear Skin
Turmeric, the key ingredient in ubtan makes your skin clear and flawless that you always wanted.ubtan is your one-stop-solution to get the clear skin.
4. Prevents Acne
Turmeric and sandalwood present in ubtan act as natural toners and also prevent acne. Both of them have anti-bacterial and antifungal properties that help minimise acne.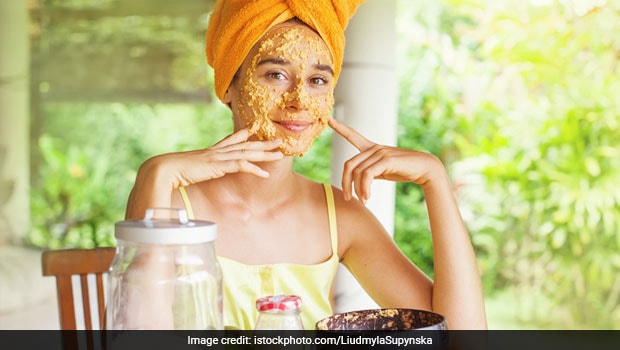 5. Gives Toned Skin
Sandalwood powder or chandan is known to act as a natural astringent for the skin. When used regularly it tightens your pores and gives your skin a firm and youthful look. It also helps in tan removal.
To browse more beauty products, head to NDTV Shopping.
Comments
Disclaimer: The Swirlster Picks team writes about stuff we think you'll like. Swirlster has affiliate partnerships, so we get a share of the revenue from your purchase.