By no means, are we new to celebrity collaborations. Global A-listers like Victoria Beckham and Lady Gaga have lent their names to mammoth makeup houses like Estee Lauder and MAC. It's also the trend du jour among Bollywood celebrities. But this one is different. In the latter half of the last year, 22-year-oldsupermodel Gigi Hadid announced a makeup collaboration with Maybelline. She had already been a face for the brand since 2015 so, with her sunny LA girl vibe and celebrity status, it was a natural progression.
With over 37 million followers on Instagram alone, Gigi is also a social media celebrity in addition to being a leading supermodel who has walked the ramp for the likes of Versace, appeared in campaigns for Moschino and Tom Ford, all while covering every magazine cover imaginable. So, it's evident that her following is young, loyal and obsessed.
Her much-awaited collection sold out within minutes last October and after all the buzz it received around the world, we couldn't wait for it to launch in India. Last week, at a sundowner in Mumbai, it did. From launch time to our trial of the Gigi Hadid x Maybelline collection, we've been obsessed and here are fivereasons why.
1. The Flashy Launch
The launch venue was decked with Gigi Hadid motifs all around, from blown-up cutouts to her signed products on stage. Maybelline makeup artist Elton Fernandez unveiled the 10 products which are now available in India and spoke about meeting the global team behind the collection. Bollywood actress Diana Penty also made an appearance at the launch, pairing her white Appapop dress with a red lip and bronzed smokey eyes from the collection.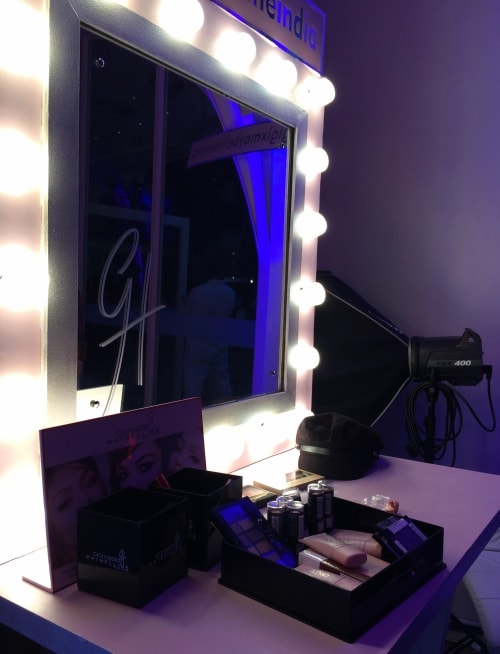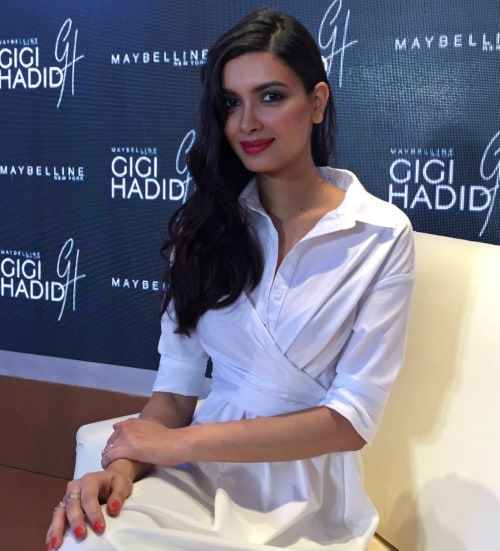 2. The Stunning Packaging
Before even trying a product, it's often the pretty packaging that catches our eye. The Gigi Hadid x Maybelline collection ticked that box, right off the bat. Every product from the range comes in a matte finished millennial pink case. Over it, is Gigi's signature and name in holographic tones with product shades at the base.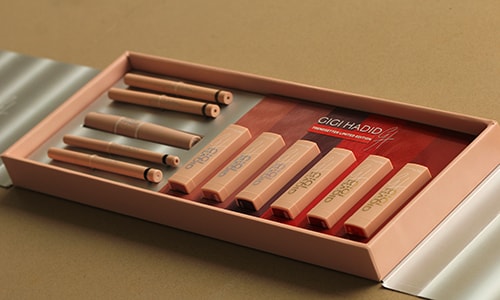 3. The Thought Behind It
Gigi was associated for two years with Maybelline before this big collaboration came about and Elton revealed how that happened. It all started because Gigi couldn't find the shades she wanted to wear herself, which Maybelline helped create from scratch. Now who would have thought that would turn into a sold-out makeup range?
4. The Names
Don't expect the lipsticks from this collection to come with stereotypical names like Ruby and Cocoa. The six lipsticks which are now available in India are named 'Erin', 'Taura', 'Khair', 'Lani', 'McCall' and 'Austyn' - each after a person. For instance, 'Khair' is named after Gigi's sister Bella Hadid whose favourite shade is red, 'McCall' after an old friend and 'Erin', for Maybelline global makeup artist Erin Parsons.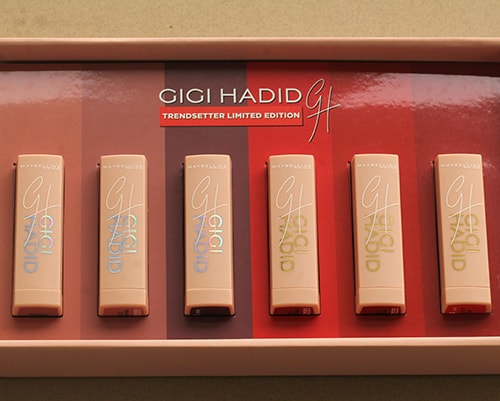 5. The Down To Earth Prices
Although you'd expect prices from a celebrity collaboration to be sky-rocketing, it isn't the case with this collection. The price of the current Indian collection starts from an affordable Rs 350 and goes up to Rs 699 for the most expensive product so far. High on style, without burning a hole in our wallets - that's the way we like it.
Although products like the tinted primer, strobe and palettes haven't launched in India just yet, we've got to say that this collection really blew us away.