Turmeric is a spice with medicinal and healing properties. It is a very commonly found and used condiment in all household purposes. Apart from sprinkling turmeric powder in cooking, it can also be used on the affected areas of your skin to reduce inflammation. The presence of curcumin in turmeric makes it a good source of antioxidants and immunity booster. It has been proven to have beneficial uses for your skin as well. It helps to remove dead skin cells, cleanse the pores and bring out a natural glow. Similarly, it helps to reduce acne breakouts and scarring by fighting against bacteria from your skin.
Turmeric helps to soothe your skin, treat uneven skin tone and restore natural glow. It prevents your skin against allergies such as psoriasis. Dark circles can also be treated with turmeric, as well as sunburn, tanning, pigmentation and ageing. Pimples and acne are a common skin issue that arises due to unhealthy eating habits and irregular sleeping patterns. But don't you worry about it. Turmeric is a magical ingredient that will make your skin glow radiantly.
How To Make Turmeric Face Masks
Here are 5 turmeric face masks for unraveling your natural glow.
1. Mask for a glowing skin
Add 2 tablespoon of flour to a small bowl. You can either use rice flour or ground oats for dry skin. Add one teaspoon of turmeric along with 3 tablespoons of raw milk. Yogurt can also be used as a substitute for milk which fights against acne. Add a few drops of honey and mix all these beauty ingredients. Apply a thin layer of the mask on your face and neck. Let it dry for 20 minutes and later rinse it with water by scrubbing your face in circular motion which will help to exfoliate your skin and restore the glow.
(Also read: Benefits Of Raw Turmeric: A Spice With Incredible Health Benefits)
2. Turmeric and fuller's earth mask
Take 2 tablespoons of fuller's earth in a small bowl and add few drops of lemon to it. Also add a few drops of honey and rose water along with a teaspoon of turmeric to make a fine paste. You can add aloe vera gel to the mixture. Apply it on your face and neck and let it stay for 15-20 minutes. Rinse it off with water. It will help to reduce pigmentation and fight against sunburn and acne. It will brighten and tighten your skin.
3. Turmeric acne mask
It is a soothing mask that treats acne without inflammation. Take apple cider vinegar to clean your face before applying the mask. Take 1/2 a teaspoon turmeric and add a few drops of honey to it. Apply the mask over your face and leave it for 10-20 minutes, then rinse your face with warm water. Milk can be used to remove the yellowish tint from your face. You can repeat this procedure twice a week.
(Also read: 8 Ways To Pamper Yourself With The Goodness Of Turmeric)
4. Face lift mask
Eggs are a good source of protein and helps to tighten the skin. Take an egg yolk and add a pinch of turmeric to it along with 1 teaspoon of organic extra virgin olive oil. Make a paste with these and apply it on your face. Let it dry for 20 minutes and rinse with warm water. It will help tighten your skin and rejuvenate dull cells.
5. Turmeric chickpea mask
Take 2 tablespoons of chickpea flour and half teaspoon of organic coconut milk. Add one teaspoon of cucumber juice and 1/3 teaspoon of turmeric. Give a good mix to all the ingredients and then apply the mask evenly on your face and leave it for 15 minutes. It will brighten your face. Rinse it not until it dries. It removes excess oil and dirt from your skin.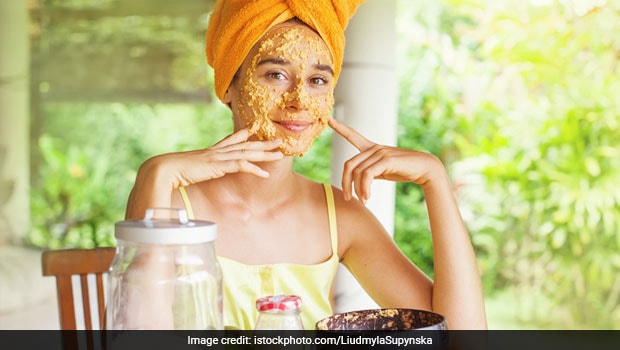 Tips to remember:
1. Always wash your face before applying the mask.
2. Raw milk should be used in the face masks.
3. Always moisturise your face after you remove the mask.
4. Avoid applying the mask near your eyes.
5. Pat dry your face using a clean towel.
Comments
Turmeric is antibacterial and a natural antiseptic that has many benefits. It is very effective in regulation of oil production on the skin and for acne prone skin. It incorporates healing properties to your daily routine; making your skin radiant and flawless. It is also effective for wrinkles and redness caused due to acne. It rejuvenates your skin by delaying signs of ageing. It can also be used to cure stretch marks on your body.