Even if you're stuck at home, don't give up on your dreams of getting the darker, fuller-looking eyebrows you've always wanted. Yes, dyeing your own brows feels intimidating but it's an easy task. If you're bored of picking up a brow pencil every single day and want to try an easier, cheaper, more long-lasting alternative, tinting will do your brows justice. It's all about finding a formula with good-for-you ingredients and easy instructions. The shape and colour of your eyebrows can transform the way you look. Well-defined eyebrows frame your eyes better than any makeup. Eyebrow tinting cuts down the time and effort to give you thicker, fuller, and Insta-worthy brows. Want to try eyebrow tinting at home? All you need is 5 to 10 minutes and a whole lot of, patience!
Swirlster Picks Beauty Products For Your Eyebrows
(
144 ratings & 586 reviews
)
(
461 ratings & 1,722 reviews
)
(
106 ratings & 894 reviews
)
What Is Eyebrow Tinting?
It's no surprise that people go to great measures to perfect their eyebrows. Eyebrow tinting is the process of temporarily enhancing, shaping, and defining the brows with semi-permanent dyes. They last for about two weeks and reduce the hassle of drawing, shaping, styling, and filling your brows every day with brow pencils and fillers. The key is to select the correct colour and formula. The dyes used for eyebrow tinting blends with the natural brow colour and do not look drawn on. It's a shockingly easy process.
How To Prepare For Eyebrow Tinting At Home?
1. Clean Your Brows
First, make sure your brows are clean and makeup-free. Then brush through them with a spoolie as you normally would. You can then apply a thin layer of Vaseline around your eyebrows to prevent accidental staining of the skin.
2. Prepare For The Colour
Once your brows are clean and prepped, it's time to mix the colour. Choose a shade that is two to three shades lighter than your eyebrow hair colour. Start at the front of your brow and simply dab on the dye all the way through to the end of your brow. Once you've done one eyebrow, saturate at every hair stop. This is extremely important if you want your brows to match.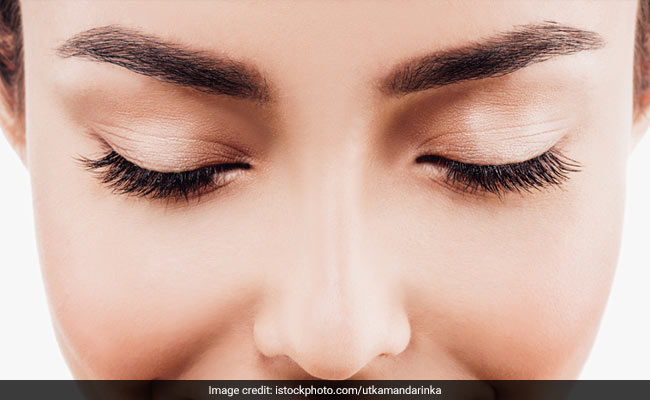 3. Wait And Watch
You can leave the formula on for seven to 10 minutes, but it's important to note that processing times will vary. The at-home tint does fade faster than an in-salon version. And if you end up looking too dark, there are a few quick fixes. Using a wet cotton pad or paper towel, wipe off the colour. Do it all over again on the second brow. Once your eyebrows dry, you are now ready!
DIY Recipes For Eyebrow Tinting At Home
1. Eyebrow Tint With Coffee
Mix 2 tablespoons of coffee grounds, 1 teaspoon of cocoa powder, 2 tablespoons of coconut oil and 1 tablespoon of honey. to prepare a smooth and thick paste. Allow the mixture to sit for a few minutes and then apply. This coffee, coconut oil, and honey mixture will also help soothe the raw skin.
2. Eyebrow Tint With Henna
Mix the henna powder and water in a bowl to form a paste. Ensure it is not runny. Add a pinch of indigo powder if you want a brown-burgundy tint. Henna paste may dry and flake. To prevent that, seal the eyebrows with a cling wrap and leave them like that for some time.
3. Eyebrow Tint With Charcoal
Mix aloe vera gel, cocoa powder, and vitamin E oil. Add activated charcoal powder to the mixture to form a smooth paste. Adjust the quantity as per the desired colour intensity. Leave the mixture on for 20 minutes.
To browse more beauty products, click here
Comments
Disclaimer:The Swirlster Picks team writes about stuff we think you'll like. Swirlster has affiliate partnerships, so we get a share of the revenue from your purchase.