Hair fall is a messy problem that affects us all. The crisis starts when it falls a lot more or refuses to grow back, leaving you with less volume and thining. There are many triggers, from nutrition to hereditary issues that are related to the cause of your hair fall. After recognising the root triggers of your hair loss, you have to find products and remedies that suit your hair. It's a trial-and-error process but a worthwhile way to save your beautiful locks. Following the easy route before we get down to getting the shampoo basics right, let's first figure out some homely beauty tips that align with your hair fall control goals.
Swirlster Picks Shampoos To Prevent Hair Fall For You
1. Tresemme Hair Fall Defence Shampoo
This one helps reinforce strength into the roots. It is enriched with advanced potent ingredients that target damaged areas and gives a much-improved version of it.
(
254 ratings & 4,364 reviews
)
2. mCaffeine Coffee Hair Fall Control Shampoo
These pure coffee extracts cleanse your scalp and exude a heavenly aroma. Caffeine in the shampoo is a super food to control hair fall.
3. Pantene Advanced Hair Fall Solution Shampoo
The hair fall control range from Pantene is specially designed to combat hair fall. Enriched with fermented rice water, it moisturizes hair strands, reduces breakage and hair fall.
(
131 ratings & 937 reviews
)
4. Biotique Bio Kelp Protein Hair Fall Solution Shampoo
This ayurvedic shampoo is rich in vitamins, nutrients and minerals that nourish the scalp and diminishes hair loss. Its natural proteins help for fresh hair growth.
(
406 ratings & 5,784 reviews
)
5. Organicure Natural Red Onion Hair Fall Shampoo
With onion oil and other naturally sourced hair vitamins, this one promotes hair growth, boosts volume, texture and thickness of the hair. It also contains no harsh chemicals.
6. Good Vibes Hairfall Control Shampoo
This deeply cleanses the scalp and nourishes hair. It takes care of your overall hair health and keeps it strong and flowing! Containing onions being rich in sulphur, it boosts hair growth.
7. Arata Natural Regenerating Anti-Hair fall Super Shampoo
This natural shampoo contains powerful extracts of argan oil and apple cider vinegar, which offer therapeutic benefits for preventing hair fall and thinning
8. Kaya Clinic Hair Nourishing Shampoo
This one is a mild shampoo with hibiscus extracts and almond oil for clean, refreshed scalp and soft hair. It strengthens hair from within and adds lustre and softness to hair.
(
114 ratings & 470 reviews
)
Beauty Tips To Prevent Hair Fall
Here are some of the tips and tricks that can help you combat hair fall easily
1. Choosing The Right Shampoo
It is extremely important to understand your scalp type and choose the right shampoo. Post shampoo, a good conditioner can work wonders for your locks and repair damaged hair and keeps them smooth.
2. Oiling Your Hair
Oiling improves blood circulation and nourishes the roots. Make sure to massage your tresses once a week with oil that suits your scalp.
3. Try Home Remedies
Eggs are rich in sulphur, phosphorous, selenium, iodine, zinc and protein, which helps promote hair growth. You can prepare an egg mask with olive oil and honey, make a paste and apply it all over from root to tips.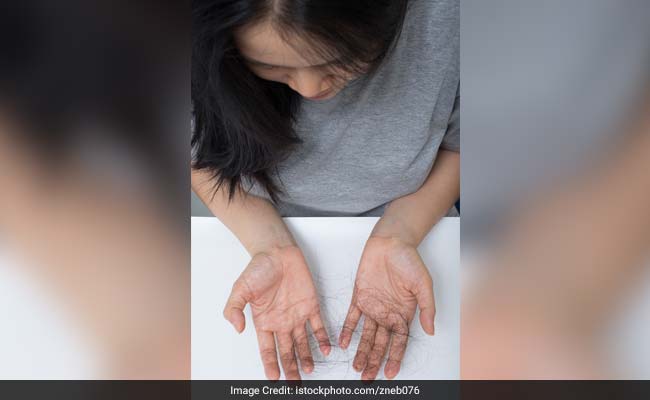 4. Stay Stress-Free
Even stress can be hard on your hair and also one of the biggest contributors to hair loss. De-stressing activities like meditation or hobbies can relieve the stress and anxieties of daily life.
5. Antioxidants For Your Hair
Green tea is super rich in antioxidants and that helps in boosting hair growth and preventing hair loss. Apply warm green tea from the used tea bags over your scalp and leave it for an hour. Wash it off with cool water.
To shop more range of beauty peoducts, head to NDTV Shopping.
Comments
Disclaimer: The Swirlster Picks team writes about stuff we think you'll like. Swirlster has affiliate partnerships, so we get a share of the revenue from your purchase.