If you've ever had unmanageable frizzy hair, you know exactly the feeling of taming your mane being close to impossible when you need it the most. Frizz in the hair is caused when the hair shaft and tips lack moisture. The hair then absorbs moisture from the surrounding creating it to swell up and let's just say, it can be a big hindrance to your good hair days. Dry and damaged hair is the biggest victim to frizz and while it may be a perennial problem during summer and monsoon months, it can surely be solved with easy home remedies. All you need are simple ingredients that are rich in fatty acids that will enrich your hair from root to tip and will give you no frizz, no fuss but a flawless mane.
Also Read: Benefits And Uses Of Curd For Your Hair And Skin
6 Home Remedies To Control Fizz And Tame Unmanageable Hair
Get fabulous manageable hair with these simple hair masks.
Apple Cider Vinegar Hair Rinse
Apple cider vinegar is known to maintain the pH balance as it is acidic in nature which fights against frizz caused by an alkaline imbalance from your regular shampoo. Dilute 1/3rd cups of apple cider vinegar to a litre of water and follow up your shampoo routine with this wash and leave it on for a few minutes. Rinse with cool water and repeat this exercise twice a week for noticeably frizz-free hair overtime.
Eggs And Honey Hair Mask
Eggs have a high content of saturated fats present in them along with biotin; the protein formed to create hair cuticles and vitamins and makes one of the best hair masks for frizz-free hair. Whisk up 2 eggs or as per your hair's length and add 2 tablespoons of honey to the mix to beat the unpleasant smell along with giving your hair that added shine. Leave this mask on for 30-45 minutes and cover it with a shower cap before washing it off with a mild shampoo.
Avocado Hair Mask
Avocados may make great salads and snacks but this loaded with nutrients and healthy fats fruit is also excellent for your hair. Avocadoes have natural oils that locks in moisture in the hair shaft leaving it hydrated from within and tame frizz naturally. To create a mask, mash a ripe avocado and add a few drops of coconut oil for that extra nourishment. Apply the paste thoroughly and cover your hair with a shower cap for 30-45 minutes and rinse the hair mask off with a mild shampoo to reveal luscious locks of your dreams.
Also Read: Raw Milk For Beauty: 5 Benefits And Uses Of Raw Milk For Skin And Hair
Banana Hair Mask
Avocadoes can be an expensive commodity which is why bananas make for an excellent and equally effective alternative to add to your hair. Mash ripe bananas to a bowl depending on your hair's length and add 1 tablespoon of honey and 2-3 tablespoons olive oil to the mix and create a smooth paste. Apply the mix thoroughly from root to tip with focus on the shaft and roots and leave it on for 20-30 minutes. Rinse it off as usual and say hello to beautiful hair.
Yoghurt Hair Mask
One of the most commonly found ingredients in our kitchen is yoghurt or curd and believe us or not but its lactic culture present in is all the smoothening conditioner you need to tame frizz. Apply generous amounts of curd to your hair from root to tip and cover your hair with a shower cap and leave it on for 45-60 minutes and wash your hair as routine. You'll be surprised how this simple ingredient is loaded with fats that can completely revamp your hair like none other.
Mayonnaise Hair Mask
Who said mayonnaise is best used to lather up on your sandwiches? For extremely dry and damaged hair, mayonnaise works like magic thanks to the egg content present in it that makes the hair soft. In a bowl add mayonnaise and almond oil to a paste and generously apply it all over the hair and wear a shower cap over it and keep the mixture on for 20-30 minutes and rinse with your regular shampoo and voila, good hair days all over again.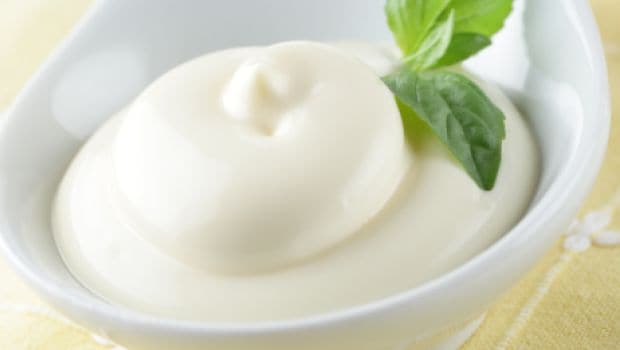 Achieving hair goals is not difficult anymore when you've got these amazing natural home remedies that will give your frizzy mane a stylish makeover.
Comments
Also Read: 6 Amazing Benefits Of Rice Water For Radiant Skin And Smooth Hair