Korean skincare routine seems to be topping the charts for a while now. You probably have heard of ginseng which holds a special place in Korean skincare. However, this ingredient by no means is a new ingredient. It's a superfood rich in high levels of vitamins, minerals and antioxidants. Ginseng face masks are the best way to treat your skin to the ultimate goodness of this ingredient. The ginseng face mask contains nourishing and energising extracts that revitalise dull and tired skin. These masks have a pleasing, mild scent and provide your face with a cooling sensation. If your skin is feeling dull, dry and depleted of nourishment, what better than to treat the 'root' of the problem with a rejuvenating ginseng face mask?
Swirlster Picks Ginseng Face Masks For You
(
43 ratings & 92 reviews
)
(
73 ratings & 376 reviews
)
Benefits Of Using Ginseng Face Mask
1. Improves Skin Texture
Ginseng helps boost the circulation of the blood vessels in the skin which in turn makes the skin firmer reducing fine lines and wrinkles. Its energizing factors assists in brightening and revitalizing the complexion.
2.Multiple Antioxidant Properties
Its antioxidant properties help the skin to tackle environmental aggressors that could trigger the formation of fine lines and wrinkles and even skin cancer.
3. Anti-Inflammatory Properties
Ginseng's natural anti-inflammatory properties help subdue redness and puffiness of the skin. This property makes it a great calming remedy for skin problems such as dark circles, acne and psoriasis.
4. Increases Hydration
The use of a ginseng face mask can bring moisture and hydration to dry and dehydrated skin types. It moisturizes the skin giving it a more plump and youthful appearance.
5. Improves Overall Skin
A must-have element in your skincare routine, Ginseng helps treat multiple skin complications making it one of the most sought-after ingredients in Korean skincare.
How To Use Ginseng For Brighter Skin
1. Turmeric + Lemon + Ginseng Pack
Mix two teaspoons of ginseng powder, 1 teaspoon each of ashwagandha powder, magnesium powder, turmeric powder and lemon juice in a bowl and apply gently on the skin and leave to dry for a maximum of 5mins. Rinse off with warm water.
2. Milk Powder + Ginseng Pack
Mix one teaspoon of milk powder and warm water with two teaspoons of ginseng powder to form a thick paste. Apply it gently to the skin using a cotton ball. Leave it for a maximum of 10mins before rinsing it off with warm water. Follow this up by application of moisturiser of your choice.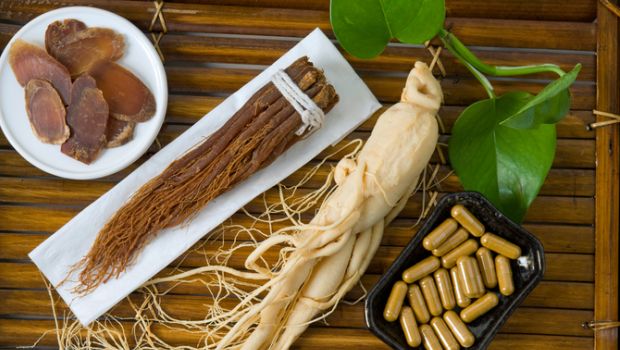 3. Water + Ginseng Pack
Dissolve one ginseng powder teabag in hot water. Let the tea cool down in room temperature. Apply gently onto the skin using a cotton ball. Wash off with warm water and apply your favourite moisturiser.
To browse more beauty products, click here.
Comments
Disclaimer: The Swirlster Picks team writes about stuff we think you'll like. Swirlster has affiliate partnerships, so we get a share of the revenue from your purchase.