Bought a new sleeveless or off-shoulder top, but scared to flaunt it in public? Dark, discoloured underarms can keep us wrapped up in layers. But you shouldn't worry as underarm darkening is more common than you think. Underarm skin is delicate and prone to irritation and hyperpigmentation. As a general rule for all skincare woes, a lot of trial-and-error methods and patience will be required to see improvement. However, along with trying out beauty products for even toned underarms, you can also try homemade tips and tricks without worrying. But before applying anything, it's also important to know what leads to underarm darkening.
Swirlster Picks Underarm Skin Care Essentials For You
(
102 ratings & 389 reviews
)
(
30 ratings & 244 reviews
)
(
90 ratings & 682 reviews
)
Reasons For Underarm Darkening
Using deodorant and antiperspirant sprays are essential to stay fresh all day but the presence of alcohol and other harmful ingredients can cause the underarm skin to get darker. We all resort to shaving our underarms for quick work, but blades can be abrasive too as they remove the top protective layer of the skin causing irritation and dark underarms. Not just external factors, even internal ones like dead skin cell accumulation or constant friction in underarms lead to dullness. When you don't clean the area well or fail to scrub it every few days it can lead to darkening. Hence, following some natural and safe home remedies to brighten your dark underarms without any side effects.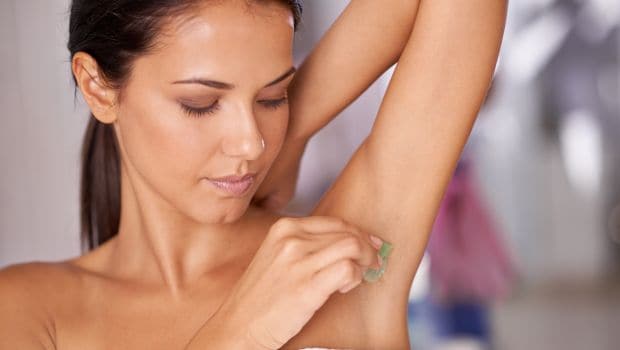 Natural Ways To Treat Underarms
Here are some easy, natural ways to brighten the underarm area.
1. By Oils And Juices
Tea tree oil has proven to be an excellent cure for darkened underarms. Not only does it aid in the process of brightening your underarms but also helps keep them odour-free. Add some water to tea tree oil to dilute it. Use this mixture and spray it on your underarms and you are good to go. Another common method is using lemon juice that works as a natural bleaching agent. A very easy method where all you have to do is cut a lemon in two slices, and gently scrub your underarms with them. Let the lemon juice sit on for some time and then, rinse it off with cold water.
2. Easy Kitchen Ingredients
An all-rounder, apple cider vinegar helps get rid of dead skin cells. All you have to do is dilute apple vinegar cider with water, soak a cotton ball in this solution and gently dab it over your armpit area. Trust turmeric for most of your skincare woes. For this, make a mixture of organic turmeric, honey and milk and apply it to the underarm area. Let stay for some time and then wash off. It will brighten your underarm area.
3. By Vegetables
Although this may sound odd, using potato is one of the most effective ways to get rid of dark underarms as its juice can brighten that area and reduce itchiness. The skin of your underarm area hardly ever gets to breathe, you can use cucumber to soothe and calm it.
To shop more range of beauty products, head to NDTV Shopping.
Comments
Disclaimer: The Swirlster Picks team writes about stuff we think you'll like. Swirlster has affiliate partnerships, so we get a share of the revenue from your purchase.