Alia Bhatt - Bollywood actress, animal activist and now, ponytail specialist. With her love for a good cheerleader-esque high ponytail always going strong, spotting Alia in a stylish new ponytail hairstyle is always a bonus. At a recent appearance in a ruffled black gown, Alia wore her hair in a half ponytail with curled layers. Many of us may have tried the half ponytail before but never have we looked this good wearing it. So here's how to get Alia Bhatt's cool girl half ponytail hairstyle easily.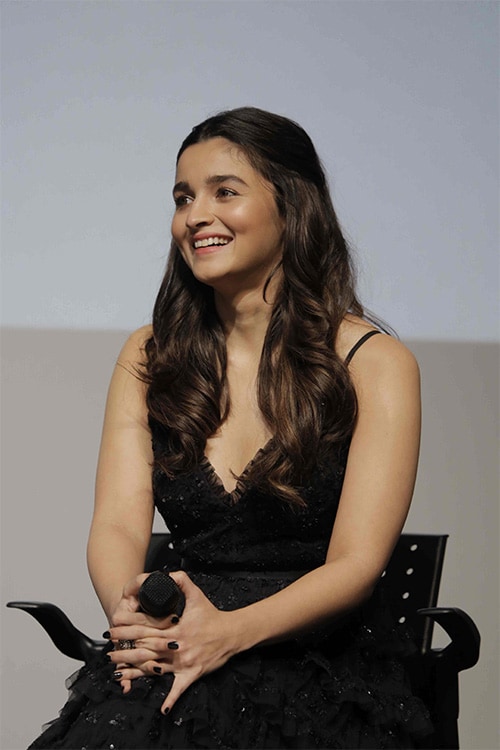 Step 1 - Brush your hair out completely with a paddle brush like Kent's Detangling and Setting Brush to remove any of those dreadful knots.
Step 2 - Apply serum like Toni & Guy's Shine Gloss Serum through the lengths to get Alia's shiny, smooth tresses and get rid of any frizz.
Step 3 - Divide your hair into two sections. Divide the top section a little above the ears from both sides. Part the top section in the centre and tie it into a ponytail at the back of the crown.
Step 4 - To get Alia's stylishly curled layers, first keep your curling tong with a large barrel-like Corioliss' Big Wave Curler to heat. This will ensure the curls are large and bouncy, not small and tight.
Step 5 - While the curler is heating, divide the lower layers of the hair into 2-inch sections throughout. Then starting from the hair ends, curl the section upwards until the ear, hold it in place for a few sections and gently remove the tong to get a full curl. Repeat until the complete lower section is curled and fabulous.
Comments
Alia Bhatt's easy breezy half ponytail is ideal for a fun day out - so give it a try!