It's highly likely that Bollywood royalty Kareena Kapoor can do no wrong because in every appearance she makes, the actress is immaculately turned out, even at the airport. Recently too, Kareena turned up looking like a million bucks. Along with a lace peplum number and brown eye makeup, she wore a sleek wavy hairdo that's perfect for ladies with long hair this season - so here's how to do it.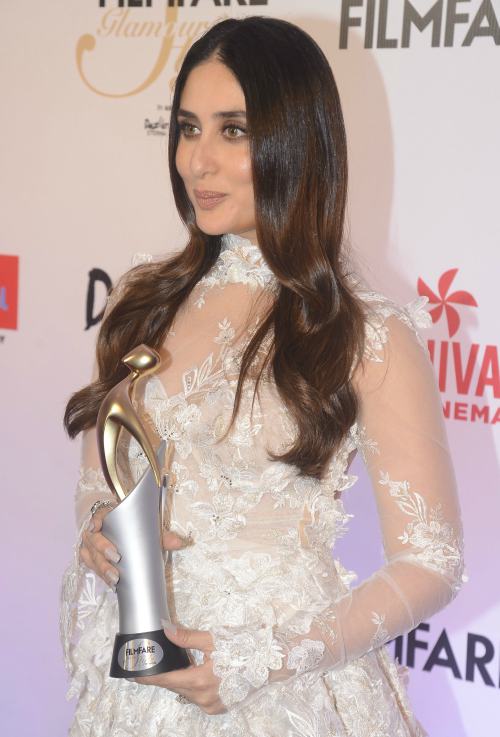 Step 1 - Start by brushing your hair out completely with a paddle brush that removes knots and gives your hair a smooth base for the hairstyling to come.
Step 2 - Take a few pumps of serum and apply it through the length of your hair with your palms. This essential step will remove frizz so that the sleek finish shows up effectively like Kareena's hair. Wait for 15 minutes for the serum to set in completely, then move onto your next step.
Step 3 - Now spray heat protectant into your hair length. It's important to apply heat protectant so that styled hairdos, especially straight-haired ones, stay put smoothly for the hours to come.
Step 4 - Now heat your straightener on the medium temperature until hot. While it heats, divide your full head of hair into small two-inch sections.
Step 5 - Once heated, place each section between the straightener plates, starting closest to the hairline. Then slowly move straight downwards until you are three-fourth down the strand.
Step 6 - At this point, twist your straightener around the strand so that the last one-fourth portion of the hair section forms a curl. Hold it in place for five seconds, then gently remove your straightener from your hair.
Step 7 - Work your way through each hair section using the same motion, starting from the back to the front. This curling with a straightener will give a bouncy, barely there wave at the bottom of the section, just like Kareena's.
Step 8 - Finally, when your entire hair has been straightened at the top and curled at the bottom, spritz it with hairspray to hold the texture and give it that shine.
Comments
Now go on and steal the spotlight with your Kareena Kapoor-inspired shiny new 'do.