Have you always craved bright, dewy and luminous skin? More often than not, the beauty industry is leaving no stone unturned to feed our passion and fetish for skincare. Right now, kombucha tea is one of the trendiest drinks in the health food aisle and one of the up-and-coming ingredients in the beauty market. If you're a beauty fanatic, you might have recently heard about brands using kombucha as an ingredient in skincare. Yes, the buzzy drink is now found everywhere. Although kombucha's popularity has skyrocketed worldwide, it has long been a player in the wellness world dating back to centuries ago. Inspired by ancient traditions, the newest entry into the skincare industry is in the allure of this beverage, thanks to its probiotics and vitamins. If you're curious to learn more about kombucha in skincare ahead, find out how it works all well as all the benefits of this miraculous tea.
Swirlster Picks Kombucha-Infused Beauty Products
(
82 ratings & 190 reviews
)
What Is Kombucha Tea All About?
Before you slather this new tea all over your face, you'll probably want to know exactly what it all is about. Kombucha is a fermented fizzy tea that combines yeast and bacteria. In simple words, kombucha is actually a fermented version of black or green tea. The fermentation process amplifies the naturally occurring concentration of probiotics, vitamin C, B vitamins, and antioxidants. A host of microbial ecosystems reside in our skin that actually promotes skin health. Skin probiotics are taking centre stage in many people's skin routine now. We all know about the presence of probiotics and its behaviour of a "good Samaritan" in our guts. There is a whole troop of topical beauty products like cleansers, moisturisers and serums, with the inclusion of these friendly bacteria and kombucha strengthen the skin's barrier.
Benefits Of Kombucha For Your Skin
1. Hydrates Skin
Since it is consumed in liquid form and is made mostly out of water, this beverage hydrates you and your skin and leaves it feeling plump. Since it is hydrated, the skin's elasticity too improves drastically, reducing fine lines and signs of ageing in the process.
2. Improves Skin Tone
Tea is known to be excellent for the skin and have antioxidant properties. This fermented version too, comes with all the same benefits of green and black tea, leaving your skin bright, improving clarity and texture. It also contains antiseptic qualities and natural acids which can balance the skin's pH levels for a clearer complexion.
3. Exfoliates The Skin
Kombucha also includes lactic acid bacteria which can lightly exfoliate the skin to brighten and even skin tone. Our skin tends to absorb some of the toxins found in our environment and vitamins in kombucha can benefit the overall well-being of the skin.
4. Detoxifies The Skin
Drinking kombucha may be able to help since it has several varieties of B vitamins. It has a ton of B vitamins (B1, B2, B6, and B12, to be specific), which are essential for maintaining and producing new, healthy cells that help your skin glow and even strengthens your hair and nails.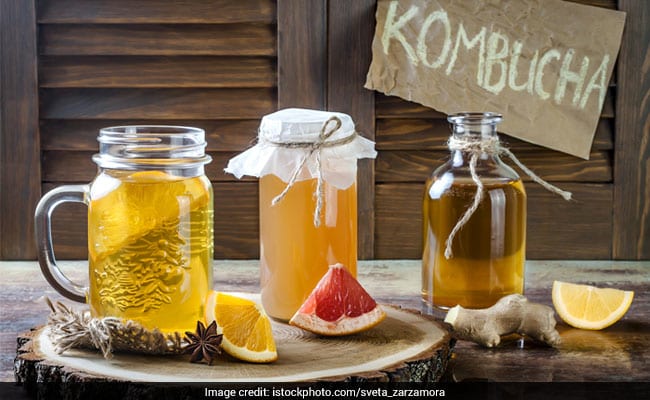 From Where Do We Get Kombucha?
Of course, you shouldn't apply kombucha in its drinkable form directly to your face. So, how can its application work for us?
Reach for products specifically formulated for the skin but made with fermented tea. Though it's still relatively new to the skincare space, kombucha is found in everything from toners to cleansers. Most skincare products will list kombucha as an ingredient.

Kombucha has seen a lot of hype lately about its health benefits amongst millennials. Described as 'a naturally fermented beverage', drinking Kombucha on a daily basis can help balance your immunity too.

Since this is rich in probiotics, products with kombucha when applied topically can help regulate the skin's microbiome, which could help the skin appear more moisturised.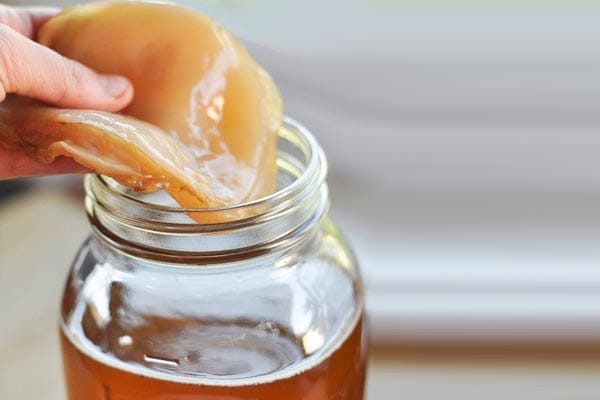 Points To Ponder When Taking Kombucha
In its regular form, kombucha is a weak acid, its pH around 3 so this may be irritating to the skin if it is not diluted as skin maintains its barrier best at a pH of around 5.5

Room temperature is the most beneficial way to drink Kombucha. If it's too cold, then the bacteria can go to sleep, which won't give you nutritional value. Likewise, if it's too hot, it can affect the colony's living environment and provide no benefits.
To browse more beauty products, click here
Comments
Disclaimer: The Swirlster Picks team writes about stuff we think you'll like. Swirlster has affiliate partnerships, so we get a share of the revenue from your purchase.