When you think of vanilla, doesn't that evoke a sense of warmth and comfort? The sweet, warm, rich aroma of vanilla extract not only soothes the palate, it also calms the mind; and now we find that vanilla extract also restores skin. The extract is rich in antioxidants and phenolic compound vanillin that help to neutralise free radicals and prevent skin damage. Vanilla is also loaded with different B vitamins especially niacin, thiamin, riboflavin, vitamin B6, and pantothenic acid - all of which help to maintain skin health.
A Brief History Of Vanilla
Vanilla pods actually come from the orchid plant or Vanilla planifolia, which originally grew in Mexico and were cultivated by the indigenous people of the country. Vanilla was earlier used to flavour the cocoa drink, also a popular ingredient from the region. Vanilla was brought to Europe by the conquering Spanish and was only available to the rich for use in their foods and fragrance. The fun fact about this active is that you have to let the vanilla pod mature on the vine for nine months before harvesting. In India, vanilla is often grown in the coffee plantations of Coorg.
The vanilla essential oil, which is used in beauty products, is made from fermented vanilla beans. In fact, the vanilla flavour is first extracted from the beans with alcohol to get the vanilla extract. This extract is then blended with a carrier oil like jojoba oil to create vanilla essential oil. This is the oil that is used in beauty products.
(Also read: 5 Ingredients That Can Deeply Hydrate Your Skin In Summer)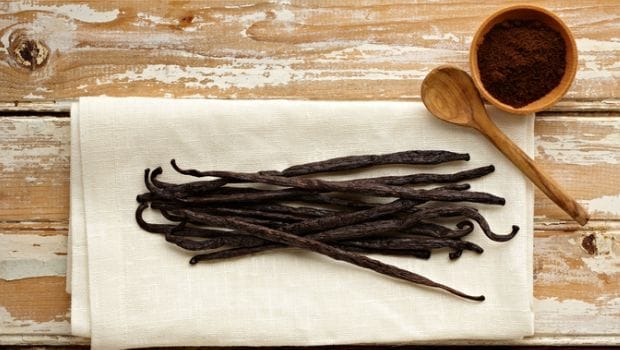 Adding Vanilla In Your Beauty Regime
Vanilla is anything but plain when added to your beauty potions. When you add drops of vanilla essential to your lotion or your shampoo, you are doing a whole lot of good to your skin and hair.
DIY Remedy To Fight Acne
If you are plagued with acne flare-ups, using a vanilla infused anti-acne product will help the skin. The vanillin in the extract is known to have antibacterial and antioxidant properties that prevent breakouts and sooth redness and irritation.
How to use: Treat your acne-prone skin with a dash of vanilla. Dab few drops of vanilla essential on the acne-prone areas on your skin. Leave it overnight and rinse your face in the morning. It will help clear the acne.
Helps To Smooth Out Wrinkles
Vanilla is rich in antioxidants which neutralise free radicals and reverse skin damage caused by them. It helps to slow down signs of ageing like fine lines, wrinkles and age spots. It not only leaves your skin feeling rejuvenated but also smelling lovely.
How to use: Make a lightweight face oil for daily use by blending few drops vanilla essential oil with lightweight oil like argan oil. Massage this into your cleansed skin every night to repair and restore your skin. Use it regularly and feel your skin turn soft, supple, and radiant.
(Also read: Embrace These Under-Eye Remedies And Get A Flawless Look Naturally)
Brighten Dull, Tired And Dry Skin
Vanilla is loaded with B-vitamins that play an important role in maintaining healthy skin. The antioxidants in vanilla extract help to protect your skin from damage caused by environmental pollutants and toxins.
How to use: Scrape out brown extracts from 5 to 6 vanilla pods. Mix finely ground brown sugar or rice powder with the extract and add 2 drops of vanilla essential oil and some lemon juice. Make a smooth paste and apply on your face. Massage for a few minutes and then rinse off first with warm water and then a splash of cold water to tone the skin. It will look radiance and dewy soft.
Rescue Your Dry Hair
The soothing property of vanilla helps to balance scalp and soften dry, rough hair. It helps to keep breakage and roughness in check.
How to use: Mix 15 to 20 drops of vanilla essential oil to a cup of coconut milk. Apply this on your hair and scalp for 15 minutes. Wash off with a mild shampoo and see your hair shine with health. Soothes itchy scalp as well.
Don't just add vanilla to your desserts, make this aromatic active part of your beauty ritual as well.
About the author: Mansi Chowdhary is the co-founder and director of beauty brand Body Cupid. A chartered accountant by education and an entrepreneur by acumen, it was her urge to offer Indian women the option of luxurious beauty products at an affordable price that led her to start her own beauty brand.
Comments
Disclaimer: The opinions expressed within this article are the personal opinions of the author. NDTV is not responsible for the accuracy, completeness, suitability, or validity of any information on this article. All information is provided on an as-is basis. The information, facts or opinions appearing in the article do not reflect the views of NDTV and NDTV does not assume any responsibility or liability for the same.