With hair color trends doing the rounds, it gives you multiple options to pick hair hues as you love. However, ever thought of coloring your hair according to your zodiac sign? Why not make them stop and stare if you are the fiery Aries or pristine Pisces by just looking at your hair color? It is believed that hair colors talk a lot about your personality and your personality is a reflection of your zodiac. This Hair Day 2021, know the perfect hair color which complements your zodiac sign and speaks of your traits.
Aries
Aries are known for their energetic and fiery traits. They are playful and chirpy while having a sense of leadership. The best-suited hair color for Aries is warm brown that reflects the characteristics of the ram and makes you look stunning.
Taurus
This earth sign is stubborn yet an epitome of loyalty. To signify that you are the master of your life and you cannot be made on others' fingers, dark brown color for hair is the one to reflect the Bull's persona.
Gemini
Being the center of attention at times and also being the one sitting backstage, Geminis have multiple personas. Blonde is the perfect hair color for you to showcase your equally balanced traits.
Cancer
Cancerians are known for being loyal, compassionate, protective, and humorous. Adding streaks of blue to your natural hair is just right to reflect these character traits of your personality.
Leo
Driven by the quality of natural leadership, large-heartedness, and truthfulness, hues of honey have the potential to speak for Leos. However, a streak of red can also reflect your fiery nature.
Virgo
Known for their standards, kindness, and beauty, there is no other color than the platinum blonde that has the capacity to showcase your character attributes.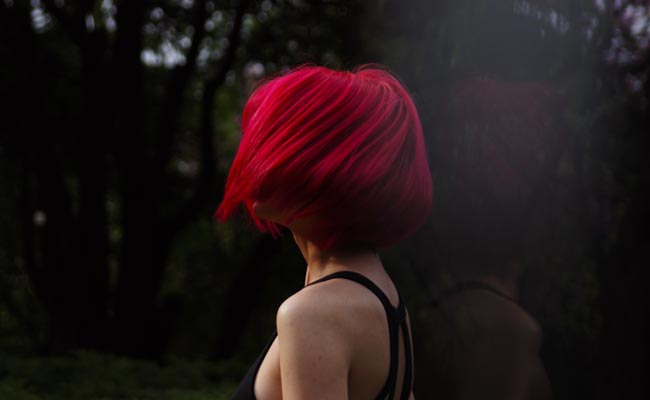 (Also Read: Top 5 Trending Fall 2021 Haircuts To Try For All Hair Lengths)
Libra
Diplomacy, balance, and a fair sense of justice are the mannerisms Librans are known for. Having highlights of brown along with natural hair is the aptest option you can go for.
Scorpio
Brave, loyal, secretive, and ambitious, talk of Scorpio and these attributes will come to your mind at once. No other color than bold red can do justice to your personality.
Sagittarius
Sagittarius are optimistic, honest, and loving. To reflect these characteristics amethyst brown is the color for you.
Capricorn
Organized and disciplined, you are the most consistent and goal-oriented person. Black is the best color that defines you.
Aquarius
Free-spirited, eccentric, optimistic, and self-reliant can be best signified with not just one but a mixture of hues on your natural hair to reflect the traits of Aquarius.
Pisces
Pisces are calm, gracious, and emotionally awakened. To highlight these traits in your hair, the blue color is just right for you.
Comments
(Also Read: Hair Care Tips: This Festive Season, Let Your Tresses Look Terrific With These Simple Tips)