With pollution and air quality hitting an all time high, the need of the hour is to look after your health and safety at all costs. Pollution has always been a major concern since forever but during this time of the year, the levels tend to rise. Ahead of the festive season and winter, it is best to gear yourself with the best. Air purifiers are one such way to maintain a safe and hazard-free environment at home. They keep the air quality in check and remove all the unsafe and hazardous elements from the air like dust particles and more.
Air Purifiers are an absolute must have in your home and it is about you get your hands on these amazing air purifiers. We have curated a list of top 10 air purifiers that are essential for every household. And with Amazon Great Indian Festival, brands like Dyson, Philips and more are offering amazing prices on their bestselling air purifiers for you. Right before the festive season, stock these air purifiers in your home.
Brand Price in India Buy Now
Dyson Rs 39,900 Amazon
Sharp Rs 9,490 Amazon
Mi Rs 9,298 Amazon
Blue Star Rs 13,200 Amazon
Philips Rs 9,399 Amazon
Havells Rs 9,201 Amazon
Honeywell Rs 7,999 Amazon
Coway Rs 12,600 Amazon
Eureka Rs 8,668 Amazon
Forbes
Carrier Rs 10,303 Amazon
We Have Handpicked The Best 10 Air Purifiers For You
Say hello to clean air at your home with these amazing and advanced air purifiers.
With recent times, air purifiers are becoming a necessity in every house and this air purifier will perfectly serve the functional purpose, while fulfilling the stylish aspect as well. Featuring a stunning silver metallic body, this air purifier from Dyson automatically purifies and warms a whole room properly and comes with heating functionality. Among its many automatic features, it also comes with a feature where it automatically senses and reports air quality levels (PM 2.5, PM 10, VOC, NO2 and overall AQI) on LCD screen. It is perfectly suitable for medium to large size rooms with coverage area of up to 600 sq ft.
Featuring a white outer body, this compact yet functional air purifier can simply fit into any corner of the room. The compact and portable design allows you to simply carry it and place it anywhere as per your comfort. This air purifier is perfect for those looking for budget-friendly options as it won't burn a hole in your pocket. It works on a dual purification method to remove different kinds of pollutants. It also comes with patented plasma cluster technology which is a natural way of purification.
(
205 ratings & 947 reviews
)
This air purifier Mi comes showcases a stunning white sleek design and comes with an OLED display which shows you real time PM2.5 concentration, temperature and humidity, wifi connection and working mode and a 3-level filtration process with True HEPA filter, which eventually makes this one of the most popular air purifiers under a certain budget. It works with with Google assistant and Amazon Alexa. It has an effective coverage area up to 484 sq ft.
(
343 ratings & 1,984 reviews
)
Showcasing a white outer body, this air purifier comes with 1 to 24 hours setting on the digital timer for setting a time preferred by the user to switch the device on or off as per the convenience and comfort. This air purifier not just purifies air with its SensAir technology but detects bad odour around and eliminates it too and comes with 7 stage purification. It has silent mode and child lock, filter clean alarm, filter change indicator and odour sensor and timer. Its endless trendy features and design makes it a great pick to try.
(
59 ratings & 164 reviews
)
The Philips air purifier comes with a white outer body in a sleek and stunning design, which makes it all the more stylish and worth it. It comes with vitashield Intelligent purification, which automatically senses air quality and removes 99.97% airborne pollutants. It also purifies a standard room in just 12 minutes with a CADR of 270 m3/hour. It has a four-stage filtration process and also helps in removing bacteria, virus, pollen and other dust particles, making the air clean.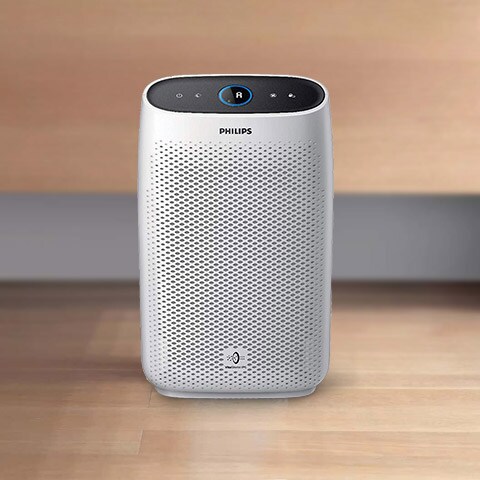 (
1,150 ratings & 3,235 reviews
)
Featuring a white outer body, the purifier from Havells uses True HEPA technology along with a noiseless BLDC motor. It also has AiroFresh Technology for 5 stages of filtration. It covers 215 square feet/20 sq. metres and is especially suitable for bedrooms. It has a sleep mode, manual timer setting, automatic filter replacement reminder, odour sensor. It also helps in removing 99.18% allergens and filtration up to 0.3 microns.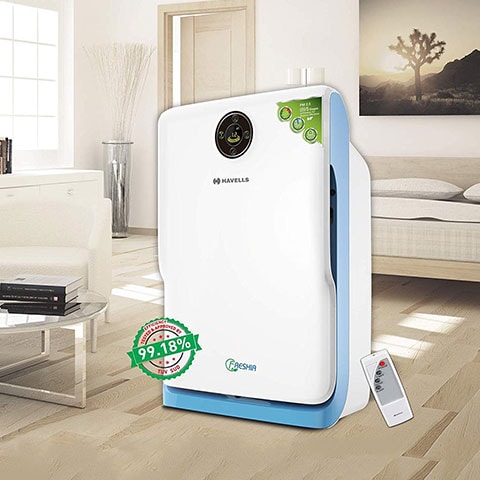 (
102 ratings & 286 reviews
)
Featuring a beautiful gold toned shade, this purifier from Honeywell is perfect to serve the functional purpose while adding a stylish edge to your home. This amazing purifier comes equipped with a 3-stage advanced filtration system and has high-efficiency HEPA. It also comes with an activated carbon filter and washable pre-filter. It also offers up to 323 sq. ft. coverage area for a room with 9 feet height and is ideally suitable for use in living rooms and bedrooms. It is completely ozone free air purifier and does not emit any harmful gases.
(
734 ratings & 1,637 reviews
)
For those looking for a stylish and big design, well this purifier is perfectly fit to amplify your home space. The purifier is made with a unique HEPA Filter made of Japanese gingko leaves and sumac trees and also helps in removing 99.97 % of airborne pollutants and viruses and allergens as well. It is known for its unique technology and stunning design, which features a white outer body, making it look stylish as well. The attractive and sleek design ensures an innovative flow path for high efficiency and can simply fit anywhere in your house as per your convenience. It has endless amazing features which includes smartly adjusting the air purifier speed based on indoor air quality of the house or room. It also has filter replacement indicator that eventually helps to indicate when it's time to change HEPA filter and carbon filter.
(
2,187 ratings & 3,683 reviews
)
Featuring a beautiful white outer body, this purifier from Eureka Forbes comes with a sleek design and comes with six-stage filtration. It is a wonderful pick to serve the functional purpose as it helps in removing large particles such as dust, fibres, pollutants and more. It helps in removing up to 99.99 percent micro-particles such as pm 2.5 and 10 which includes fine dust, pollen and mould spores, giving you clean air quality. The pack includes air purifier, filters and user manual. It also comes with an easy one touch child lock function that locks all the functions and effectively prevents children from misusing the product without knowledge.
This air purifier from Carrier comes with a whiter outer body and an appealing design that can simply add a stylish touch to your home. It comes with a PM2.5 display and color indicator to keep you up to date with the quality of air in your home. It also has a 3-stage filtration process with a pre filter, HEPA H11 filter and activated carbon filter. It is super easy to use with its 4-fan speed, which allows you to adjust the air flow and also has an auto mode to adjust the speed of air flow depending on quality of the air. It has a sleep mode which helps in lower sound operations and reminds you for filter replacement through a reminder.
To browse more air purifiers, click here
Comments
Disclaimer: The Swirlster Picks team writes about stuff we think you'll like. Swirlster has affiliate partnerships, so we get a share of the revenue from your purchase.