Residing in a metropolis is not an easy task. Your lifestyle is burdened with work pressure, deadlines, stress and irregular habits. While returning home, all you think of is a comfy space to relax. Nothing can suffice your need other than a living room, where most of our time is spent when at home. All living rooms differ in size but the best can be made even out of the smallest spaces. Think out of the box to design and transform your living room. You can explore different doors of ideas to make your living room an ideal space.
Make it easy by keeping it simple yet elegant. Living room is the most functional space in our homes. It needs to be carefully planned without hurrying into random combinations.
How To Decorate Your Living Room
Several elements can be used for decorating your living room that might differ according to your preferences. Look at different suggestions to glorify your living room:
1. Furniture
Choosing the appropriate furnishing is an important step. You can opt for compact furniture along with fancy stools. Swing chairs with large and soft cushions add spark to a corner space. Also, couches are always much more desirable. Your goal should be to make your living room gracious with cozy and comfortable seating.
(Also read: Make Your Home Decor More Fun With These 7 Wall Paintings)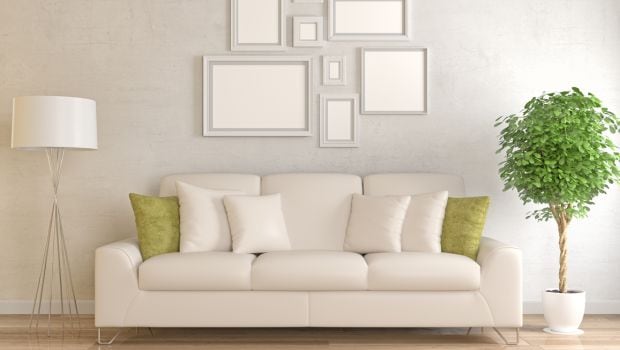 2. Wall
Bring your boring and dead walls to life. Walls can be embellished with beautiful patterns of wallpaper and bold colours, which brighten up the space. Modern art is great for those looking for a contemporary vibe. Antique and wooden clocks make the room classy. Moreover, shelves can be hanged on the walls and be adorned with frames, books, flower vase and statues.
(Also read: These 8 Sofas Will Transform Into Beds And Save Space In Your Home)
3. Ceiling
A fan alone cannot enhance your living room. Nowadays, fall ceilings are trending to style your boring ceilings. You can design it the way you want either with lights or chandeliers. Chandeliers bring out an imperial look. Ceilings can also be painted with alluring colours.
4. Lamps
They come in different shapes, sizes and colours. Placing different kind of lamps will make your living room aesthetic. They can be placed in different corners. Lanterns are an alternative for lamps. Perfumed and fragrant candles can be used to intensify the mood and relax the mind.
5. Plants
Indoor plants can be placed in your living rooms. They withdraw the dullness and gloomy effects from the space and add in positivity and well-being. Always choose plants with big leaves that make the space lively. Your plants should be placed within designer ceramic pots. Apart from looking good, they also have health benefits.
6. Themes
Choosing a theme for your lounge is a vital part of decoration. Although, some of us like to mix and match things whereas a theme gives considerate and consistent look. Themes are basically the colour schemes that help you to bring the best out of your imagination. Don't rush into things but decide your theme carefully and accordingly invest in the purchase of your curtains and other furnishing items.
Comments
It is really fun to plan and design your living room. As it is said that human desires can never be fulfilled nor be satisfied. Always remember, less is more. Clichés should be neglected by opting unique styles and arrangement. Don't create a clutter but keep it sophisticated.