With the ongoing Amazon Great Indian Festival sale, this is the perfect time to get your hands on a range of cookware that you have been eyeing for a long time. So give your kitchen collection a chic update and save big at the same time with amazing deals available on Amazon. From two-tier stainless steel steamers and non stick pans to automatic rice cookers and idli makers, there are many options for you to choose from and make cooking at home a fuss free affair. We have listed down 10 top cookware deals on Amazon with upto 80% discount:
1. Amazon Brand - Solimo Stainless Steel Induction Bottom Steamer
This cookware contains two units: a stainless steel casserole with toughened glass lid and a stainless steel steamer pot. It is suitable for making momos, khandvi and modaks among other treats.
(
667 ratings & 2,073 reviews
)
(Also read: 9 Stylish Teapots That You Will Want To Buy Right Now)
2. Hawkins Futura Non Stick Dosa Tawa
This tawa comes with a high quality German non-stick coating to reduce oil usage, and hard anodised base for even and fast conduction of heat.
(
3,491 ratings & 6,669 reviews
)
3. Cello Prima Induction Base Non-Stick Aluminium Cookware Set, 3-Pieces
Stock up on this set of three cookware that will keep you covered in the kitchen. It includes a tawa, frying pan and a kadai with tempered glass lid.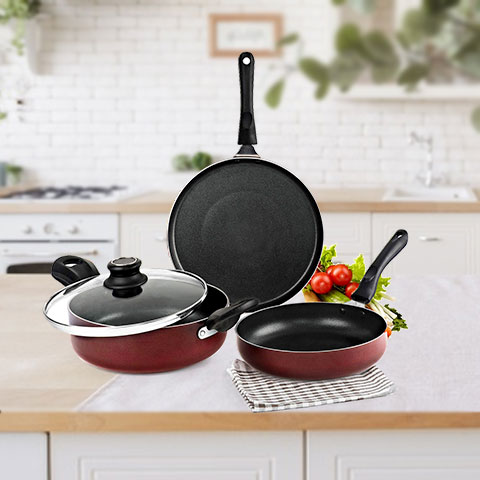 (
1,155 ratings & 2,257 reviews
)
4. Panasonic 4.4-Litre Automatic Rice Cooker
The 1.8 litre automatic rice cooker features a lightweight, anodised aluminum cooking container that is chip-resistant and durable. You can use it to prepare various rice delicacies like vegetable pulao, lemon rice, etc.
(
727 ratings & 1,251 reviews
)
5. Prestige Popular Aluminium Pressure Cooker, 3 Litres
Cook delicious dishes in an instant with this pressure cooker from Prestige. Made from high quality aluminium for extreme durability, it will last you for a long time even with regular use.
(
1,673 ratings & 2,751 reviews
)
6. Pigeon 4-Plates Idly Maker
Make delicious idlis effortlessly with this smart cookware from Pigeon. It's sturdy and made up of thick gauze for durability, and is easy to clean too.
(
493 ratings & 1,004 reviews
)
7. Sumeet Nonstick Multi Snack Maker Pan
The multi snack maker will prove to be a useful addition to your kitchen. The unique base ensures even heating across all four compartments, helping you prepare delicious snacks without spending much time in the kitchen.
(
220 ratings & 466 reviews
)
8. Nirlon Non-Stick Aluminium Grill Pan
You no longer have to invest in bulky and inconvenient outdoor grills as the Nirlon nonstick grill pan is an efficient solution for you indoor cooking needs.
(
598 ratings & 888 reviews
)
9. iBELL Stainless Steel Sauce Pan
This iBELL saucepan is made of high quality stainless steel that will serve you for years to come. Easy to clean and maintain, you can use it for preparing tea, coffee, etc.
(
99 ratings & 214 reviews
)
10. Jalpan Kitchenware Stainless Steel Patila Set, 6-Piece
This stainless steel patila set is extremely durable and comes in five different sizes along with a saucepan. This helps in cooking food in various quantities, simultaneously or at different times, according to your preference.
(
13 ratings & 15 reviews
)
Make the most of Amazon's deals and pick these cookware for a steal.
Comments
To browse more cookware on Amazon, click here.