It's the perfect time to add to your kitchen essentials. We are always on the lookout for deals and discounts and Amazon Prime Day is giving us all the more reason to upgrade our kitchen essentials. With the best deals and discount at up to 45% off on cookware and kitchen appliances, we are all set to fill our cart right away. From useful blenders and cookware to the best of toasters and sandwich makers, the best brands are offering the most fabulous discounts.
Cookware And Kitchen Appliances Which Will Notch Up Your Cooking Experience
Get your hands on these amazing picks right now.
Cookware
As much as cookware is a necessity, chic cookware can add a stylish edge to your kitchen. From non-stick kitchen sets to fabulous casserole sets and more, these cookware picks are a must-have for your kitchen.
(
4,517 ratings & 9,211 reviews
)
Mixer Grinders
We might be still using the old grinder with functional purpose but trust us, your kitchen definitely needs one with new features. With Amazon Prime Day, it is the perfect time to invest in the best mixer grinders without burning a hole in your pocket.
(
873 ratings & 3,491 reviews
)
(
9,974 ratings & 30K+ reviews
)
Induction Cooktop
There are times when the gas cylinder is unexpectedly over. This is when induction cooktops make your cooking experience easy and hassle-free. Be it any situation, induction cooktops come to your rescue every time.
(
1,528 ratings & 6,460 reviews
)
(
80 ratings & 176 reviews
)
Sandwich Maker
Our kitchen might be filled with endless appliances, but it is absolutely incomplete without some essentials and a sandwich maker is one such product that no one ever regrets in their kitchen. Whether you are running late for a work meeting or in a mood to grill an evening snack, this appliance always comes handy.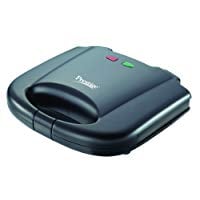 (
5,789 ratings & 23K+ reviews
)
(
2,279 ratings & 8,646 reviews
)
To browse more kitchen products, click here.
Comments
Disclaimer: The Swirlster Picks team writes about stuff we think you'll like. Swirlster has affiliate partnerships, so we get a share of the revenue from your purchase.