Balancing domestic and professional life is not a cakewalk for anyone. You are constantly expected to meet both the ends like a pro. Without the right appliances, multi-tasking is next to impossible. Adopting smart ways make it easier for every working woman to accomplish it all efficiently. We list some must-haves in the modern kitchen of a working woman that will make your everyday life easier and make cooking seem like a mundane chore. Take a look as these kitchen appliances that will make all kitchen work a breeze.
Essential Kitchen Appliances For All Working Women
1.Electric Blenders
Electric blenders are simply a blessing for working women. They take the strain off your shoulders and get the job done in minutes. Depending on what your cooking needs are, you can make use of the speed control switch. The single jar for both wet and dry grinding makes preparation easy even when you are preparing a meal for more than two people.
(
7,176 ratings & 17K+ reviews
)
(
163 ratings & 354 reviews
)
2. Coffee Machine
Early morning, when you are in a hurry to get ready to attend that virtual meeting on time, making a refreshing cup of coffee becomes out of the question. Bring home an automatic coffee machine that will effectively share the load and will make you and your family super-ready for the day ahead.
(
406 ratings & 1,930 reviews
)
(
73 ratings & 241 reviews
)
3.Cold Pressed Juicer
Unlike other juicers available in the market, a cold-pressed juicer uses a low-speed squeezing technique that helps retain the original and natural flavour of the fruit, thus maintaining the taste and health. With a cold-pressed juicer in your kitchen, you can be always sure of your family's health. Plus, the fast extraction technique saves time.
(
2,006 ratings & 2,197 reviews
)
4. Sandwich Maker
Sandwiches are a healthy and on-the-go snack that keeps you full for a long period of time. However, readymade sandwiches are filled with unhealthy ingredients which may do more harm than good. Instead of munching on unhealthy sandwiches, bring home a sandwich maker which helps you enjoy hot, fresh and healthy sandwiches within minutes.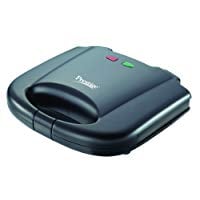 (
6,007 ratings & 25K+ reviews
)
(
842 ratings & 2,752 reviews
)
5. Electric Rice Cooker
An electric rice cooker can be of great use for any working woman. Whether you need to cook rice, biryani, or steam vegetables, an electric cooker can be of great help. An electric rice cooker is also a good option to have when the busy days in your life can't be paused. Besides cooking rice, it can be used for cooking soups, beans and stews too.
(
2,459 ratings & 8,781 reviews
)
(
546 ratings & 2,338 reviews
)
6. Microwave Oven
Super easy to clean and maintain, a microwave oven would become your best friend within a few days. Perfect for reheating food and defrosting dishes stored in the fridge, a microwave saves time and offers uniform heating. Whether you are reheating a pizza or calzones, the inside out heating technology would make you a fan of this amazing appliance.
(
927 ratings & 4,536 reviews
)
(
318 ratings & 933 reviews
)
To explore more kitchen appliances, click here
Comments
Disclaimer: The Swirlster Picks team writes about stuff we think you'll like. Swirlster has affiliate partnerships, so we get a share of the revenue from your purchase.