Breakfast may be the meal of champions but when you're running short on time, it gets put on the back burner. When you've overslept or can't make up your mind on what to wear to work, cooking up a storm in the kitchen for the first meal of the day can get forgotten. And you know how skipping breakfast is a terrible idea that affects your health and leaves you hungry hours later. Instead of going that route, one of these 10 kitchen gadgets can help along the way. No matter if you like waffles with a drizzle of syrup or dosa done crispy, these will make breakfast time so much easier.
Swirlster Picks 10 Kitchen Appliances That Will Make Breakfast Time Easier
Go all out for the most important meal of the day with these 10 kitchen appliances that will cut down on time and hassle.
1. Nutri Ninja Auto Blender
The Nutri Ninja Auto Blender can break down whole fruits, vegetables and ice. It has 2 auto programs and comes with 2 cups.
(
79 ratings & 137 reviews
)
Pro-tip: It will do the work of blending and crushing for you when making kale smoothies or vanilla milkshakes.
2. Singer Coffee Maker
https://pricee.com/api/redirect/n.php?from=affconv&utm_source=INLINE&utm_campaign=NDTV-Conv&utm_medium=swirlster.ndtv.com&redirect=https%3A%2F%2Fwww.amazon.in%2FSinger-Xpress-Watts-Coffee-Maker%2Fdp%2FB07K1Y2B61
The Singer Coffee Maker is a 800W coffee and espresso machine with capacity to make 4 cups. It has a stainless steel filter, metal funnel and glass carafe.
(
30 ratings & 72 reviews
)
Pro-tip: Its frothing function will give you the perfect cup with foam to start your day.
3. Philips Daily Collection Toaster And Grill
The Philips Daily Collection Toaster And Grill has 8 browning settings for every preference, removable crumb tray and auto shut-off.
(
310 ratings & 664 reviews
)
Pro-tip: Its integrated rack will come in handy to quickly heat buns, bread or pastries.
4. Borosil Neo Waffle Maker
The Borosil Neo Waffle Maker runs on 1000W of power with 2 non-stick waffle plates and automatic temperature control for simple cooking.
(
135 ratings & 714 reviews
)
Pro-tip: Sunday morning breakfast will be a cakewalk when you make waffles in minutes with it.
5. Wonderchef Regalia Bread Maker
The Wonderchef Regalia Bread Maker comes with 19 pre-programmed menus to make not only bread, but also rice wine, yogurt, cake and jam.
(
12 ratings & 19 reviews
)
Pro-tip: You can even make healthier breads like multigrain and gluten-free ones when you bake at home.
6. Pigeon by Stovecraft Coffee Maker
The Pigeon by Stovecraft Coffee Maker has non-slip feet, anti-drip mechanism and advanced brewing technology with a mesh filter.
(
406 ratings & 1,930 reviews
)
Pro-tip: Coffee will be ready in minutes without you needing to watch before it boils over.
7. Sunam Egg Cooker
The Sunam Egg Cooker is compact and lightweight with a poaching tray, 7 egg holder, and measuring cup.
(
178 ratings & 383 reviews
)
Pro-tip: Choose from poaching, boiling, steaming and so much more for your eggs.
8. InstaCuppa French Press Coffee Maker
The InstaCuppa French Press Coffee Maker has 4-part superior filtration that ensures little to no grinds for your brew.
(
1,220 ratings & 2,651 reviews
)
Pro-tip: Make coffee in under 4 minutes when you have it in your kitchen.
9. KENT Chilla Dosa Maker
The KENT Chilla Dosa Maker is 900W with a non-stick surface that is designed to cook and serve immediately.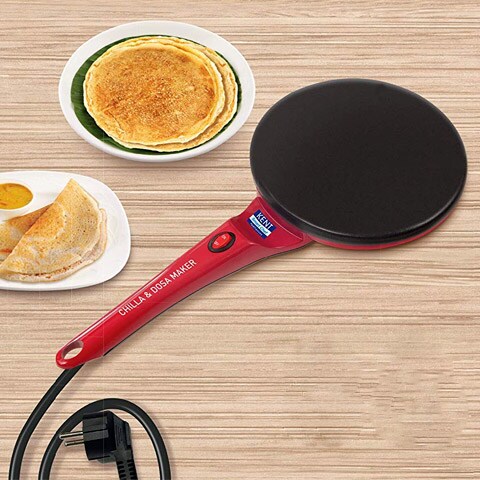 (
96 ratings & 330 reviews
)
Pro-tip: Customise your dosas when you make it at home with this easy to use appliance.
10. Disha Automatic Egg Cooker
The Disha Automatic Egg Cooker cooks eggs in a variety of ways in a vertical way on a stick with revolutionary heating technology.
(
40 ratings & 54 reviews
)
Pro-tip: Skip tedious cleaning with this amazing kitchen pick.
Comments
Disclaimer: The Swirlster Picks team writes about stuff we think you'll like. Swirlster has affiliate partnerships, so we get a share of the revenue from your purchase.