A classic in the unending list of cocktails, Blood Mary has long been a favourite in bars across the globe. Especially when it comes to brunches, the spicy vodka cocktail makes for a perfect pick to excite the palate. It sure does pack a punch with its heady concoction, complete with a few dashes of Tabasco for the thrill factor. So, what's the story behind its horror film worthy name? How did this deep red cocktail go on to garner a cult following?
Nitin Tewari, master mixologist and co-founder of Together at 12th says, "The origin of Bloody Mary is often credited to Fernand Petiot a bartender working in Harry's New York Bar in Paris in 1920's, but vodka and its combination with tomato juice was consumed way before that as well across many different countries."
It is said that Fernand Petiot reintroduced this cocktail at St. Regis Hotel in New York in the '30s as Red Snapper, which initially didn't take off. But after spicing it up with a mix of sauces and Tabasco, it finally hit the right spot and went on to become hugely popular. So much so that it is known as the most iconic American cocktail.
(Also read: A Taste Of Penicillin, A Whisky Cocktail That Packs A Punch)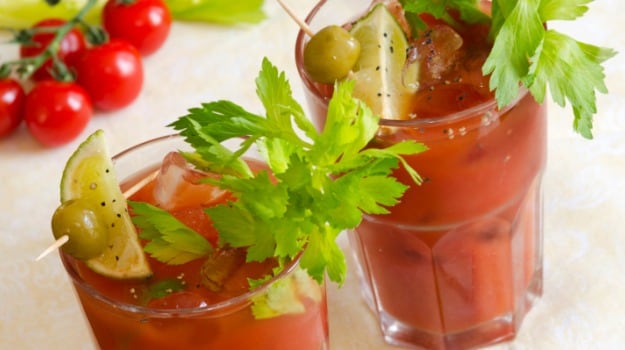 How Did Bloody Mary Get Its Name?
There are different tales to why this drink came to be known as Bloody Mary. But the most popular one is its connection to Mary Tudor, the infamous queen of England in the mid-1550s, who ruthlessly ordered almost 300 English protestants to be burned to the ground in the name of Catholicism, thus earning her the moniker Bloody Mary. Other less thrilling stories draw parallel to Mother Mary and Hollywood star Mary Pickford.
Over the years, bartenders have experimented with different sauces and ingredients to play around with flavours and pack a punch.
How To Make Bloody Mary
Nitin Tewari says, "I believe Bloody Mary does not have one recipe. Everyone loves to experiment with this combination of vodka and tomato juice with different sauces, spices etc to create their own version depending upon their taste preferences, city and availability of ingredients. So I thought why not to create our own Indian jugaad version keeping lockdown in mind with what all ingredients I have available in my home. Try this or mix your own version, I am sure this drink will make your day."
Shake up this spicy cocktail and enjoy a lazy afternoon.
Comments
(Also read: World Whisky Day 2020: 5 Delicious Whisky Cocktails To Shake Up At Home)