Gifting defines the festive season like nothing else. Whether you enjoy the process of planning a thoughtful present or love ripping into the wrapping paper when you receive one, gifts are an irreplaceable part of Diwali. It can get confusing when you've got a tech lover in your midst however. From finding the right product in your budget to one that they desire with the right specs, searching through stores and websites can seem endless. And if you still haven't found the right one yet, it can be scary too.
Diwali 2019 is around the corner, which means it's about time you got your gifts in check. Today we've compiled a gifting guide that is especially for those who can't get enough of their phones, tablets and speakers. From the latest fitness band in the market to an input device that make your speakers smarter, here are the 8 tech gifts that you cannot go wrong with this Diwali 2019.
(Also Read: 9 Diwali Gifts Which Are Perfect For Festive Presents)
8 gadgets to gift this Diwali 2019
1. Lenovo Wireless Earphones
The Lenovo wireless earphones are in-ear ear buds which come with a magnetic charging case. The Bluetooth earphones are sweat, splash and dust-proof , have super extra bass and support up to 8 hours of playing time.
(
250 ratings & 413 reviews
)
2. Fossil Smartwatch
The Fossil Marshall Smoke smartwatch comes with built-in activity tracking with a speaker and microphone as well as with notifications that can be controlled on the screen. It also has customisable watch faces and interchangeable straps.
(
11 ratings & 19 reviews
)
3. Micromax Canvas Tab
The Micromax Canvas P701+ tablet has a 5MP primary camera with 2GB RAM, 16 GB internal memory and has browsing time of approximately 4.5 hours in connecting WiFi mode.
(
307 ratings & 409 reviews
)
4. Amazon Echo Input
The Amazon Echo Input device will go one step further. Instead of gifting a smart speaker, this will change any regular speaker to a smart one with hands-free voice control, Alexa-enabled commands and connectivity via Bluetooth or cable.
(
204 ratings & 355 reviews
)
5. Upscale Digital Desk Clock
The Upscale digital desk clock is a multifunctional bedside panel that displays the time, temperature, date and humidity on a LED screen.
6. Amazon Kindle
The Amazon Kindle (10th Gen) has an adjustable built-in light, 4GB of storage and additional features to make ready understandable and easy.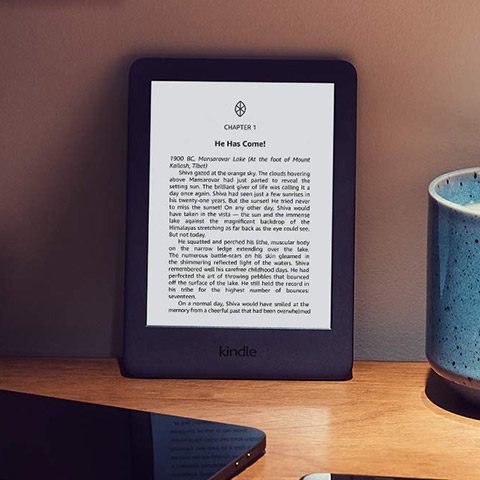 (
1,158 ratings & 2,065 reviews
)
7. Saregama Caravaan
The Saregama Caravaan R20005 digital music player has 5000 pre-loaded songs with USB and Bluetooth modes and in-built stereo speakers with an LCD screen.
(
6,253 ratings & 8,650 reviews
)
8. Fitbit Alta HR
The Fitbit Alta HR is a sleek fitness band with continuous heart rate tracking, sleep stage monitoring and activity like calories burned, steps and distance.
(
155 ratings & 10K+ reviews
)
(Also Read: Amazon Sale, Offers For Diwali: Clothes, Home Decor, Beauty Products To Buy)
Shop for more tech gifts here.
Give a Diwali gift that will leave them delighted.