Had Deepika Padukone's beleaguered film Padmavati released on schedule this month, it would have capped what has been a golden year for the actress. She began 2017 with a bang as a Hollywood debutante in xXx: The Return Of Xander Cage opposite Vin Diesel and it seemed likely that Padmavati would have brought her accolades at home. But never mind Padmavati. As 2017 winds down, it seems a good time to return to May this year, when Deepika Padukone made her first appearance at the Cannes Film Festival as one of the several glamorous celebs representing L'Oreal. It wasn't Deepika's first year at Cannes - she was there rocking a Rohit Bal sari in 2010 but not as part of the L'Oreal contingent - and nor was it the first time we've seen her in some show-stopping looks. But Cannes is Cannes, and what celebs wear seems to be as important as the films being screened. So how did Deepika Padukone do on what is one of the world's most watched red carpets? To start with, she managed to make plenty of heads turn in the 48 hours she was there. From floor-length gowns to skyscraper heels for lunch, nothing was too much for The Dimpled One.
Here's a round-up of what Deepika wore.
Day 1
Wearing a Johanna Ortiz red floral ruffled dress, Deepika looked exactly like the red dancing emoji and in keeping with the mood, she shimmied a little too. With aqua eyes, Deepika wore this dress for the L'Oreal Paris Beach Studio, and it perfectly channelled the vibrancy of the French Riviera beach culture.
Later, for press interactions, she went minimal with a blush pink satin Galvin London dress and a messy top knot. Although she looked great, after the vision that she was in red, we were hoping for a little more drama in her look.
And finally, for the much-awaited red carpet appearance, Deepika went with Marchesa. A tulle gown with an embellished bodice, a deep maroon lip and carefully tousled hair, she stuck to her signature style and played it safe. Again, she looked stunning, but the look didn't exactly blow our minds. We just had higher expectations, we think.
Day 2
Deepika's second day in Cannes started on a really high note, with a bright yellow Solace London pencil dress with exaggerated sleeves and a ponytail. If looks could be personified, Deepika's on day two was the kind of bright, happy ensemble you wear on a day when you believe nothing can possibly go wrong. Also, for fans of the minimal jewellery look, the floral Elizabeth and James earrings she paired with the ensemble will be a definite hit.
Deepika followed up the yellow with another eye-popping colour. In the afternoon, she chose to go with a bold Barbie Balenciaga pink. Paired with quirky Louboutin stilettos, she was seen posing with Elle Fanning, also at Cannes for L'Oreal.
Deepika rounded off her Cannes red carpet debut in a midnight green
Brandon Maxwell
gown with a dramatic train and glittering diamond earrings by
De Grisogono
. The thigh-high slit and matching piercing eyes definitely made her look elegant beyond belief, and she made it to the best-dressed lists of Vanity Fair and Harper's Bazaar.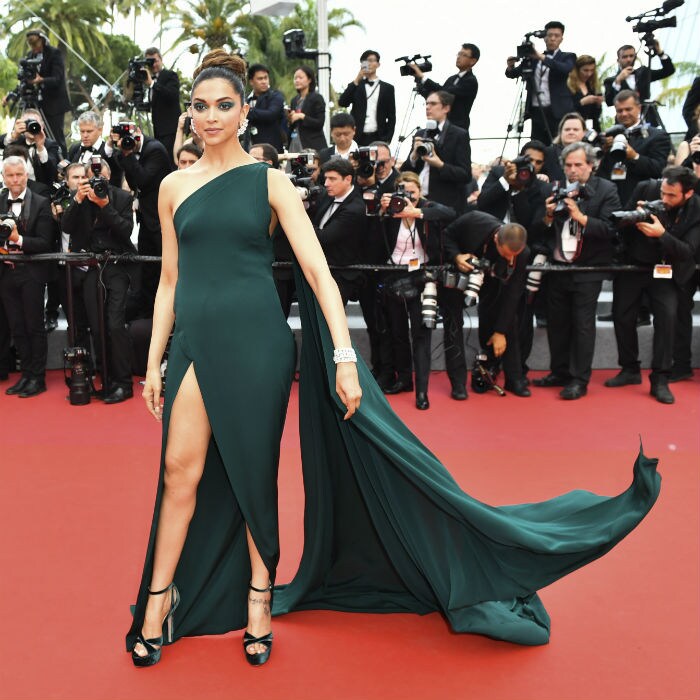 Maybe our expectations were at their peak because Deepika Padukone had celeb stylist in-charge of her looks. She pulled off Cannes with elan and elegance - can't wait for next year.