Actress Anushka Sharma's wedding wardrobe has been exclusively Sabyasachi so far - she has been dressed by the designer for the engagement, mehendi and wedding ceremonies in Italy last week, and also at the reception held in New Delhi yesterday. Both Anushka and Virat Kohli have picked Sabyasachi right through - and if anyone was disappointed that Anushka's wedding lehenga was pink rather than the traditional bridal red, last night certainly compensated. Anushka's red and gold banarasi saree - the vibrant red that is the hallmark of Sabyasachi's bridal collection - was perfect for what turned out to be a pretty formal affair. Prime Minister Narendra Modi attended, which should be an indication of just how grand the reception in Virat's hometown was, after the relatively relaxed festivities in Italy.
Anushka's outfit - a heavy banarasi saree and uncut diamond jewellery, a gajra in her hair.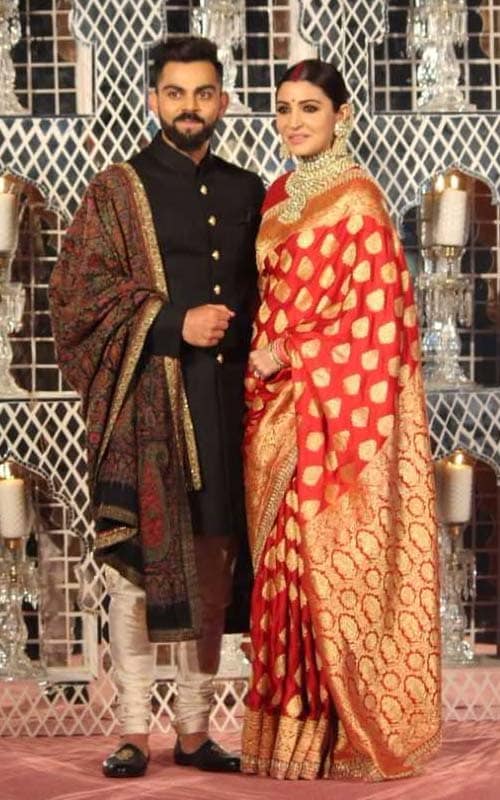 Sabyasachi posted pictures of the couple on his Instagram, just as he did after the wedding announcement on December 11.
He also posted a note about the bridal red, and acknowledged that his saree would probably be copied instantly. Never mind, he wrote, it benefits the weavers.
Virat Kohli's bandhgala was also a Sabyasachi creation.
Anushka Sharma and Virat Kohli married in a Tuscan resort on December 11. The traditional jaimala and ceremony were preceded by an engagement and mehendi. Anushka wore a burgundy velvet saree to exchange rings, a pink, orange and teal lehenga with a distinctly boho vibe for the mehendi, and a pink lehenga embellished with silver-gold embroidery for the wedding itself.
Sabyasachi posted pictures of each outfit:
This is only the penultimate celebration in the Anushka-Virat festivities. The newlyweds will next host a reception in Mumbai - where they will also live - on December 26. The invitees are likely to include the couple's celebrity friends and colleagues. No prizes for guessing that Anushka will be a Sabyasachi bride one last time.
Comments