Newcomers in Bollywood are spotted by a dime a dozen but only a few manage to stand out post the release of their debut vehicle. In 2017, we saw the likes of Aadar Jain and Suraj Sharma leave a lasting impression on us. So we're expecting great things from 2018. And while it's only just March, there's one newbie we've got our eye on and she's called Banita Sandhu. Remember the name. Aren't familiar with it yet? Don't worry, you soon will be.
Just 20-years-old, this girl is already making waves in the film industry, even before the launch of her movie. For her debut film, Banita has bagged a prized role opposite Bollywood heartthrob Varun Dhawan in Shoojit Sircar's October. The movie promises a mix of young love and mystery and going by Banita Sandhu's prior acting experience, reportedly from the tender age of 11, you can consider us hooked.
But like most leading ladies who put on a stylish show for movie promotions, how did Banita Sandhu fare on the fashion front? You're about to find out. The launch of the trailer of October took place in Mumbai a day ago and, this being Banita's first official appearance for the film, we had our hopes up. For the event, she wore camel toned high waist shorts with a white tank top and a matching oversized Tommy Hilfiger blazer with flag patchwork on the pockets and white stitching throughout. With it were bright blue knee-high Mulberry boots with a white block heel. Along with the outfit, Banita chose a minimal beauty look with nude lipstick, winged liner and a pulled back hairstyle. Her co-star Varun too flaunted a new moustache with a denim jacket, shirt and jeans at the trailer launch.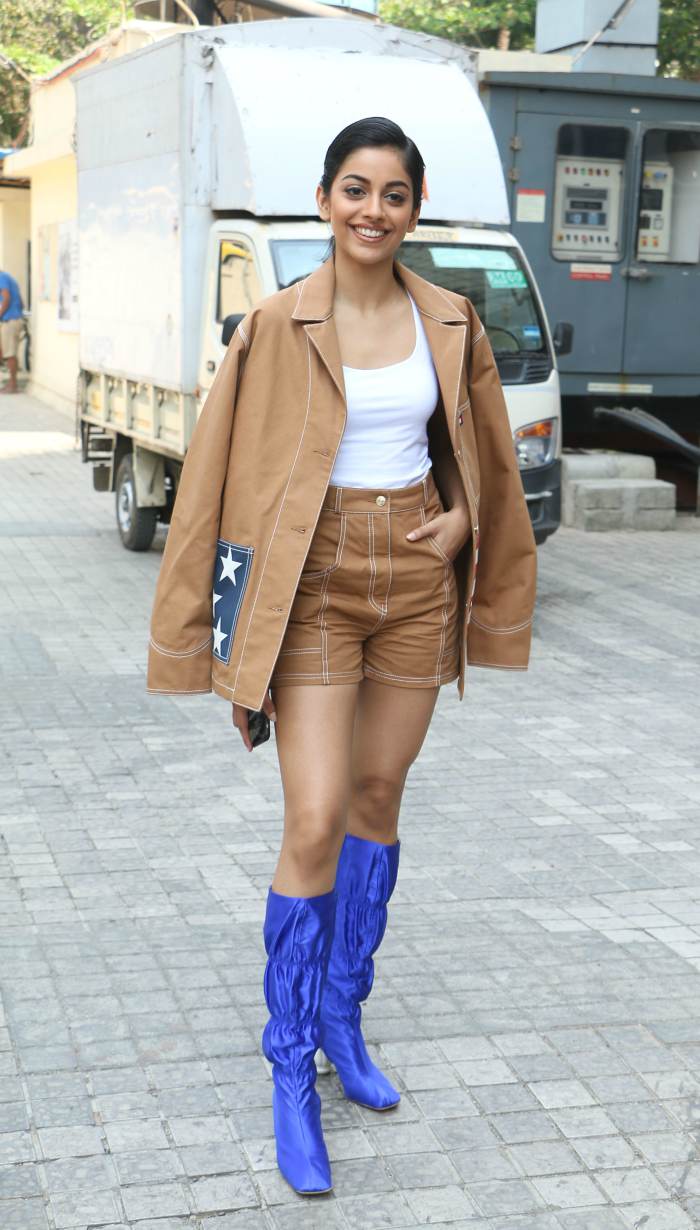 Banita at the trailer launch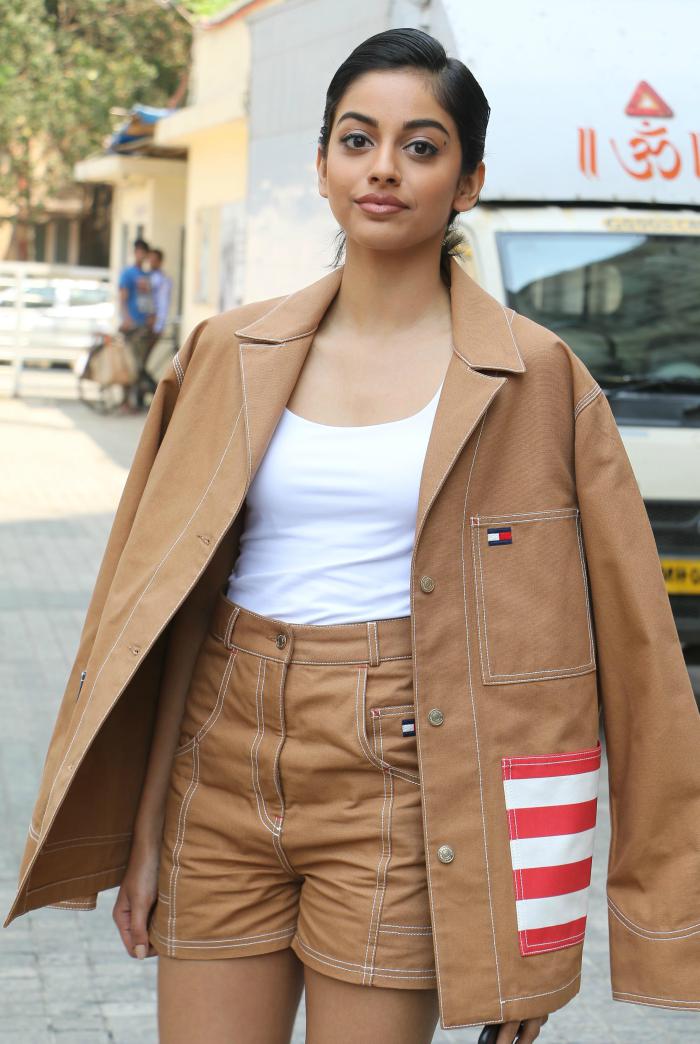 She paired it with minimal makeup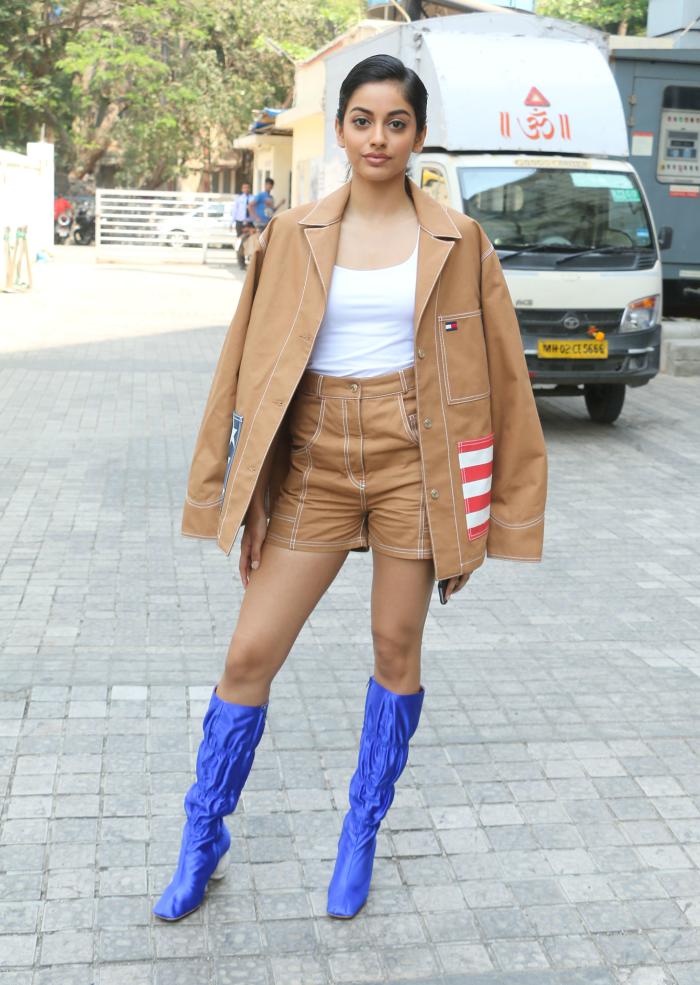 Banita's blue boots were the standout feature of her outfit
So was Banita's very first movie promotional look a hit or a miss? We're leaning more towards the latter. The trendy elements of the short suit, slick hairstyle and patchwork all work wonderfully as separates but bring them together and it's a case of too many elements spoiling the ensemble. It's also the turn of the scorching season so while bold boots may stun on runways across the world, they don't usually translate well for Indian summer wear - certainly not in balmy Mumbai, where 'winter' is an academic notion at best. Her saving grace was the minimal makeup of bronzed cheeks and defined brows, which was understated enough to complement her statement outfit.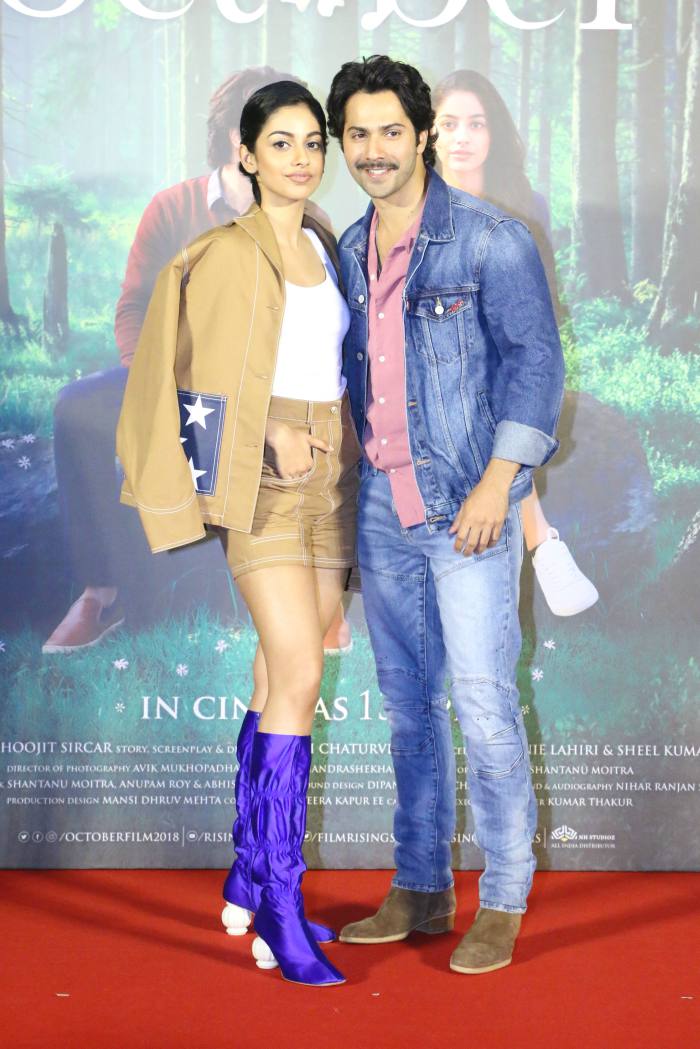 Banita and Varun at the trailer launch
So Banita Sandhu, maybe next time then? We're certain there are plenty of more October-related appearances to make - the film releases next month - and we're waiting to see how you blow us away.