Amid the ocean of black that was the self-imposed dress code at the Golden Globes 2018, a few brightly-clad women stood out - like sore thumbs, social media said. Meher Tatna, the Indian-origin president of the Hollywood Foreign Press Association that gives out the Globes, Zenobia Shroff of The Big Sick fame, and Blanca Blanco, a little-known actress, showed up in startling red, while German model and actress Barbara Meier showed up in a sheer floral number. The backlash on Twitter was instant and brutal.
Given that the informal dress code was adopted by the women - and many men - of Hollywood to stand in solidarity with survivors of sexual assault and abuse, a hot-button topic in the industry in the post-Weinstein era, these women's decision to not conform irked and irritated many. Naturally, one might say - but by not wearing black, were these women really saying that weren't onboard with the newly launched Time's Up campaign?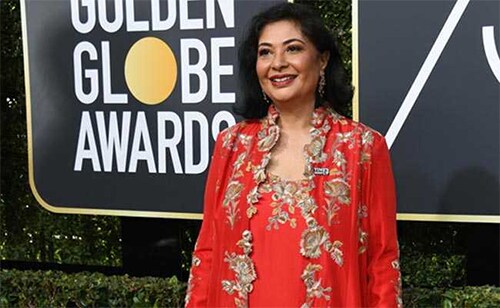 While Tatna explained her reasons for wearing red (cultural), Blanco, Meier, and Shroff did not immediately comment. They were, however, commented upon incessantly on the Internet, and subjected to some curt writing in the news media for their sartorial choices.
Blanca Blanco's outfit, in particular, was quite mercilessly criticised for its daring slits and cut-outs. Some people stopped just shy of slut-shaming, while many others went right ahead.
Both Blanca Blanco and Barbara Meier have put forth their side of the story on social media.
In a series of short tweets, Blanco spoke about how the issue is bigger than the colour of her dress and that shaming was part of the problem.
Meier used Instagram to say that expressing her personality through fashion was who she was and standing up for her rights also meant having the freedom to wear what she wanted. According to Meier, restricting this freedom by enforcing a dress code, or shaming someone for not following it was a big step back in her opinion.
While both opinions and stances are legitimate, even for those who were sceptical about the whole idea of wearing black to make a point, the women who chose not to conform were a bit of a disappointment. Not because women united in a dress code is every closet sexist's wet dream, but because it is disappointing that even on an occasion when Hollywood showed an almost unprecedented level of unity, there had to be those few outliers who just couldn't resist drawing attention away from the topic being discussed and onto themselves.
There is, after all, a time to express one's individuality, and a time to hold hands. Strangely, at the Golden Globes 2018, these two important agendas seem to have clashed.
And even as the world tries to balance and navigate the rules of these confusing, complicated times, one thing is clear. There is never a time for slut-shaming a woman (or anyone). While it's okay to be sorely disappointed and comment on what looked a lot like the betrayal of a cause and all the women who have suffered sexual abuse, it is never, ever okay to comment on a woman's character.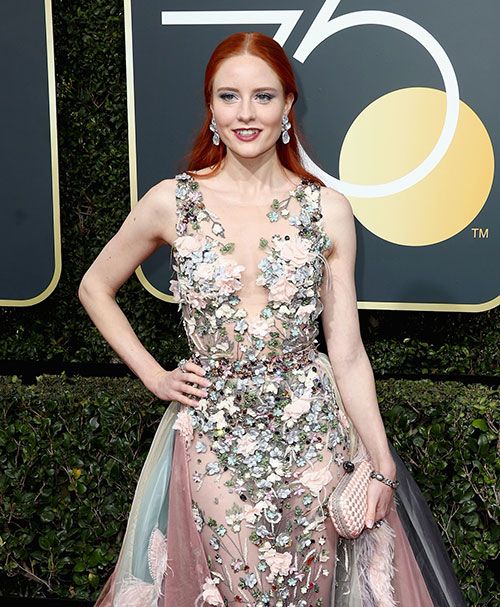 It is ironical that while a lot of ink was spilled and heartburn was experienced by ideological watchdogs over Blanca Blanco and Barbara Meier's sexy clothes, Meher Tatna's (who is literally at the top of HFPA) choice was quietly swept under the rug. Most stories on the topic did not even mention Shroff's departure from the unofficial dress code.
Why? Possibly because their choices were afforded the protection from criticism that modesty often elicits.
Blanco, specifically, and Meier chose to show skin at a time when they were told not to. Perhaps it wasn't the right time or place, but ironically, their colourful clothes actually managed to cut to the heart of a factor that enables sexual exploitation of women - the society's harsh judgement of women wearing 'sexy' clothes, and its attempts to police what we wear.
Wearing black in solidarity is well and good, perhaps even necessary. But far more important is fixing our outdated thoughts and perceptions about women's bodies and what is on them. Until that happens, not conforming to a dress code to make a point should be the least of our worries. Time's Up on slut-shaming, maybe?