French president and first lady, Emmanuel Macron and Brigitte Macron arrived in India on Friday, 9th of March, for a four day visit. While Indian Prime Minister, Narendra Modi and French president, Macron have made some key progressions and statements during this short visit already, Brigitte Macron, former teacher turned French First Lady is making some statements of her own - except in the fashion world. Other than for all her philanthropic work, the first lady has been impressing many with her choice of outfits during the last three days in New Delhi as well as her trip to the Taj Mahal in Agra.

All through her trip so far, the French First Lady has stuck to wearing clean, classic and straight silhouettes. Her wardrobe for the trip (that reportedly consists of a lot of Louis Vuitton), has been made up of spring/summer colours and fabrics, ranging from pastels for the day to lace for the evening.

While the French President along with Prime Minister Modi is visiting Varanasi today, Brigitte Macron seems to have skipped this day trip for perhaps another day in New Delhi, where she has been seen visiting neighbourhoods and orphanages for events.

On her arrival in India on Friday, Brigitte Macron was seen wearing black pants and a shirt, with a powder pink blazer on top. She carried a pink bag to match her blazer. Even after a long haul flight, her perfectly blow dried hair and chic yet simple choice of clothes had her looking faultless.

For their ceremonial reception at the Rashtrapati Bhavan followed by their visit to the Rajghat, on Saturday, Brigitte Macron opted for a pastel pink shift dress, yet again with a matching pink bag (perhaps the same one she arrived with?). She kept her hair and makeup simple and chic much like the day of her arrival as well.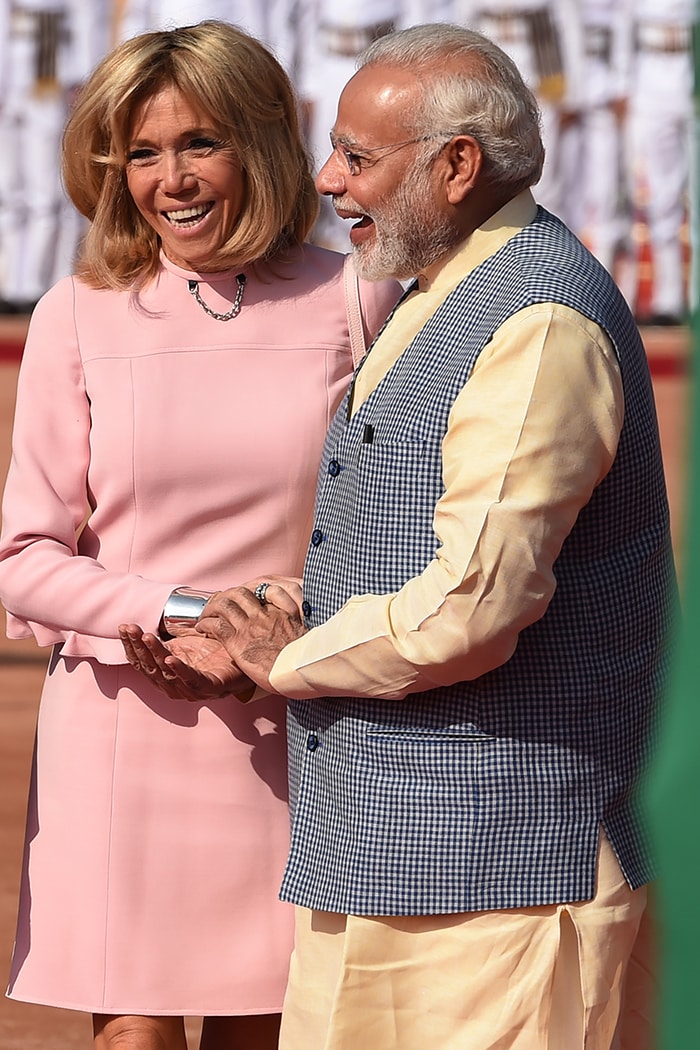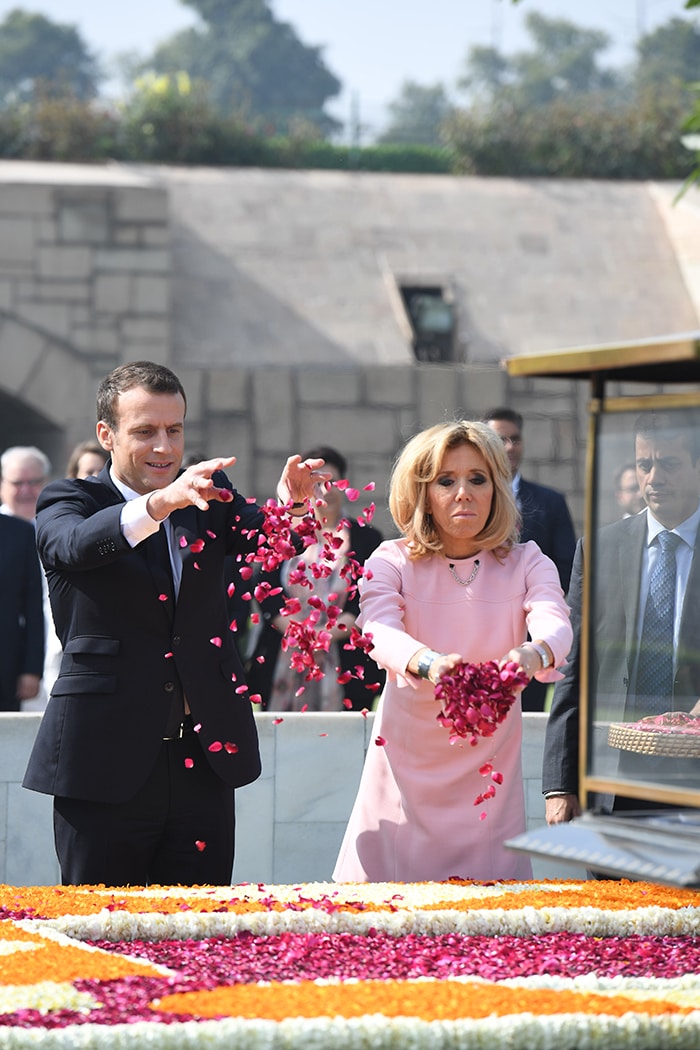 Proceeding to the dinner hosted at the Rashtrapati Bhavan, the First Lady chose a lace evening gown with cut out shoulders. She carried a cream stole and a black Roger Vivier clutch. Instead of leaving her hair open this time, Brigitte Macron opted for a side parted elegant bun.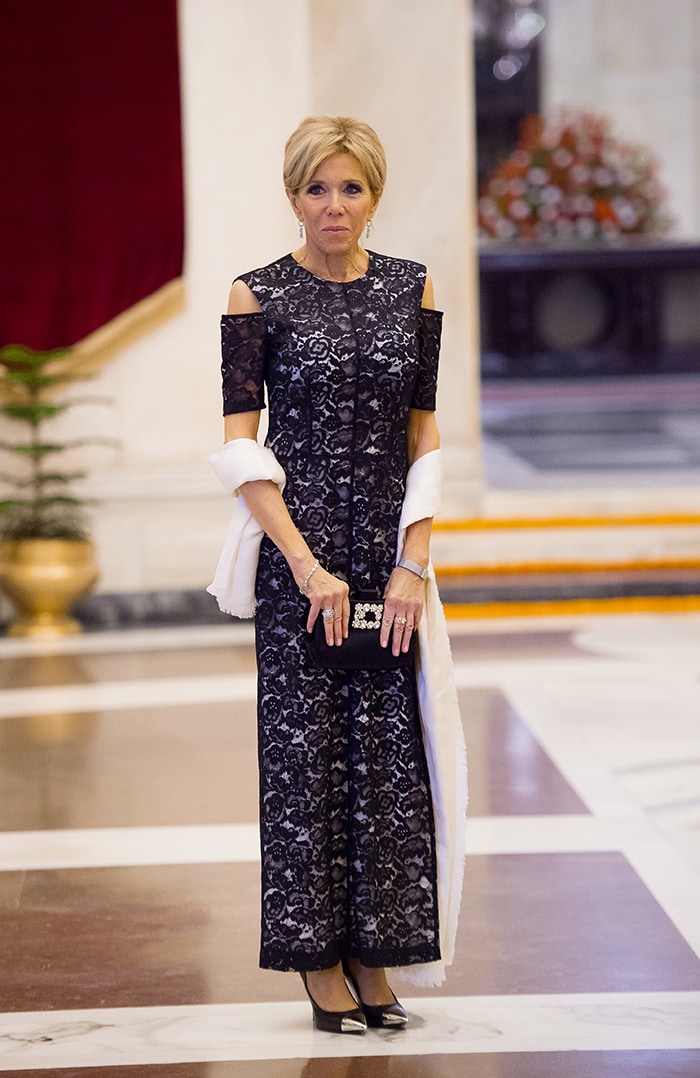 On day three of her ongoing visit with her husband, Brigitte Macron opted for a chic mini dress. Her blue and white block pattern dress was the perfect addition to her classic wardrobe for the trip to India. Once again her hair and makeup was kept minimal and she finished her look with nude pumps.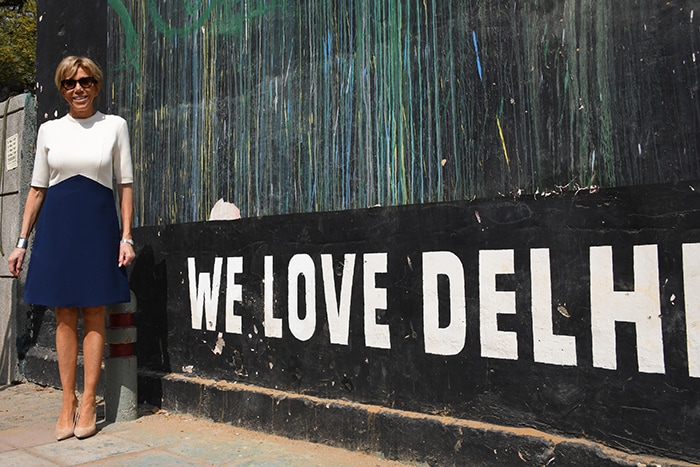 Her trip to Agra saw the 64 year old French First Lady get out of summer dresses and go in for pant suit instead. She chose to wear a beige pant suit on her visit to the Taj Mahal, with a white crisp white shirt inside. She was seen once again in her hair in a bun and nude pumps.

The French President and First Lady are scheduled to be on their way out of India tomorrow, but we can't wait to see what Brigitte Macron will choose to wear on her last evening here.

Brigitte Macron's style has been classic and sophisticated through the trip so far. Her style shouts out that she isn't trying too hard, and for her, that's what we think works best.