Unlike the Golden Globes, the red carpet at the Critics' Choice Awards that were just held in Santa Monica, California, was a kaleidoscope of colour, embellishments and all kinds of flashy accoutrements. And even though, as lovers of fashion, we can't stop sighing over the gorgeousness of the gowns that Hollywood's leading ladies turned out in, a part of us is sorely disappointed by the lack of black on the red carpet. Angelina Jolie wore a feathered white dress, Nicole Kidman picked pop pink, Gal Gadot was striking in silver and Jessica Chastain wore emerald green.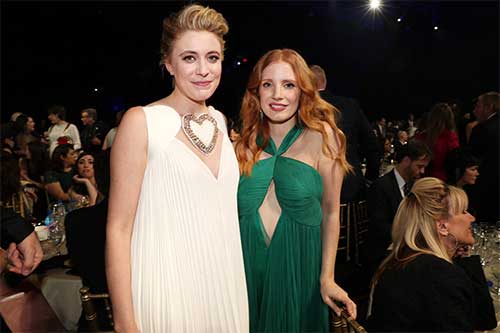 Was the Globes' overwhelming sea of black - for as far as the eye could see (minus a few exceptions) - little more than an elaborate PR initiative and little else, like so many of us had originally feared? Is a show of solidarity a one-time thing? And now that the brooding black dresses have had their outing, it's time to pack them up and push them to the back of the closet, forgotten by most, perhaps like the reason they were worn in the first place.
It sure seemed like it, with all the pomp and flair on the Critics' Choice Awards' red carpet.
As skeptical as the critics (including us) were of the effectiveness of the sartorial protest drummed up by the women behind Time's Up (a legal and PR-led initiative to help victims of sexual assault), it is undeniable that the Golden Globes' red carpet was an impressive sight. How could it not be? With Hollywood - the men also wore black - coming together in an extraordinary show of unity to talk about the problem of sexual abuse. Watching powerful women hanging out and working together to make life a little bit easier for the rest of us is a glorious sight to behold. And a thought we definitely wanted to hold on to, for at least a little while longer.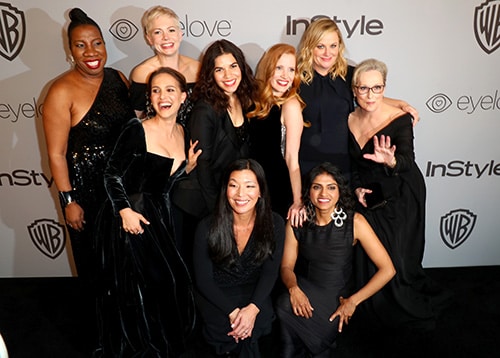 Unfortunately, it's clearly back to business and designer couture for Hollywood, if the Critics' Choice Awards were any indication. Apart from a few specks of black - Emilia Clarke, Reese Witherspoon, Rachel Bloom, Justina Machado, Betsy Brandt, Audrey Moore, Margo Martindale, Laura Dern and a few others - the red carpet was all rainbow colours and sparkle.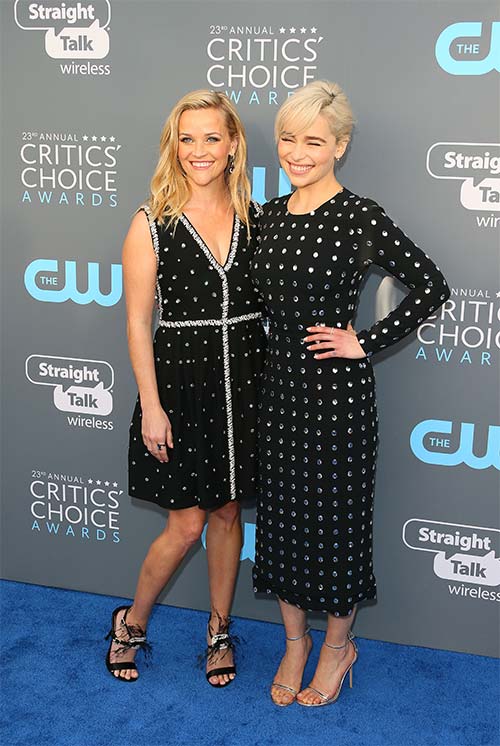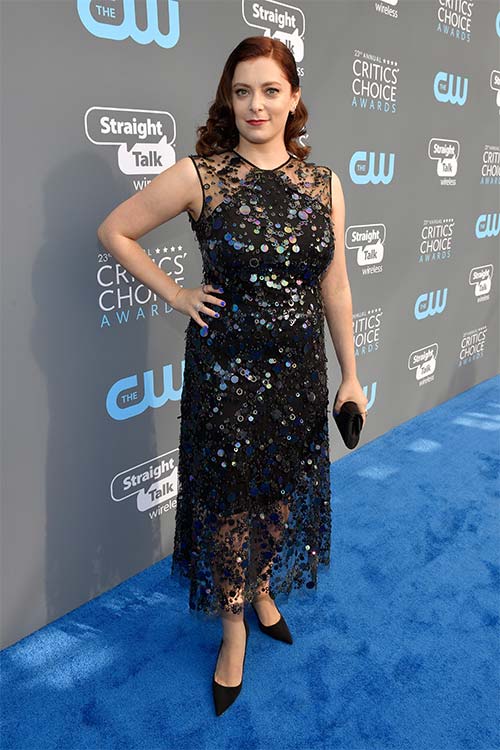 Although we have to give a shout out to Asia Kate Dillon for turning up in flared pants, high-tops and a 'Black Lives Matter' cropped sweatshirt.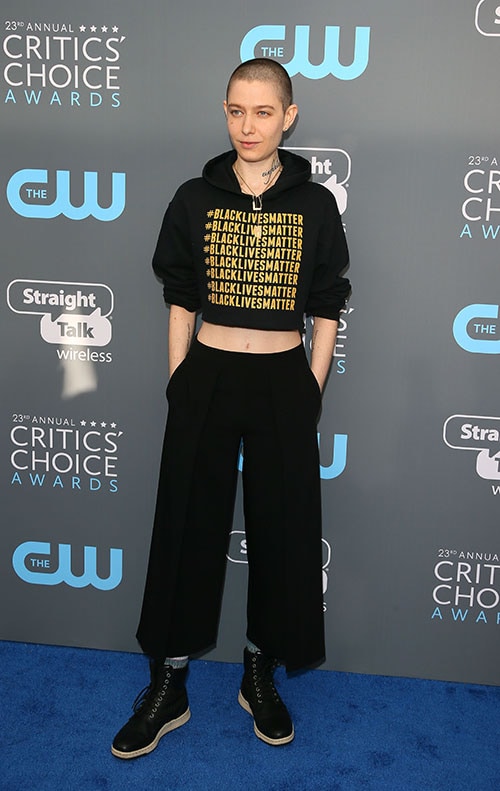 Wonder Woman Gal Gadot, as breathtaking as she looked, swapped the Golden Globes' black with a shimmering silver goddess gown by Prada. She won the second SeeHer Award that honors women who 'recognize the importance of accurately portraying women across the entertainment landscape'.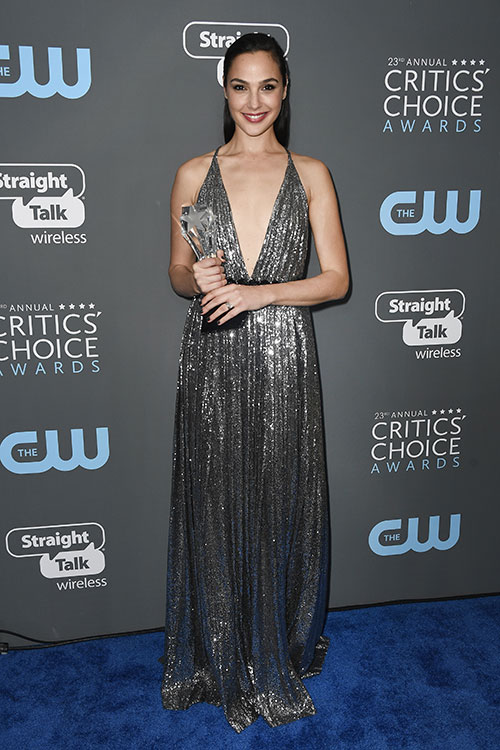 Olivia Munn hosted the show in figure-hugging scarlet gown by, again, Prada, elevated further by a dramatic rhinestone and jewel-encrusted collar draped across the front and back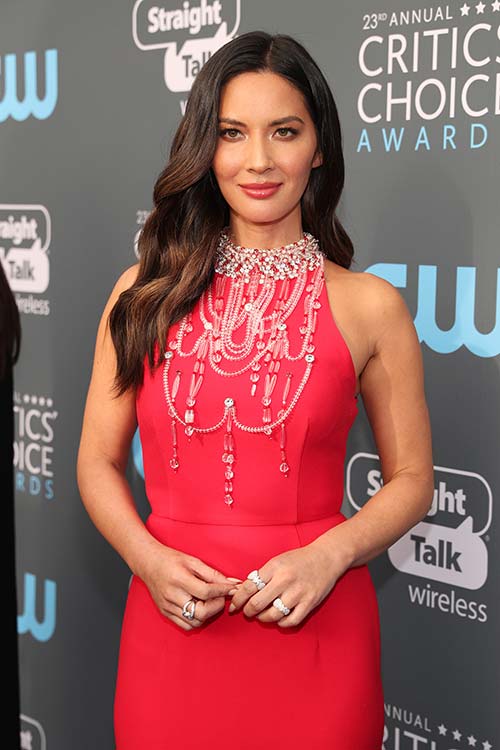 Jaimie Alexander had to have made heads turn in her emerald Georges Chakra high-low dress, with a feathered hemline and exaggerated train.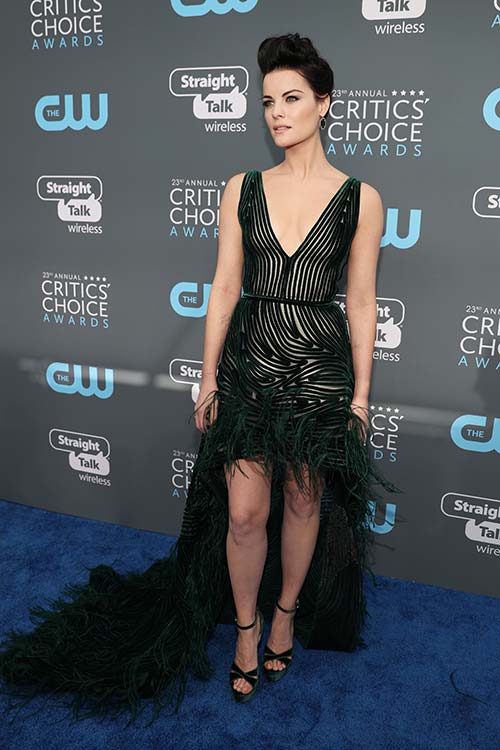 Allison Janney was impossible to miss in her bright cobalt sequinned gown by Michael Cinco.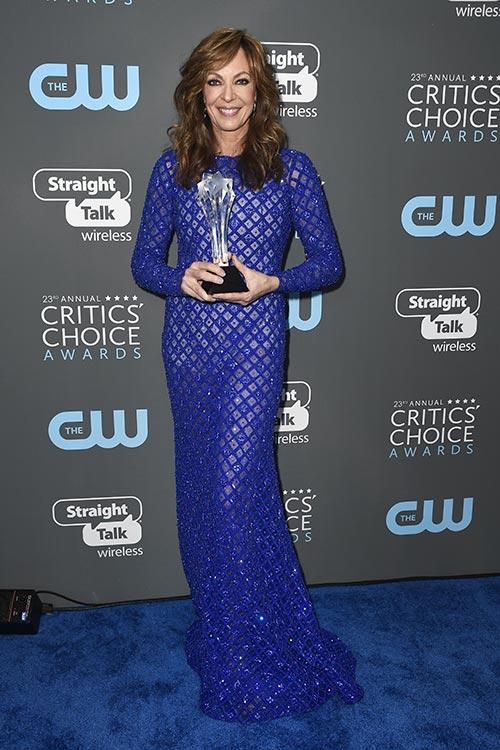 Nicole Kidman wore a sequinned lacy bright pink gown with long sleeves by Valentino.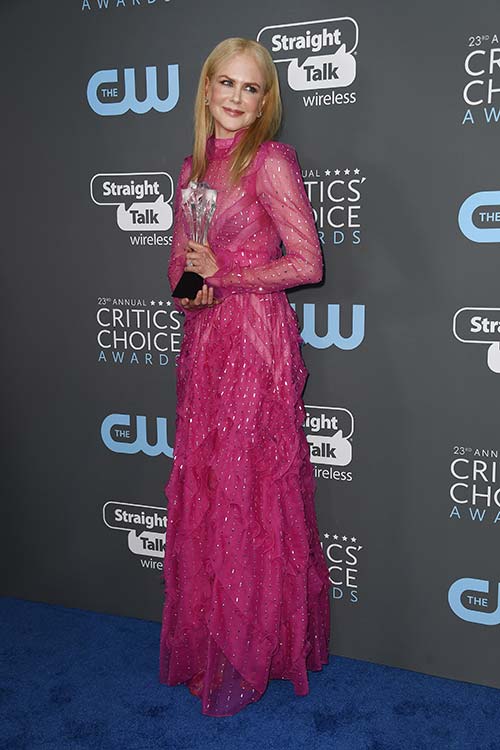 After the stark blacks at the Golden Globes, pristine white and nude shades won favour with many stars at the Critics' Choice Awards, with Angelina Jolie, Sarah Hyland, Alessandra Mastronardi, Diane Kruger and Kate Bosworth wearing white, while Heidi Klum, Kaley Cuoco, Alison Brie and Rachel Brosnahan turned out in very pale pinks and understated nudes.
Angelina Jolie in feathered and asymmetric Ralph & Russo couture.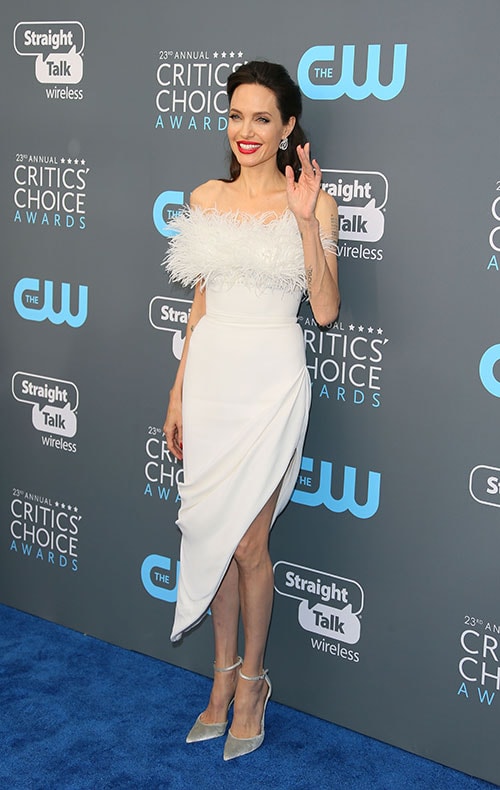 Diane Kruger wore a customised Vera Wang, while Kate Bosworth came in a lacy white gown from Brock Collection.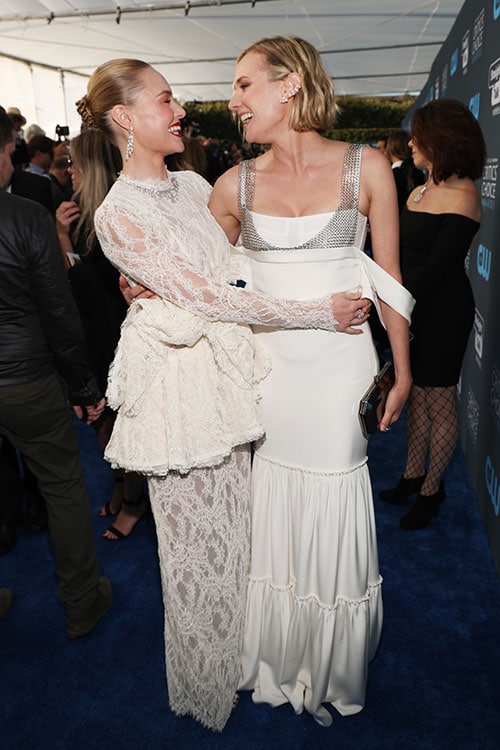 Alessandra Mastronardi wore a Chanel gown from its Resort 2018 collection.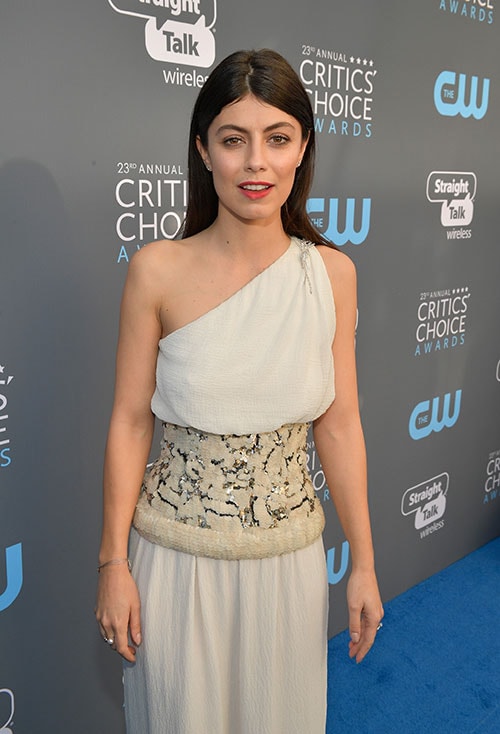 Sarah Hyland wore a tea length dress from Naeem Khan's Resort 2018 collection.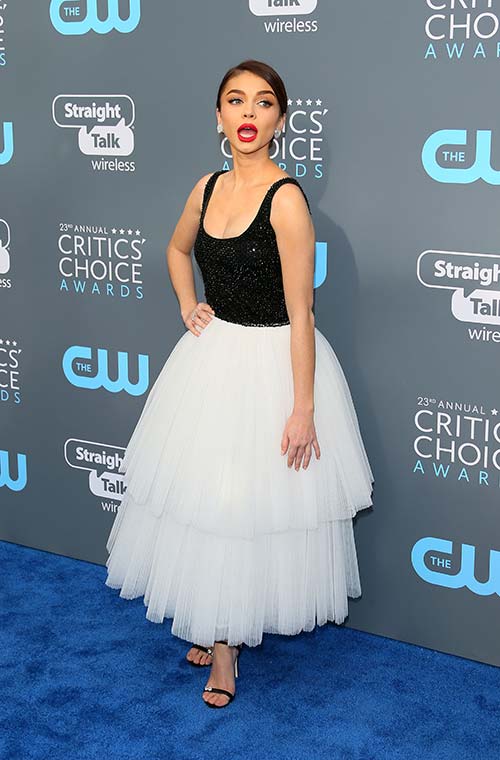 Heidi Klum epitomised glamour in a beaded cold-shoulder gown with flower appliques from Georges Hobeika's Fall 2017 collection.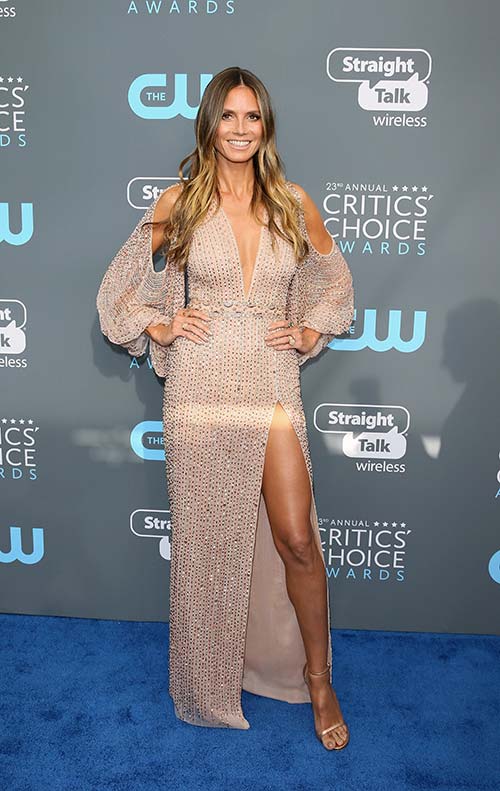 Kaley Cuoco's J Mendel gown with a plunging neckline and sheer bottom was among our favourites from the evening.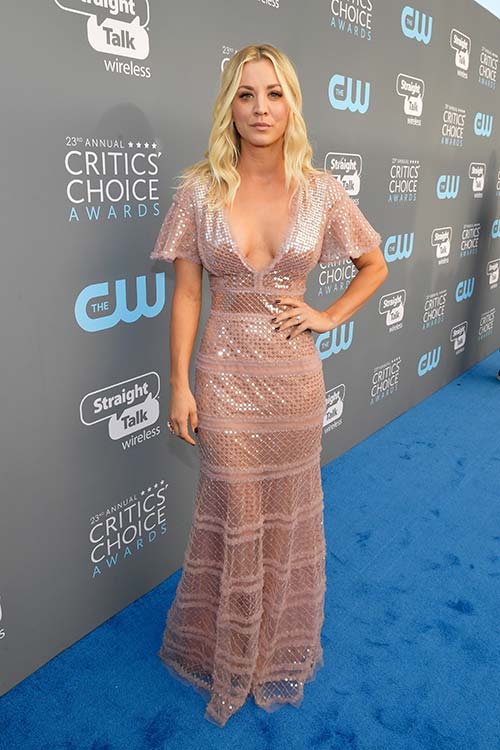 Rachel Brosnahan wore a light pink embellished tea length dress by Zuhair Murad.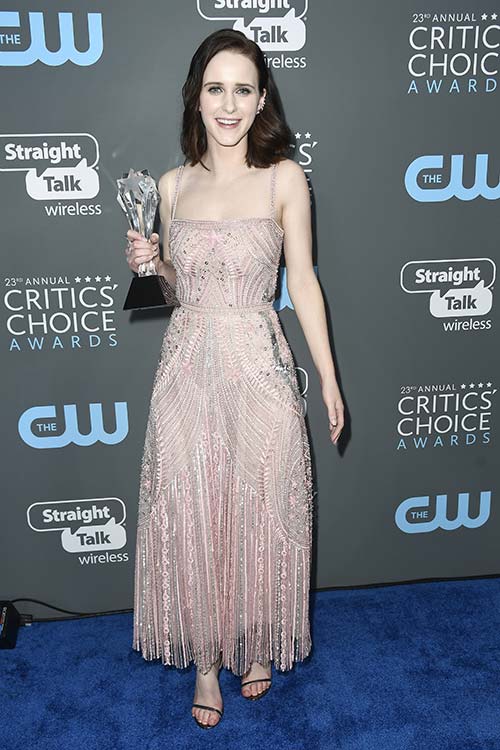 Alison Brie's pale Roberto Cavalli dress without any embellishments was understated, yet glamorous.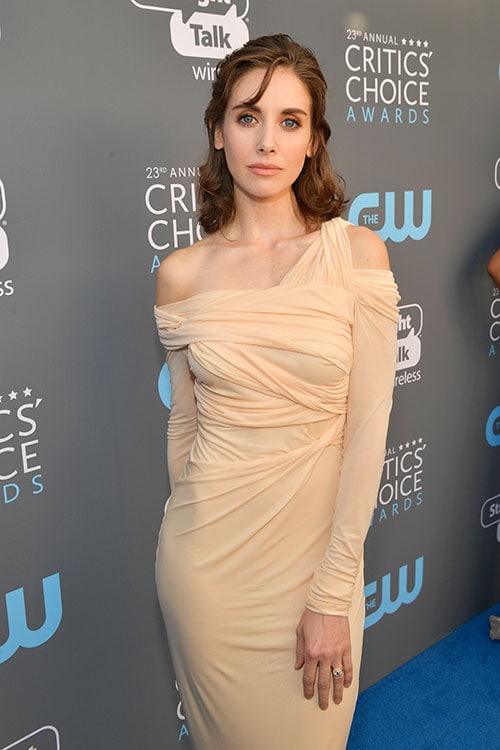 So, was that it for the 'why we wear black' posts? It's only the start of awards season, which concludes with the Oscars in March.
Comments