The day is finally is - Deepika Padukone has arrived in Cannes. You know who's waiting with bated breath to see what she will be wearing for her glorious appearances at Cannes this year? We are, and so are you. So is every other person who hasn't chanced upon this article. That's how much anticipation and curiosity there is around Deepika Padukone's sartorial choices. Deepika Padukone has arrived in Cannes just a couple of days after her appearance at the Met Gala. Prior to that we saw her attend the Time 100 Gala in New York. Safe to say Deepika has already had a few fashion heavy weeks. While there may be a general consensus around the notion that Deepika's red carpet style is 'boring' and that she and her stylists play it 'too safe', it's just not enough to kill the buzz and excitement that surround her appearance at Cannes once again.

Deepika is a shining star, and when it comes to her, there is always hope. Even if one has been disappointed before.

Before she walks the red carpet this evening at The Cannes Film Festival and opinions on her look start start pouring in, we're rounding up Deepika's outfits from her appearance at Cannes 2017. Have a look.

Deepika started her press interactions at Cannes in a red hot floral printed dress from Johanna Ortiz. 10/10 from us for this one.

Her second change for day 1 was into a pale pink Galvan London dress. She paired it with a pair of Christian Louboutin heels.
Come day 2 and Deepika was ready to jump into bright hues. Her first look for press interactions on day 2 was a hot pink mini dress from Balenciaga. She paired her uber chic dress with a pair of colourful Louboutin heels.
Her second look for day 2 was a yellow number from Solace London. We have to say, yellow really is her colour.
Deepika attended the opening ceremony of the Cannes Film Festival 2017 in a purple sheer and embellished Marchesa gown. If we had to pick one word for this look of Deepika's, it would be flawless.

For her final red carpet appearance at Cannes 2017, Deepika wore a bottle green gown from Brandon Maxwell. We have no words for this look of Deepika's, other than wow.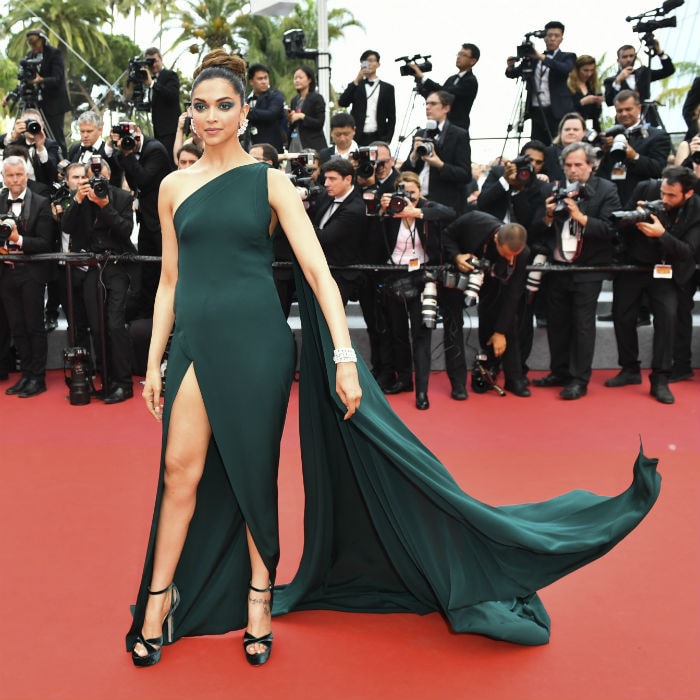 Photo Credit: AFP
Do you think Deepika's looks at Cannes this year are going to be impressive or disappointing? Let us know in the comments section below.

Either way, we can't wait to see what she will wear.