Deepika Padukone's 2018 has begun with quite a bang - she celebrated her 32nd birthday in the Maldives with rumoured boyfriend Ranveer Singh and is now prepping for the release of her delayed film Padmaavat. So, Deepika is accordingly dressing to impress. After the postponement of Padmaavat, or Padmavati as it was then known, last month, it seemed like Deepika was taking her public appearances down a notch - she skipped the red carpet at a couple of events, for instance - and given that protests against the film included a bounty on her head, nobody was surprised. This weekend, however, proved that The Dimpled One has returned to her always spectacular fashion form.

Prepare for a stylish year. Just 15 days in and Deepika has pulled off some looks that are truly awe inspiring. We cannot help but look at these pictures over and over again. Deepika's definitely proving that 2018 will be her year to reign over the fashion world.

Sabyasachi seems to have quite a presence in Deepika Padukone's wardrobe. The actress is seen often in his creations. For the Mumbai Police's annual cultural night, Umang, that was held on Saturday, Deepika once again chose to wear Sabyasachi. She went for a classic black sari with an embroidered full-sleeved blouse. Deepika looked every bit the beauty she is in this absolutely stunning creation by Sabyasachi. If anyone knows how to rock the sari, it's Deepika Padukone.

Airport style is taken rather seriously, we know that. Deepika seems to be right at the front of the race in this department. Deepika made a splash at the airport last night in this basic, yet super stylish look. Black leather tights, a basic stripe shirt and a bag that's making waves - that's all it took for Deepika to make airport fashion her own. Deepika always seems to add one element that stands out in all her outfits. The Gucci waist pouch seems to be it in this look.

Velvet has been a big winter trend for a few years now. Trust Deepika Padukone to add an edgy twist to even that. Deepika attended a recent party over the weekend at Shah Rukh Khan's house with Ranveer Singh, wearing a mustard velvet jacket by Sandro Paris and ripped TopShop jeans. She kept her look clean and sleek by turning to her trusted ponytail and hoops. Black suede pumps completed her look.

Deepika Padukone started the year with an impressive campaign for the international watch brand, Tissot. She looked fabulous in a red jumpsuit for the shoot.

Deepika then stepped out for a talk show along with her sister Anisha Padukone. Deepika's choice of outfit for this event was experimental; but she pulled it off with ease. She wore a blue gingham one-shoulder, slit maxi-dress by Rosetta Getty with jeans. She paired her outfit with shiny, metallic, pointed pumps and tied her hair up in a ponytail, giving her look an even more avant-garde vibe.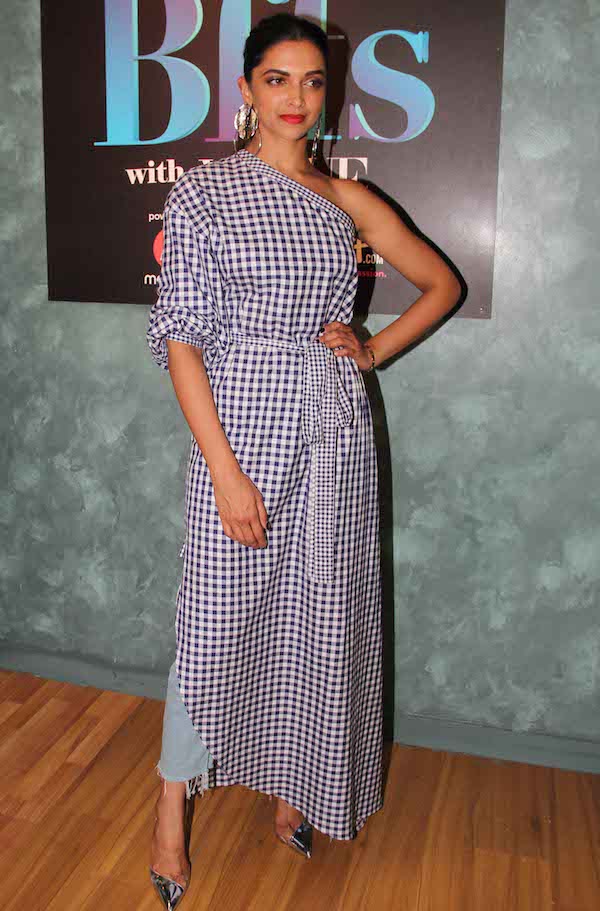 In the last few years, Deepika Padukone has established her place not only in Bollywood, but also in the international movie industry. From doing movies like Piku to Bajirao Mastani to playing the role of a badass agent in xXx: The Return of Xander Cage, Deepika showed the world just how much she has evolved as an actor.

Deepika is, of course, loved by millions because of her beauty, humility and pure dedication; but her choice of films in the recent years has helped surge her popularity immensely. At the beginning of her career, the former model was often called "just a pretty face" by many. She proved her mettle over the years but showcasing her talent hasn't been limited to only acting. After having paved her way into cinema, Deepika has also started to stand out as one of the most fashionable people in the industry.

Deepika Padukone has made her presence known in the fashion world in 2018 already and we can't wait to see what else she has in store for the rest of the year.
Comments