Sundays are all about relaxing, isn't it. So what's better than slipping into baggy clothes to stay comfortable and hassle free? That's exactly what Bollywood actress Disha Patani showed us when she picked a cool pair of baggy track pants to set the mood for Sunday. Athleisure is a trend that's definitely not going anywhere. From airport looks to everyday casuals, cool tracksuits are what you need to get your hands on to stay effortlessly chic like Disha Patani. And if you want a break from jumpers, then pick baggy or flared track pants like Disha that will surely become your favourite casual wear.
We recently spotted Disha Patani in Mumbai when she made a cool case for baggy track pants by picking a black cropped pair from Puma. To sport an all-black look, she teamed it with a black crop top and a black jacket to stay on point. For some colour contrast, white sneakers were what she chose to wear with this athleisure outfit.
(Also read: In A Little Black Leather Dress, Malaika Arora Nails Party Looks For Autumn-Winter)
Disha Patani's casual style is the perfect case in point that you can make chic style statements without trying too hard. It's all about choosing the right outfits that make for standout looks but at the same time keep you comfortable too. It's not the first time when we have spotted the B-town star in baggy or flared bottom wear. She seems to be one of her favourite picks as time and again we have seen her in loose fit jeans and track pants.
(Also read: Move Over, Skinny Jeans. Disha Patani Is Making A Case For Flared Denims)
Want to get your hands on cool track pants like Disha Patani? It's time to give a style update to your casual closet and stay easy-breezy this season.
(Also read: Suit Up Like Shilpa Shetty In Colourpop Blazers This Winter 2019)
Trendy Track Pants That You Will Love To Pick
We have put together a list of trendy track pants that will keep you on point: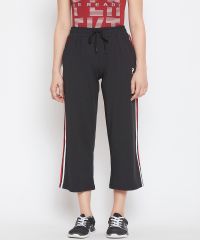 Get your hands on these cool track pants right now.
Comments
Note: The Swirlster Picks team writes about stuff we think you'll like. Swirlster has affiliate partnerships, so we get a share of the revenue from your purchase.