It wouldn't be the Grammys without the First Family of R&B/hip hop in the front row, right? There they were - Beyonce, Jay-Z and six-year-old Blue Ivy, playing happy families. Looking at them, who would guess that the song that provided Beyonce with her sole nomination this year and Jay-Z with one of his seven was called Family Feud? Jay-Z, unluckily for him, went home without a single Grammy but at least Beyonce is winning social media. Not because she took home a trophy but because of her utterly mad, in a very rock and roll way, outfit.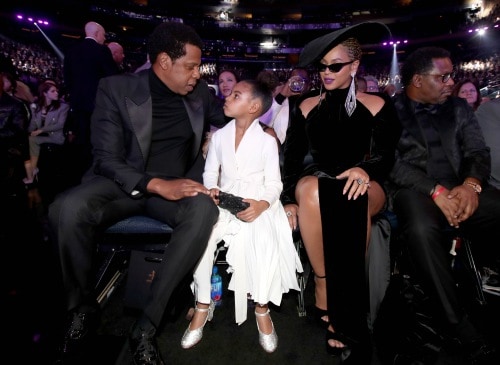 Beyonce's black velvet Nicolas Jebran dress was matched by a giant black hat by the same designer, finished with XXXL-sized diamond earrings from Lorraine Schwartz and Alain Mikli sunglasses which she kept on through most of the show. There was no way Twitter didn't notice. Tweets are divided in sympathy for those blocked by Queen Bey's ginormous hat and speculation that she was dressed for the funeral of Jay-Z's nominated 4:44 album, metaphorically speaking of course.
Beyoncé is wearing a black Pringle as a hat and I am LIVING FOR IT pic.twitter.com/c6wzsDkOLo

— Rach (@RachTheThing) January 29, 2018
Beyoncé dressed like she knew Jay-Z was gonna lose pic.twitter.com/4GWKivmu6P

— jovan (@EhJovan) January 29, 2018
can't stop thinking about Beyoncé's hat at the Grammys and how many views she blocked

— P (@PaulinaCajigal) January 29, 2018
Imagine having to sit there mad as hell because there's no way you're telling Beyonce you can't see over her damn hat pic.twitter.com/WEDXk44Re6

— Ira Madison III (@ira) January 29, 2018
Beyoncé had on that hat and glasses because she didn't want anyone to know she was there

— bopper in the corner (@thugyonce) January 29, 2018
Beyoncé had her church hat on like she was there to bury a 4:44 album

— comfy_duhh (@_cjsorude) January 29, 2018
Beyonce kept her shades on cuz she was rolling her eyes the entire time #grammys

— Lae lae (@TheBlueGangsta_) January 29, 2018
A breakdown of Beyonce's look - those diamonds are worth nearly $7 million, all 70 carats of them. The sunglasses aren't too shabby either.
Beyoncé wore a $6.8 million worth of Lorraine Schwartz jewelry including a custom-made pair of 70-carat diamond and titanium geometric earrings with 35-carat center stones & three platinum-set diamond rings. She also wore a $380 Alain Mikli sunglasses. pic.twitter.com/fqrBZ06icK

— BEYONCE LEGION (@Bey_Legion) January 29, 2018
Queen Bey's look was reportedly inspired by the Black Panthers movement - gotta say we don't really see it, other than the black on black on more black. Now that Lady Gaga's kind of going straight, relatively speaking, maybe Beyonce is taking over the crazy fashion mantle once proudly owned by Cher and Prince. Not that this look is anywhere as Gaga as Gaga's most Gaga outfits.
Comments
The Grammys were held in New York last night - that's early this morning for India. Jay-Z didn't win but Bruno Mars and Kendrick Lamar, the other multiple nominees, did.