If the 2018 Grammys proved one thing, it was this: whatever Hollywood can do, the music industry can do equally well, if not better. The year started with an unprecedented, almost unanimous sartorial protest in the form of an all-black dress code adopted by Hollywood to show solidarity to the #MeToo movement, under the Time's Up legal fund to aid survivors of sexual abuse. While the in-solidarity black dresses may have been ditched at the Screen Actors' Guild Awards and Critics' Choice Awards' red carpets in favour of more colourful fashion, the sentiment of celebrating women and inclusivity reined strong. But the dress code was back at the Grammys early morning today, albeit with a delicately floral twist.
The red carpet at the recently concluded event in New York saw the music industry's best turning out in their finest clothes, but with a white rose pinned on to mark their support of the Time's Up movement. From Cardi B, who came looking like a white rose, to comedian Sarah Silverman who stuffed hers in her mouth as a symbol of protest against silence, to Lorde who stitched on a feminist essay on her gown, and even singer Joy Villa, who created quite a stir with her 'Choose Life' anti-abortion dress featuring a large fetus encased in rainbow colours the Grammys' red carpet had many remarkable moments - that went beyond fashion and couture.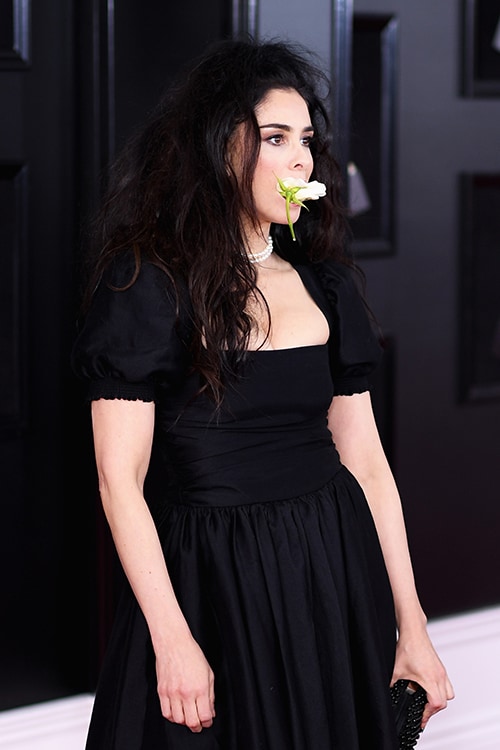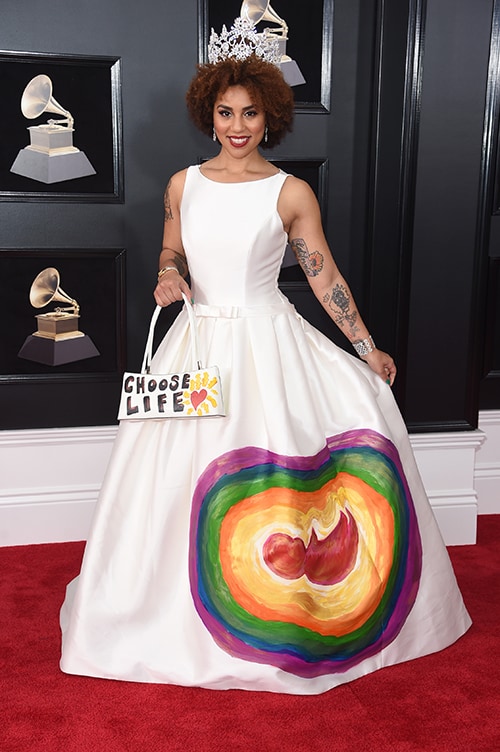 Here are our picks from among the best-dressed from the evening:
Kesha in Nudie Kohn
Fashion can tell some pretty powerful stories, and Kesha's Grammys look was the perfect testimony to that fact. Dressed in a vintage navy suit with white embroidered roses, designed by the late Nudie Cohn, the suit was the perfect way to express Kesha's commitment to Time's Up as well as a powerful sartorial symbol for the tumultuous few years she has had on the personal front, emerging stronger, more confident and ready to take on the world with renewed vigour.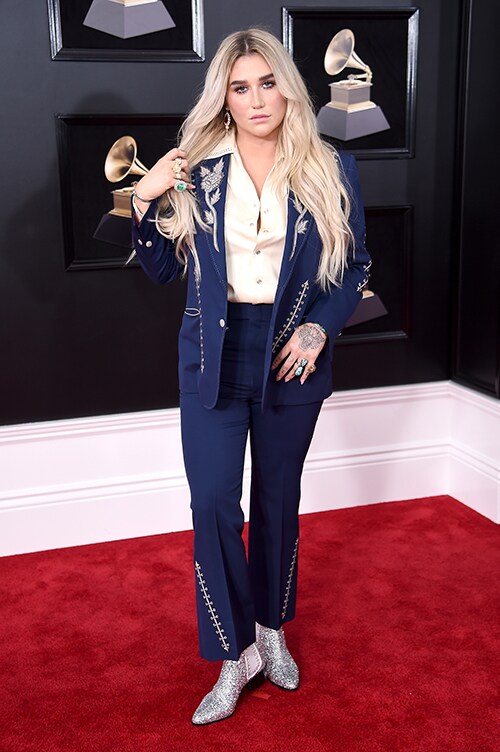 Cardi B in Ashi
Rapper Cardi B's short, pleated, ivory lace dress came from Syrian designer Mohammed Ashi's couture collection. Called, 'The Girl On The Moon', it is symbolic of a girl whose dream is to go to the moon. With the dramatic butterfly sleeves and tail, it definitely fit perfectly with Cardi's dreamy, dramatic personality. And oh, did we mention the $500,000 sparkler she came sporting, courtesy fiancé Offset's engagement present? Wow. Just, wow.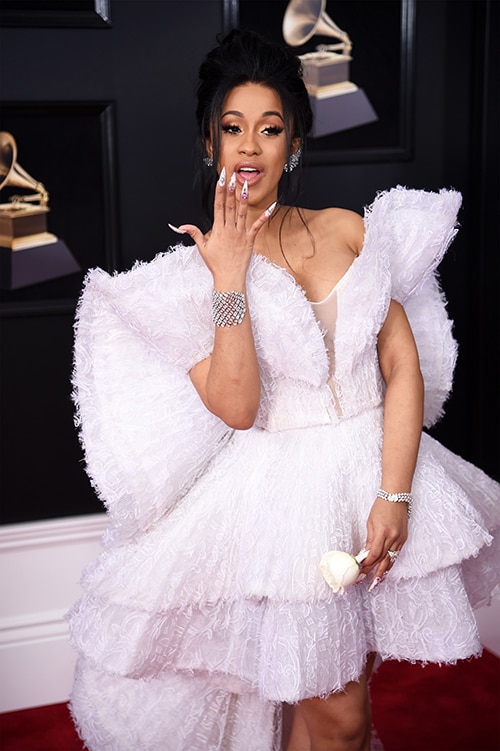 SZA in Versace
Dressed in a feathery white Versace gown with voluminous sleeves and a thigh-high slit, and gorgeous Chopard jewellery, SZA looked like she had just stepped out of a fairy tale. But even if she had come wearing a potato sack, the touching sight of her walking the red carpet with her mum and grandmother in tow (both of whom also wore white roses) would have cemented SZA's place in any list talking about memorable red carpet appearances.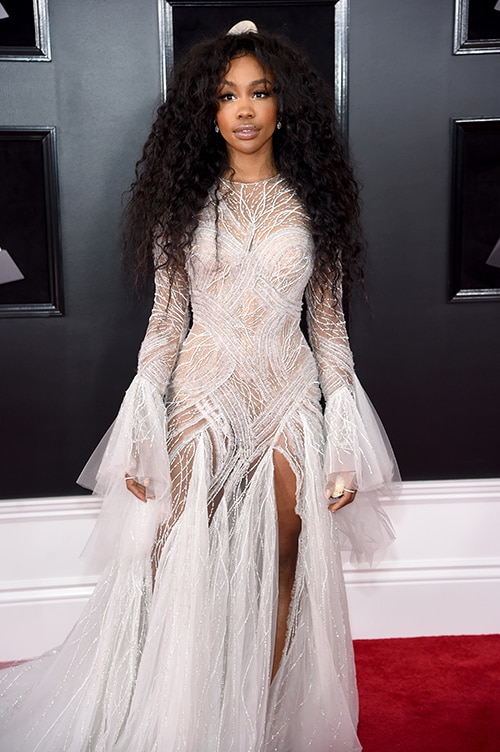 Rita Ora in Ralph & Russo
Rita Ora looked incredible in a one-shouldered velvet Ralph & Russo gown with a daring wide slit that went far beyond her thigh. While she looked stunning, with her classic Hollywood waves, bold red lip and bolder gown, she was seen struggling with the gown's incredible slit.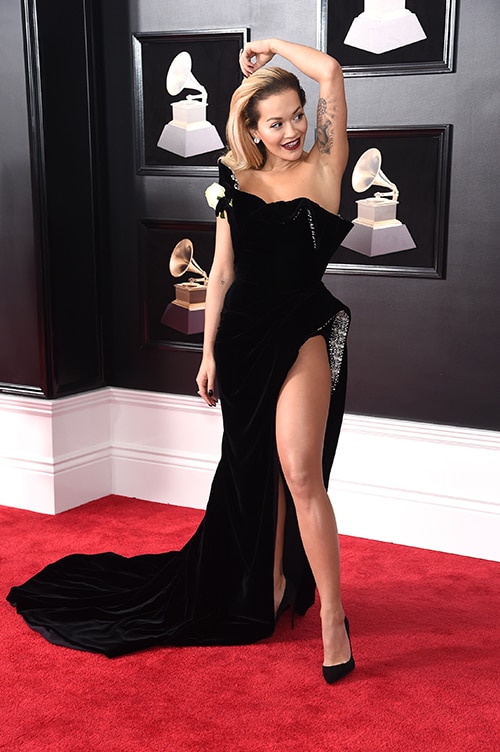 Lady Gaga in Armani Prive
Lady Gaga might have given up the gimmicky costumes of Grammys past, but she certainly hasn't given up on drama in her sartorial choices. She came wearing a black lace bodysuit paired with an enormous billowy skirt that required so many handlers, it reminded us of Priyanka Chopra's never-ending train at the Met Gala dress last year and Rihanna's Guo Pei gown at the 2015 Met Gala. The look, already a head-turner, was finished with dramatic smoky eyes, tight corset braid, large black chandelier earrings and a pristine white rose.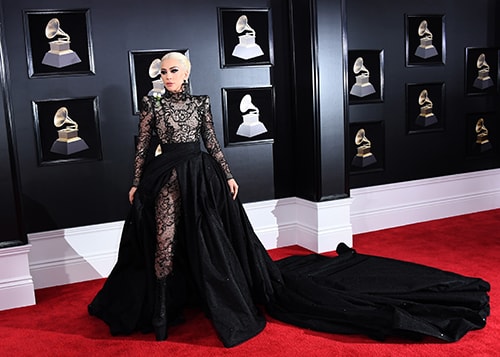 Miley Cyrus in Jean Paul Gaultier and Zac Posen
Miley Cyrus' many fashion transformations are hard to keep track of or pin down on any given day, and the Grammys were no different. Opting for a look that is a complete departure from her 'wrecking ball', tongue-sticking-out persona, she showed up in a sophisticated, chic black velvet jumpsuit with a military-inspired neckline and crystal heels.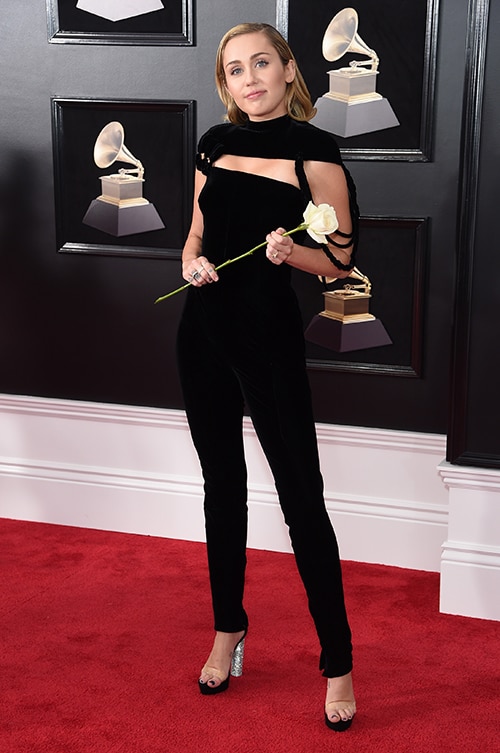 Later, for her performance with Elton John, she changed into a dreamy red Zac Posen gown, reminding us of Miley's Disney days. With the long sheer sleeves and full skirt, she looked every bit a Disney princess. Both looks were finished with soft waves and minimal makeup.
With the ante for activism through fashion being raised with every successive awards function, we wonder what the Oscars will bring in March. We most definitely can't wait.