Priyanka Chopra just had a rather triumphant Monday, what with her roaring success at the Met Gala and all. Priyanka's outfit at the Met Gala has been appreciated endlessly and her will to take risks in the fashion department admired deeply. Priyanka Chopra knows how to make a statement - whether during an interview, a speech or just when it comes to fashion. The former Miss World has not only perfected the art of public speaking and charming her audience with her charismatic personality, but she has also somewhat perfected the art of always being amongst the best dressed wherever she goes. She doesn't hold back, in words or actions, and her go-getter, all-in attitude towards everything she does is definitely worthy of applause.

Priyanka is a busy woman - as one can tell just from the way she's constantly on the go. She's globe trotting and in a new location every other day depending on where her work takes her. That's got to be tiring - we're tired just looking at the pictures she shares on Instagram while on the go. But there's something to be said about leading a life so busy; you truly get to enjoy and appreciate your time off. Or so we think. More accurately, that's what Priyanka's pictures are making us think.

Priyanka Chopra seems to have been so tired after the Met Gala that she packed her bags and headed to an exotic tropical locale. We don't blame her, that head gear did seem heavy.

Here's a look at what Priyanka has been up to after the Met Gala on Monday this week. Sans head gear, and assumably sans a hectic schedule to follow or the self acclaimed fashion police to please.
Priyanka seems to have put her summer hat on, quite literally. We're loving the cool tropical vibe she's channeling.

A sunny day and a side of palm trees. Ideal.
Priyanka is making this multi-coloured printed co-ord set look fine, alright. Add that rather fashionable jute bag to the mix and you have yourself another classic ensemble from Peecee.

A refreshing cocktail (or mocktail) is much needed after all that fashion talk we can just imagine Priyanka must have had over the past few weeks. Here's a picture she shared on her Instagram story.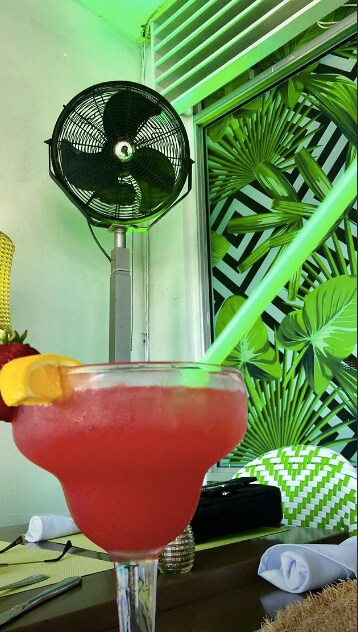 Comments
We're so happy for Priyanka Chopra, but we're also so jealous of her current holiday mode. Nonetheless, she deserves it after that victorious Met Gala outfit.