Looking for trendy new outfits to notch up your fashion game this season? If you have been going overboard with graphic prints, stripes, florals and leopard patterns, it's time to take a break and turn back to good old solids for a refreshing new edge. After all, solids always work when it comes to making chic style statements, and there are so many interesting ways you can give them a spin without trying too hard. Need some style inspiration? Take tips from none other than Bollywood fashionista Shilpa Shetty, who surely knows all the tricks to look her stylish best every time she steps out.
While most of us may stress over picking the right outfits day after day, Shilpa Shetty seems to do it effortlessly and also set style trends while at it. We are not even exaggerating as her recent two looks are proof that she is a pro at staying on point through every season. We recently spotted the star in Mumbai along with actor Anil Kapoor, when she looked stunning as ever in a solid jumpsuit. Rich hues of course work every time, and Shilpa opted for a deep purple piece that stole the show.
(Also read: Karwa Chauth 2019: 10 Gorgeous Sarees And Salwar Kameez Suits To Buy)
On another occasion, while shooting for an episode on the second season of Kareena Kapoor's talk show What Women Want, Shilpa again showed us how to work solids by picking a stunning white outfit by Shivan & Narresh that featured one-shoulder cut and fringes. To notch up the solid white dress, she picked neon heels that instantly gave it an interesting edge. Interesting design features and trendy accessories are a sure hit.
(Also read: Alia Bhatt Takes To Candy Stripes To Make Airport Fashion More Fun)
It's clearly all in a day's work for Shilpa Shetty. So take tips from her and amp up your style game too for this season. From statements co-ord sets, dresses and jumpsuits, there are many ways you can add solids to your style closet.
A Shopping Guide For You
We have listed down seven trendy outfits that will instantly amp up your style game. From standout dresses to jumpsuits, make this season all about looking your glamorous best. Take a look:
1. Maroon Crepe Ruffle Sleeved Jumpsuit
Notch up your style game in this chic jumpsuit. What sets it apart is the ruffle detail on the sleeves along with pleat detail.
(
48 ratings & 126 reviews
)
(Also read: Amazon Great Indian Festival Sale, Deals: Best Offers On Men's & Women's Clothing)
2. Black Sleeveless Maxi Dress With High Slit
Have an event coming up? Looking for a gorgeous dress to glam up in? Pick this classic black piece that features a maxi cut and a high slit.
(
116 ratings & 211 reviews
)
3. Yellow Cropped Jumpsuit
Brighten up your everyday looks with this trendy jumpsuit. The cut-out patterns lend to its charm as well as the relaxed fit.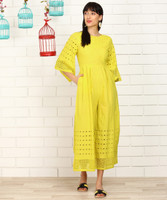 (
24 ratings & 152 reviews
)
4. Purple High Low Dress
Looking for a trendy dress to notch up your party looks? Don't miss picking this chic number that will instantly set you apart with its trendy high low design.
(
31 ratings & 162 reviews
)
5. Pink Shift Dress With Floral Self Patterns
This pretty pink dress from AND is sure to become your favourite with its standout design. Team it with strappy heels and drop earrings and stay on point.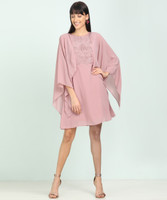 (
20 ratings & 124 reviews
)
6. Grey A-Line Dress
How says that sober colours can't be given a chic spin? Pick this pretty dress that features lace detail and notch it up with sparkly gold jewellery.
(
12 ratings & 33 reviews
)
7. Purple Flared Jumpsuit
Keep it simple and chic by picking this solid jumpsuit that is sure to become your favourite this season. Team it with trendy black heels and large hoop earrings.
(
13 ratings & 16 reviews
)
Like Shilpa Shetty, take to solids and make chic style statements.
To browse more stylish outfits on Flipkart, click here.
Disclaimer: The Swirlster Picks team writes about stuff we think you'll like. Swirlster has affiliate partnerships, so we get a share of the revenue from your purchase.