This morning, for a brief moment, it felt like 1988 again. A familiar chant of "Mohini Mohini" and strains of "ring rong ring" reverberated across social media. Had we been mysteriously transported back in time? And then, realisation dawned - it was Ek Do Teen Redux, with Jacqueline Fernandez stepping into the dancing shoes of Madhuri Dixit. That's a brave thing to do, one might say - and one would be understating it rather. Tezaab was Madhuri's star-making role, Ek Do Teen the song she is most remembered for - even now, after featuring in decades of memorable songs. So, Jacqueline, A for effort alone.

The remixed Ek Do Teen - the latest in a string of hits that Bollywood has reworked - belongs to the upcoming film Baaghi 2, starring Tiger Shroff and Disha Patani. Jacqueline features in the song, and while the term 'item number' is (rightly) hated and reviled now, it seems appropriate for the spirit of Ek Do Teen, which embraces and celebrates the female dancing form - in Tezaab, Madhuri's character performed to large crowds, dancing her way into hearts in just Ek Do Teen steps.

What can we expect from Jacqueline Fernandez's version of this crowd-pleasing classic? To begin with, the costume she wears in the song borrows the most striking piece from Madhuri's outfit in the original - skirt made of raggedy strips, given a facelift with a sparkling waistband. The upper half of Jacqueline's costume is more abbreviated than Madhuri's - a colourfully embellished bralet vs an asymmetrical fuchsia crop top. Jacqueline also loses the yellow band that confined Madhuri's hair and the plus-sized jewellery she wore.

See Jacqueline Fernandez's Ek Do Teen look:

Here's Madhuri Dixit in the original: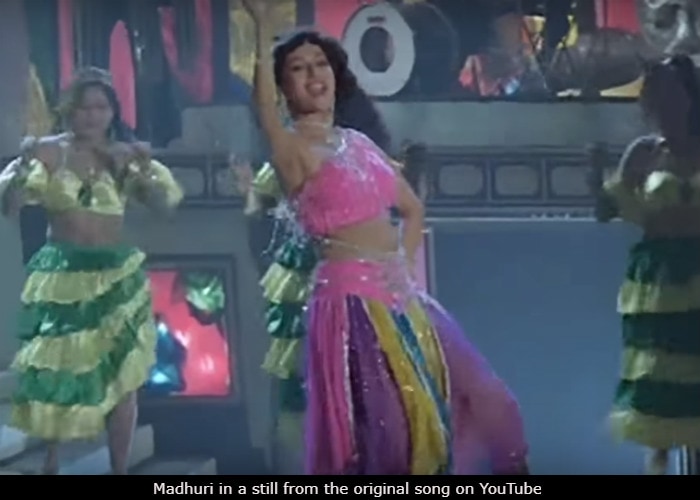 And to really get those 1988 feels, watch this:

Baaghi 2, also starring Randeep Hooda and Manoj Bajpayee, releases at the end of this month.
Comments