It's almost mid-December and if you needed any further intimation that we're in the midst of the holiday season and Christmas is around the corner, simply take a look at Janhvi Kapoor. With the party season also arriving at the same time, it's easy to think that the dress code for this time of year is solely glitzy and glam. That's not always the case though. It's possible to deck up for the Christmas season in breezy looks that definitely do not go overboard on the bling.
For an event in the city on a backdrop of stockings and festive buntings, Janvhi was spotted wearing a candy striped bodycon dress with white sneakers, an embellished sling bag and a half ponytail in her hair. It's cool, it's casual and more than anything, it's perfectly appropriate for the season.
Pooja Hegde too was enjoying the festive print in a red and white striped sweater, black jeans, sunglasses and white sneakers for a casual but still cute that is seasonally appropriate.
With Christmas cheer in the air, Janhvi and Pooja's red and white candy cane-esque stripes mirror these sentiments exactly. Tones of red are practically a holiday dress code so throw in notes of white (or even gold if you want to up the glam a bit) and you'll be as ready as an elf on Christmas eve. If you'd like to join in without going overboard in the festive department, Pooja and Janhvi's outfit is ideal to follow suit.
(Also Read: 5 Gifts To Get If You're Playing Secret Santa)
10 Candy Cane Striped Looks Like Janhvi Kapoor And Pooja Hedge
Bring on the holiday vibes like Janhvi Kapoor and Pooja Hegde with these 10 striped picks.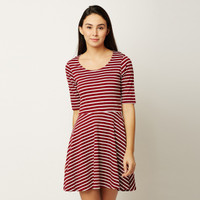 (
47 ratings & 213 reviews
)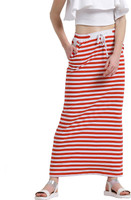 (
15 ratings & 68 reviews
)
(
26 ratings & 49 reviews
)
To browse more striped pieces on Amazon and Flipkart respectively, click here and here.
(Also Read: Ananya Panday, Janhvi Kapoor And Kriti Sanon Make Prints A Prime Pick)
Disclaimer: The Swirlster Picks team writes about stuff we think you'll like. Swirlster has affiliate partnerships, so we get a share of the revenue from your purchase.