I remember the first time I watched Jaane Tu... Ya Jaane Na. A few minutes into the movie I was in love with Genelia Deshmukh's (then D'Souza) character, Aditi - her name immortalized in the song Kabhi Kabhi Aditi, and eventually, Genelia herself. You might not believe me when I say this, but that was 10 whole years ago. Yes, a decade has passed since the movie's release but Genelia Deshmukh, now married to actor Riteish Deshmukh, remains one of the most lovable Bollywood stars still. Even if we don't get to see her on the screen all that much anymore.

Genelia, now a mother of two little boys, has a new look as of yesterday that we just can't get enough of. She posted this photo on her Instagram:

But the real gem was posted on her Instagram story: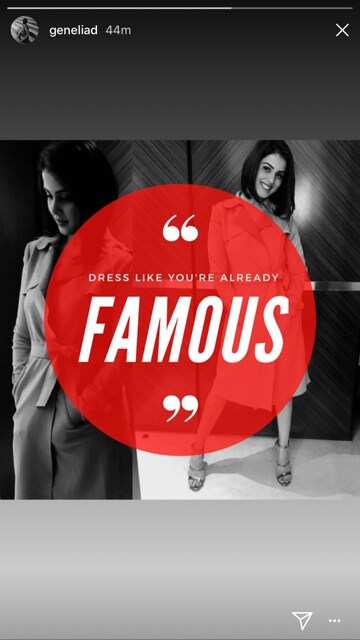 Now that, right there, is some solid advice from someone who knows what they're talking about.

"Dress like you're already famous." You might have scrolled past the saying on Pinterest but now is the time to actually start following it. Yes, it might be unnerving in the beginning - we see celebrities wearing heels with jeans and sneakers with dresses and we admire their look, but often don't think they're for us. But just like they say that you should dress for the job you want, not have - you can also dress like you're already famous if that's what you want. So throw caution to the wind, take Genelia's advice and start taking those baby steps between your outfit today and the outfit you would have worn if you were famous too. What have you got to lose, right?

Genelia has always given us very realistic style goals, with her easy breezy dresses and elegant Indian-wear. And she's continuing that streak with this coat dress by Twelve AM:PM, styled by Sanjana Batra. And while the dress is inspiring so many ideas in our minds, our hearts are set on that new lob (long bob) haircut of hers. It's fuss free, the perfect length, modern yet not too OTT. Summer is coming and we know exactly what hairstyle we'll be sporting when it does.

Sanajan Batra, the stylist for this look, posted this picture:
What do you think about Genelia Deshmukh's new look? Tell us in the comment section below.