Have your denims been carefully tucked at the back of your closet ever since summer arrived a few months ago? The heat wave can do that as you switch in favour of linens and cottons during the sweltering time. But seasons are changing and in a matter of weeks, the winter chill will be around the corner. We think it's time those denims make an appearance once again. Convincing us to do that is none other than Katrina Kaif. Always one to make every outing a fashionable one, Katrina stepped out for a celebrity function in not one, but two pieces of denim.
The Bollywood star with the newly minted title of makeup entrepreneur wore a light blue pair of denims with a cropped frayed hem that hit the ankle. With it she wore a crisp white shirt with her cuffs peeping out under a light washed baggy denim jacket. Katrina accessorized with hoop earrings and white sneakers, making it a casual outfit that didn't go easy on the chic quotient.
Denim barely needs a reason to be pulled out from a closet. With its variety of cuts and affordability, it's a great choice for most casual occasions. It's also a clever winter choice that can be used to add breezy flair. Going by her look alone, Katrina seems to upvoting denim for the season, not once but twice over with her cropped jeans and denim jacket. If you're loving her look like we are, why not go ahead and try a similar outfit? We think it's a swell and stylish choice for the season.
(Also Read: Katrina Kaif Launches 'Kay By Katrina', Her Very Own Makeup Brand)
10 Denim Picks Like Katrina Kaif
Give denim double the love this season like Katrina Kaif did when you take your pick from these 10 denim pieces for women.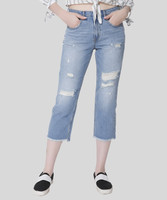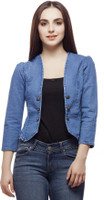 (
785 ratings & 5,211 reviews
)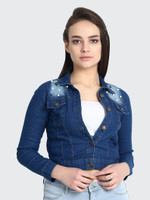 (
3,228 ratings & 19K+ reviews
)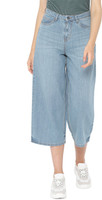 (
19 ratings & 136 reviews
)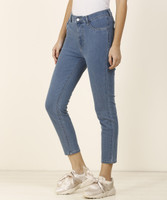 (
38 ratings & 305 reviews
)
(
17 ratings & 47 reviews
)
(
10 ratings & 19 reviews
)
(
10 ratings & 31 reviews
)
(
16 ratings & 41 reviews
)
(
315 ratings & 648 reviews
)
To browse more denim picks on Amazon and Flipkart respectively, click here and here.
Do denim the starry way this season like Katrina Kaif.
(Also Read: Lady In Red Katrina Kaif Dazzles All In A Block Printed Saree)
Disclaimer: The Swirlster Picks team writes about stuff we think you'll like. Swirlster has affiliate partnerships, so we get a share of the revenue from your purchase.