The spring-summer vibe has already taken over the month of February. From light jackets to breezy clothing options, the fashion transition is happening faster than we had imagined. Talking about fashion and not mentioning Bollywood stars is next to impossible. The stunners in B-Town have started transforming their wardrobe to sync in to the spring-summer trend. One of our favourite Bollywood stars Katrina Kaif is living up to her trendsetting ways and been inspiring all with her spring-friendly style picks - from relaxed-fitted denim to pretty dresses. This week Katrina Kaif brought back the love for a favourite celebrity pick - whites - by looking picture perfect in chic white dresses.
Recently Katrina Kaif was spotted at an event in Mumbai, wearing a pristine white dress which was an instant hit. To celebrate Valentine's Day, she glammed up in an off-shoulder dress that featured delicate ruffle detailing to add to its charm. The upper half of the dress was structured as a corset with button detailing and it came with long sheer sleeves and a flared cut for an easy-breezy look.
(Also read: Katrina Kaif Is Making Denim The Favourite Pick For Party Wear)
Swirlster Picks Chic White Dresses For You
Katrina Kaif teamed the maxi with a pair of matching white heels and styled her hair into loose curls to stay on point. Furthermore, she went for a light makeup look with soft pink hues and detailed eyes. Monochrome is another trend that's a hit with the stars. So if you plan to pick chic white dresses like Katrina, don't forget to grab matching white heels.
Swirlster Picks Pretty White Heels For You
(
56 ratings & 66 reviews
)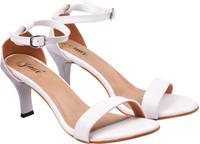 (
2,154 ratings & 14K+ reviews
)
Bharat actress Katrina Kaif seems to be loving light-hued fuss-free silhouettes these days. Earlier this month, the stunner was spotted wearing a white shirt dress with long sleeves. The dress featured a Mandarin collar and pockets in both the sides. She paired it with white sneakers to look her casual best.
Swirlster Picks Trendy Shirt Dresses Like Katrina Kaif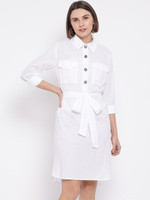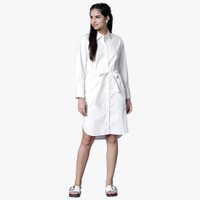 (
13 ratings & 39 reviews
)
From pretty ruffle dresses to easy shirt dresses, Katrina Kaif's love for whites is evident. If you want more such dresses like Katrina Kaif, click here and here.
(Also read: Katrina Kaif Is Giving Us A Taste Of Spring In A Pretty White Dress)
Disclaimer: The Swirlster Picks team writes about stuff we think you'll like. Swirlster has affiliate partnerships, so we get a share of the revenue from your purchase.