With denim being a stylish contender to take on the winter chill, it finds itself most commonly in jeans and jacket form. But the regular pieces aside, did you know that there's yet another way to wear denim this season? We're talking about the denim jumpsuit. The trend has only just arrived on the scene but already it has got its stamp of approval from Bollywood. At a celebrity event that took place last night, Katrina Kaif made a starry appearance in a light washed denim jumpsuit with a belted waist, cuffed sleeves, collar and relaxed fit. Giving it a chic touch was a nude toned makeup look and strapped heels.
Stylish Denim Jumpsuits For Women Like Katrina Kaif
For those seeking yet another way to style their denims, take notes from Katrina Kaif and jump into a jumpsuit.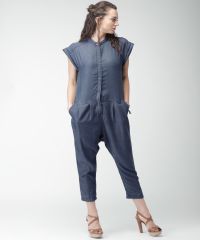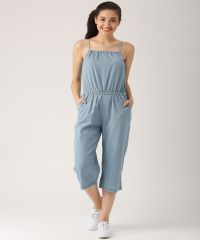 Bollywood and its leading ladies have been all about denim this season.
Deepika Padukone wore a pair of slouchy mom jeans as part of a casual look.
Priyanka Chopra embellished her jacket with signature patchwork.
Kiara Advani went for a sleeveless fitted jumpsuit option.
(Also Read: Katrina Kaif Is Giving Denim Double The Love)
So it's safe to say the fabric is well-loved in Bollywood circles as well. If you're looking for more innovative ways to wear it than strictly jeans or jackets, let these celebrities lead the way. From cool patchwork to chic overalls, there are so many more ways to experiment with denim.
Swirlster Picks Cool Denim Pieces For Women
This season, take your favourite fabric one step further with these cool denim pieces for women.
(
21 ratings & 31 reviews
)
(
13 ratings & 33 reviews
)
(
21 ratings & 43 reviews
)
To browse more denim on Amazon and Myntra, click here and here respectively.
(Also Read: Kareena Kapoor Makes A Case For The Denim Vest)
Disclaimer: The Swirlster Picks team writes about stuff we think you'll like. Swirlster has affiliate partnerships, so we get a share of the revenue from your purchase.