Watching Kriti Sanon twirl in her sunshine yellow fringed dress at the HT Style Awards was so much fun. If only it hadn't been for a 2014 picture of supermodel and TV personality Heidi Klum twirling in almost exactly the same dress, just in a different colour. Turns out, Kriti's tasselled Deme By Gabriella dress was heavily 'inspired' by the fringed cobalt dress seen on Heidi four years ago. Heidi Klum wore her dress to the Emmys that year - it was a design by Sean Kelly, one of the contestants on reality fashion show Project Runway which Heidi hosts.

Here's Kriti Sanon twirling in her dress:

Here's Heidi Klum twirling in hers, in 2014:
Sean Kelly, whom Heidi Klum cited in several social media posts while wearing his dress, was the winner of the 2014 season of Project Runway.
The way Kriti Sanon's dress was styled also resembled Heidi Klum's entire look from the 2014 Emmys - a sleek ponytail, understated makeup, a few key pieces of jewellery, and stacked heels.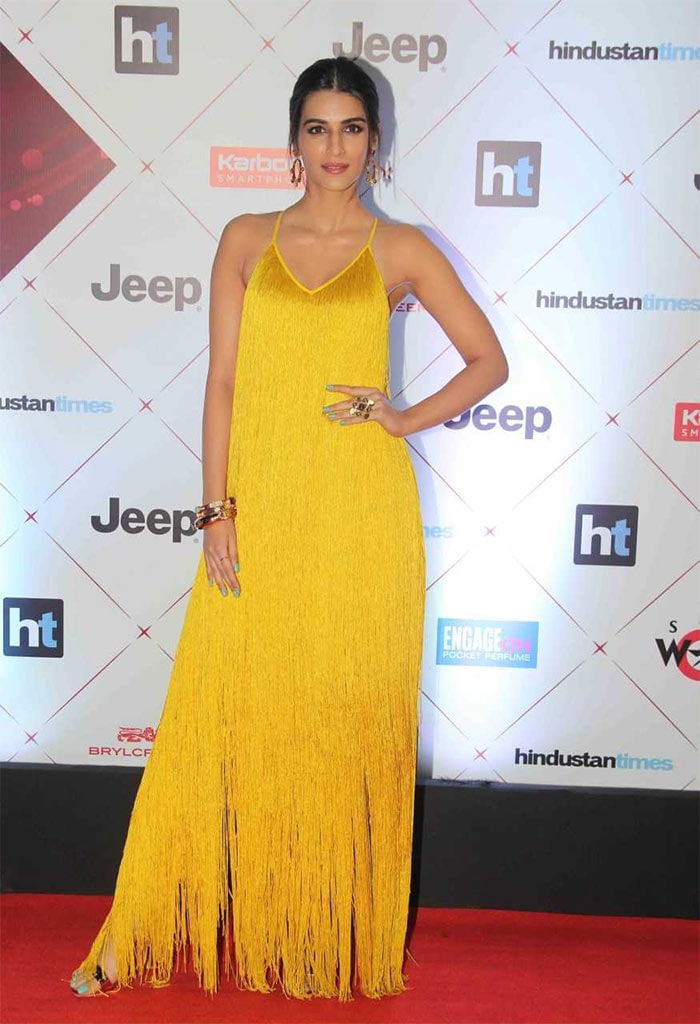 While we can't deny that Kriti looked fabulous - her look was one of our favourites from the HT Style Awards and we much preferred her yellow dress to the one that Sonam Kapoor wore - we're more than a little disappointed that the dress was so obviously copied.

'Borrowing' from international designers is not unheard of, and in fact the high street regularly stocks looks based on current pieces seen at fashion weeks. It's a bit odd, however, to see celebrities dressed in an outfit that's not entirely original. Back in December, Katrina Kaif was seen wearing a skirt by Appapop that was an almost exact copy of a Balmain design. Socialite Natasha Poonawala was spotted wearing the original skirtjust days after Katrina at Manish Malhotra's birthday bash.
Comments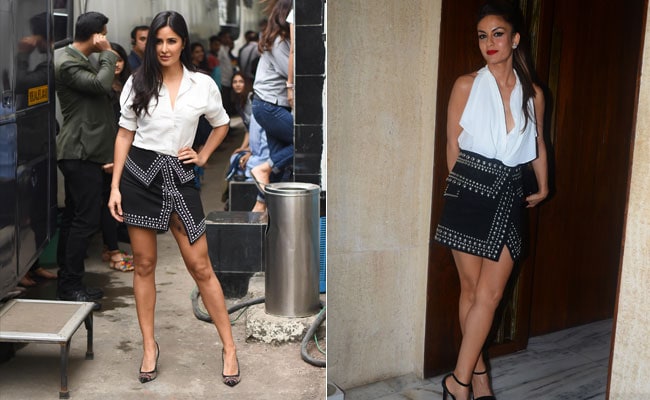 While it's more common to see Indian designers taking inspiration from international ones, the opposite was brought to everyone's attention lately in a case where an Indian designer accused Dior, no less, of plagiarism.

Only a few days ago, Delhi-based Indian graphic artist and designer Orijit Sen accused Dior of copying him. He claims that the print on a maxi-dress, worn by actress Sonam Kapoor on the cover of Elle India's January issue, is almost identical to the one he designed for People Tree many years ago.



Imitation might be the greatest form of flattery, but in this case, we'd say really not. Taking inspiration from someone you admire is one thing, plagiarising someone's design is another. Here's hoping for more originality and less imitation in the coming year.