Right from the time Lakme Fashion Week starts, everyone already knows what they're looking forward to; the grand finale. This time around it was reputed designer Anamika Khanna who was showcasing at the event and going by the high expectations of an experimental collection, we couldn't have been more excited about it.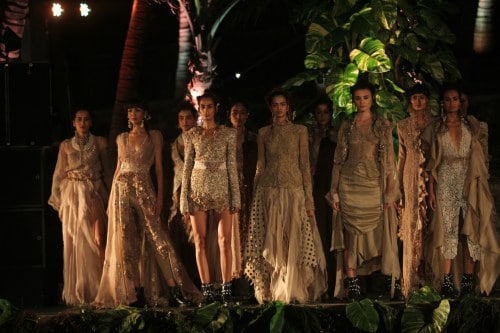 This Sunday evening, while the last shows of Lakme Fashion Week 2018 drew to a close, elsewhere the stage was being set for the much-awaited show. Bandra fort, a rustic Mumbai spot which has borne witness to Anita Dongre's finale a year ago, was yet again the chosen location this season. When decked up with strobe lighting and mists of smoke, we could see why it was picked. After much ado, the presentation started with the thumping of drums and a theatrical dance that almost worked like an amuse bouche before the main event. Then began rows of models teetering through the stone staircase in perfectly choreographed fashion.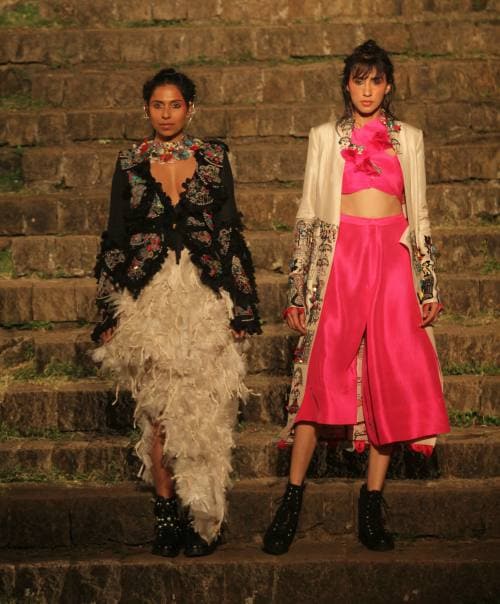 The entirety of the collection was divided into a few ranges spanning beige tones, digital prints, fiery red and stark blacks. Demure beige flagged it off with an expansive range of garment which had detailing through frayed ends, ruffles and embroidery. Offsetting many of them brilliantly were gold work which gave them a subtle glow. Next up were the prints, with florals, geometric shapes, polka dots being the key ones amongst them. Digital prints and embroidered patterns took over complete garments making them look more like artwork than actual clothing.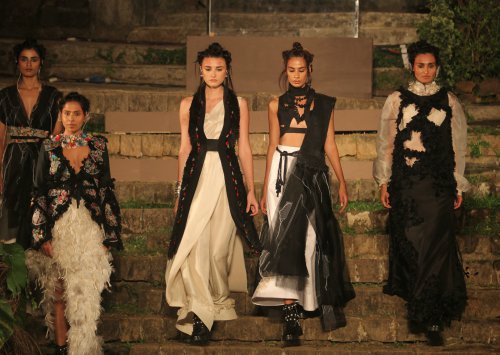 It was the fiery reds that caught our eye the most. Along with the drums accompanying every movement of the models, the crimson tones were surely inspired by tribal elements as their inspiration was seen throughout with piercings, feathers and asymmetrical edges. Bringing it to a close was ebony in all forms offset by pops of pink, mustard and printed panels. By far, this segment was the boldest one as it brought together feather drapes, chunky jewellery and cutwork details.
Accessories throughout the ranges were chunky combat boots with rivets and plenty of ear piercings, septum rings and silver necklaces. The beauty look of the models consisted of multiple miniature hair buns with stray loose hair, kohl lined eyes and pink marking on the temples.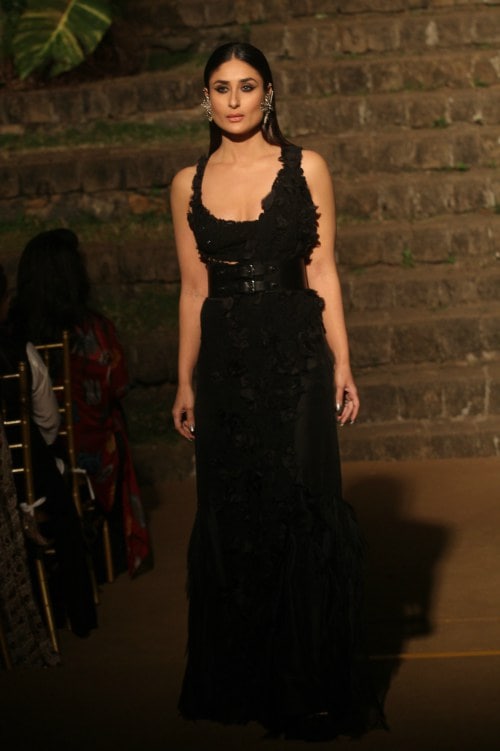 Slowly, the ebony collection led to the most awaited moment of the night, Kareena Kapoor Khan's arrival. Looking nothing less than spectacular, Kareena took to the stage in a black fabric work cropped top, a broad belt and a matching skirt. Complementing her look was dramatic winged eye makeup, slicked back hair, chunky earrings and nude lips. The audience couldn't stop clicking and we can see why.
Comments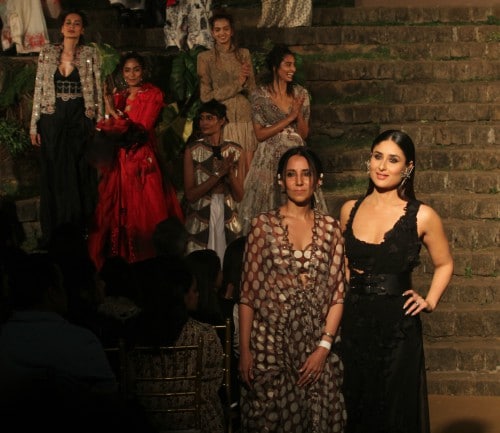 With Anamika Khanna's diverse collection and Kareena Kapoor's amazing finale appearance, it was just the crescendo to a wonderful week of fashion.