Sisters, what would we do without them? We fight them like cats over the most trivial issues and "borrow" their clothes when they aren't at home but this bond is like no other. When it comes to style smarts, having a sister ensures that you always have company when it comes to stepping out fashionably. Now, Bollywood is filled with sensational sets of sisters but the most glamorous of them are definitely Malaika and Amrita Arora. Not only are the two exceptionally close, they are also part of a larger sister squad with Kareena and Karisma Kapoor. They also give us lessons in looking on fleek and slaying in style.
Most recently, this happened when Malaika and Amrita were jetting off to Goa and turned the airport into a runway. Malaika went with a sporty chic look of olive tracks with a matching blouse and white sneakers. Keeping her cosy is an embellished denim jacket which she has paired with a red tote and large sunnies. On the other hand, Amrita went for a tried-and-tested white t-shirt with bootcut jeans and a Gucci belt. Completing the look are black sandals, tinted sunglasses and a matching blue handbag. Now that's what we call travelling in style.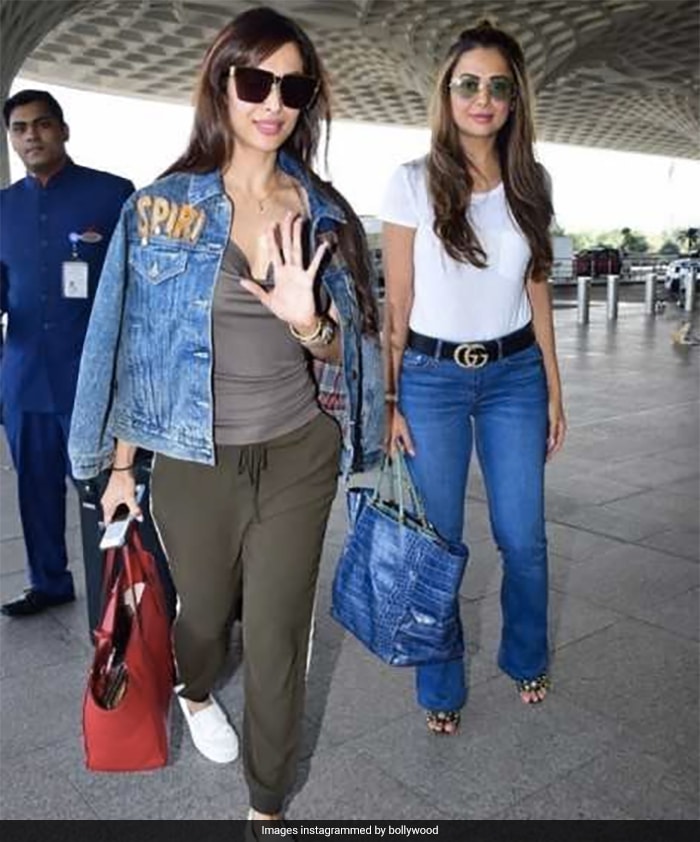 It isn't unexpected to see Malaika and Amrita looking like a million bucks when they walk out together. Remember the time the sisters dazzled almost as much as the matching sequins they wore, complete with strobed skin?
And how can we forget the time they made casual chic a thing with breezy resort wear, massive sunglasses and plenty of smiles.
Whether it is at the airport or at a festive function; take it from these two, there's no better partner in style like your sister. Malaika and Amrita Arora are the ultimate in megawattage when it comes to sheer glam.