Malaika Arora... When it comes to fashion, we can all agree on the fact that she's a badass, right? And we mean that in the best possible way ever. All her looks are bold and extremely edgy and we absolutely love that about her. But yesterday Malaika stepped out for the airport looking ready for a corporate meeting and it's exactly how we would like to dress to office in winter. The outfit looks so comfortable and cozy yet so professional, that it's perfect for not only your office but also the airport. So if you love traveling in style but don't have time to change after office, this is how you do it.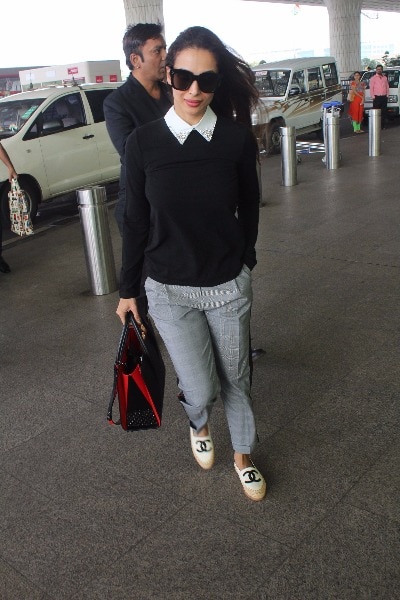 Basic colours can never disappoint. And Malaika proves that to us. A white crisp shirt with a black sweater and plaid trousers. Yes, please. If you want to add a little glam to the outfit, either bejewel your collar with some bling, or just wear a shirt with an embellished collar. Pretty cool, right? And because your collar has a little bling, you don't need any jewellery.
Plaid is big this season and Malaika just nails the trend perfectly. And those white Chanel plimsolls are what we need in our lives now. They look so comfy and perfect for those long days when we have to be on our feet. A pair of big sunnies and a tote is all that's needed for travel. That handbag with a little bit of red just goes so perfectly with Malaika's look.
Hair swept to one side and pink lips, we really can't pinpoint a thing that's wrong with this outfit for the airport. And we also can't wait for our turn to dress like this now.