After the scorching heat, it is that time of the year where everyone wants to step out and enjoy the rains. Come monsoon and we all get ready to slip into shoes that are waterproof. Monsoon footwear has to be durable, waterproof and even protect from bacterial and fungal infections that the rains bring. A good pair will not require a lot of maintenance and add durability and a plausible appearance. This is why selecting the right kind of footwear becomes a key criterion during the rainy season. There are numerous waterproof footwear options that you can choose from.to brighten up the dull and gloomy rainy days! To help you make the right choices this rainy season, here are a few pointers to keep in mind while finding a good pair of waterproof shoes.
Swirlster Picks Footwear For The Monsoons
(
368 ratings & 1,830 reviews
)
(
13 ratings & 78 reviews
)
(
94 ratings & 504 reviews
)
Choosing The Best Footwear For The Monsoons
1. Easy Flip-Flops
Flip flops, especially the ones made of rubber and or plastic, repel water and, thereby, will keep your feet dry. And even if you do happen to step into a puddle, worry not, because thanks to their open structure, you can dry your feet up in minutes! Flip flops are sleek and waterproof, making them one of the best footwear options during this season.
2. Rubber-Soled Sandals
Rubber-soled sandals are perfect who do not want damp and dripping shoes in the monsoon. They will give you a good grip while you are braving the roads in the rain, and will also not sponge up water, giving you immense comfort. They have deep grooves with a good grip to stay firm in mud, slush and dirt.
3. Find Comfortable Sandals
Straps are a very important issue in this matter, when both of your sandal and flip flop and your feet are wet; your shoes will tend to slip out. So, wear sandals with straps. Find water-friendly sandals that offer maximum breathability, while the adjustable straps offer quick on and off while helping you maintain the grip.
4. Waterproof Boots
You can also opt for rubber boots which are easy to wear, light and will keep your feet clean. They will keep your feet safe and dirt free and also add a statement to your stylish look. It is best to opt for waterproof footwear which is versatile and multipurpose as they are not only easy to wash and comfortable but are also light and durable.
5. Good Support
As you walk on different kinds of terrain, a flexible sole is important. Your ankle is prone to twisting when walking on a wet surface. Look for a shoe that has good ankle support.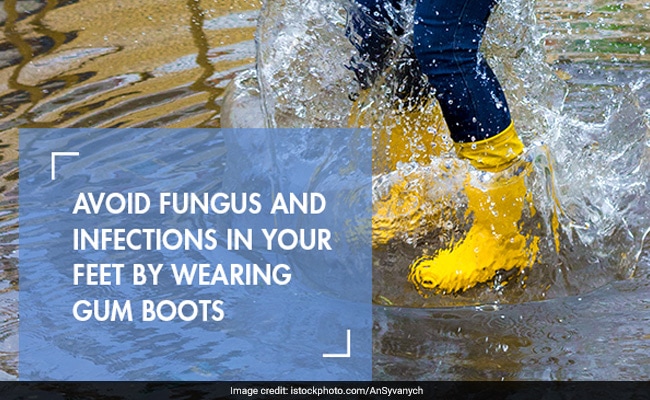 Pointers To Remember While Selecting Monsoon Footwear
Avoid wearing heels. Heels will make your steps slippery.

Always dry your wet shoes directly under the sunlight. This will kill the bacteria that are resting in your shoes. If possible, go for odour-resistant shoes.

During rains, avoid wearing socks, with sports shoes and canvas shoes. Wet socks will give you cold.
To browse more fashion products, click here
Comments
Disclaimer: The Swirlster Picks team writes about stuff we think you'll like. Swirlster has affiliate partnerships, so we get a share of the revenue from your purchase.