For those who may not know, supermodel Naomi Campbell is a fan of sarees and lehengas. She's been known to go the whole six yards at international events, and desi designer couture are her outfits of choice when she visits India. Naomi is currently in New Delhi for a summit and she tapped her go-to man here, Manish Malhotra, to fit her out with an ensemble. Manish Malhotra, designer to the stars, dressed Naomi Campbell in a red lehenga choli with threadwork this time. The look was finished out with a bindi.
Can you believe Naomi is 47?
Just a few years ago, in 2012, Naomi Campbell rented Jodhpur's Mehrangarh Fort to throw her boyfriend at the time, Russian millionaire Vladimir Doronin, a grand 50th birthday party. She packed a Manish Malhotra saree for part of the festivities: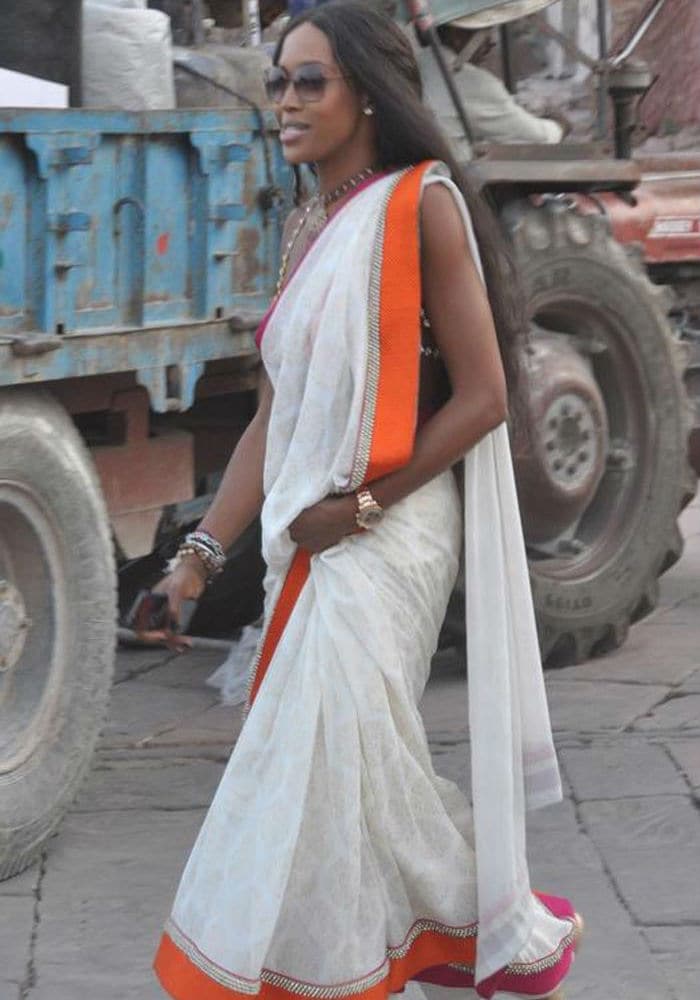 Naomi has walked the ramp in India more than once and worn desi off the ramp as well.
Naomi Campbell recently reunited with some of her fellow 'supers' from the 90s for a Versace show. The absence of Christy Turlington and Linda Evangelista notwithstanding, Naomi sashayed down the catwalk with Cindy Crawford, Claudia Schiffer, Helena Christensen and Carla Bruni.
Speaking at the summit she attended in New Delhi, Naomi Campbell said, "I plan to come back to India next year and the year after. I would like to do a masterclass with young girls, not just for those who want to be models but to boost confidence. I would want to share the knowledge that I have learnt and would like to pass it on," news agency IANS reports.
She also revealed that her connection with India goes beyond fashion. When I was doing yoga in England, it wasn't clicking. I couldn't understand the mind, body and spirit part. I shut my phone and went to Kerala. I learnt yoga in 2012. It was such an amazing experience. I felt the peace and calm. I was a late bloomer to yoga," Naomi said, IANS reports.
(With inputs from IANS)