The Oscars 2018 saw a shift in the fashion paradigm of celebrities for the current award season. Most celebrities made a departure from the colour black that they have been seen wearing through this award season in support for the Time's up and #MeToo movements. This shift reportedly comes in the wake of a request from the academy to let " the focus be on films, not the cultural moment around them". For the Oscars 2018, therefore, celebrities ditched the colour black and wore instead, colours of their choice.

Amongst all the celebrities who dazzled in gorgeous designer wear, there were some, as there are on every red carpet, that stood out for their impeccable and inimitable style. Here are the ones that stood out for us :

1. Jennifer Lawrence

Jennifer Lawrence never quite fails to make a fashion statement, even if that means she's getting into a controversy. The Hunger Games star made quite a splash on the Oscars red carpet in a metallic gold gown. J Law as she is popularly known, left her hair loose in natural waves and stuck to bare minimum accessories. Her light smokey eyes and orange lips made sure the focus wasn't pulled away too much from her dress.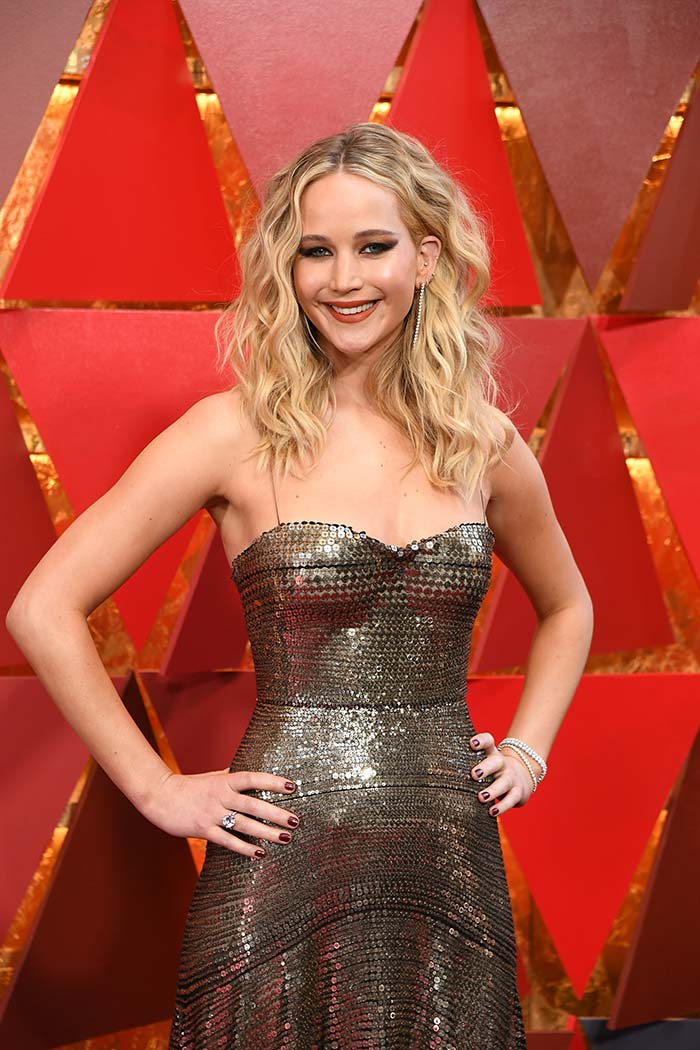 2. Emma Stone

In a huge shift from the conventional gown or dress that most women are seen wearing to a big award night such as the Oscars, Emma Stone walked the red carpet in a red and black pant suit. Emma's red satin blazer also featured a pink sash belt around the waist. Sleek, straight hair, minimal accessories and black pumps completed Emma's look.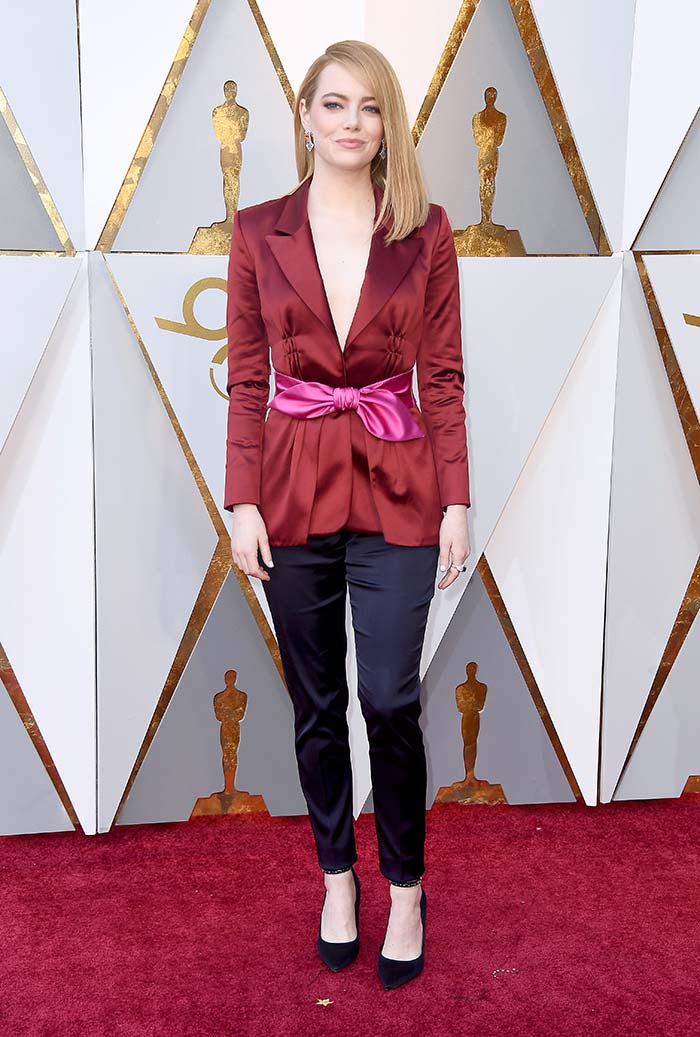 3. Lupita Nyong'o

Lupita Nyong'o most recently shot to fame thanks to her stand out performance in Black Panther. The actress who has also starred in films such as 12 Years a Slave, walked the red carpet for the Oscars 2018 in a metallic gown by Versace. Lupita took to Instagram to post a picture of herself in the gown and captioned it "Vibranium by Versace" making a reference to the film Black Panther that she recently starred in.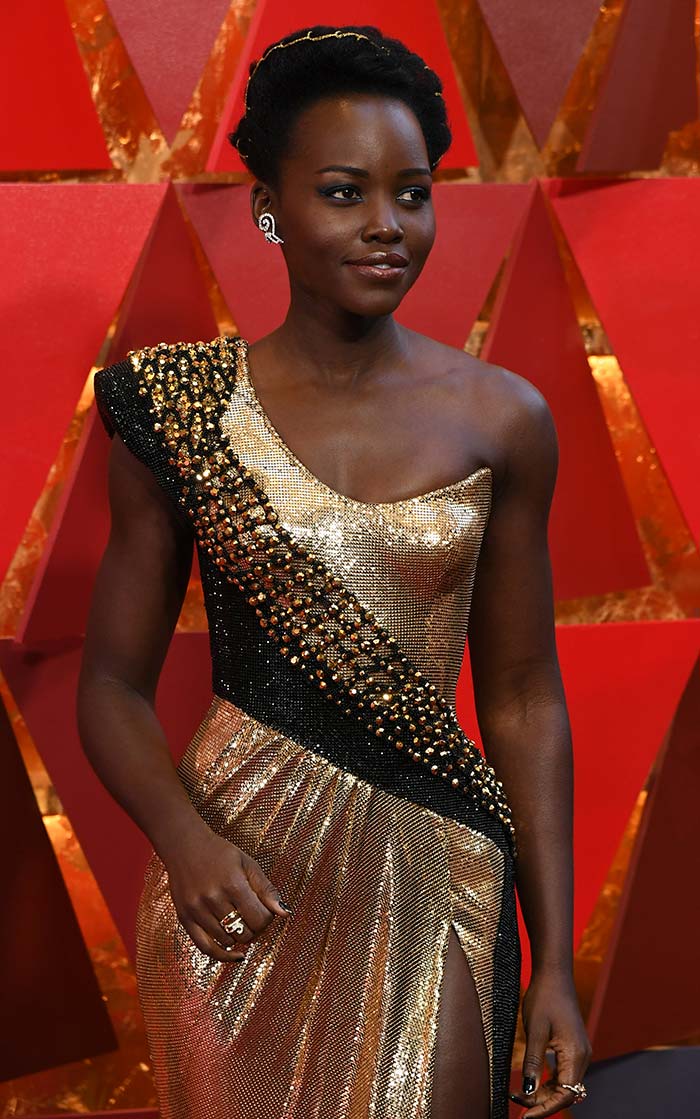 4. Nicole Kidman

It's hard to deny Nicole Kidman a spot in the best dressed list in that cobalt blue Armani Privé dress. The Lion star looked stunning in the strapless electric blue number with a long slit along the side. Her red lips and sleek middle parted hair complimented her dress perfectly.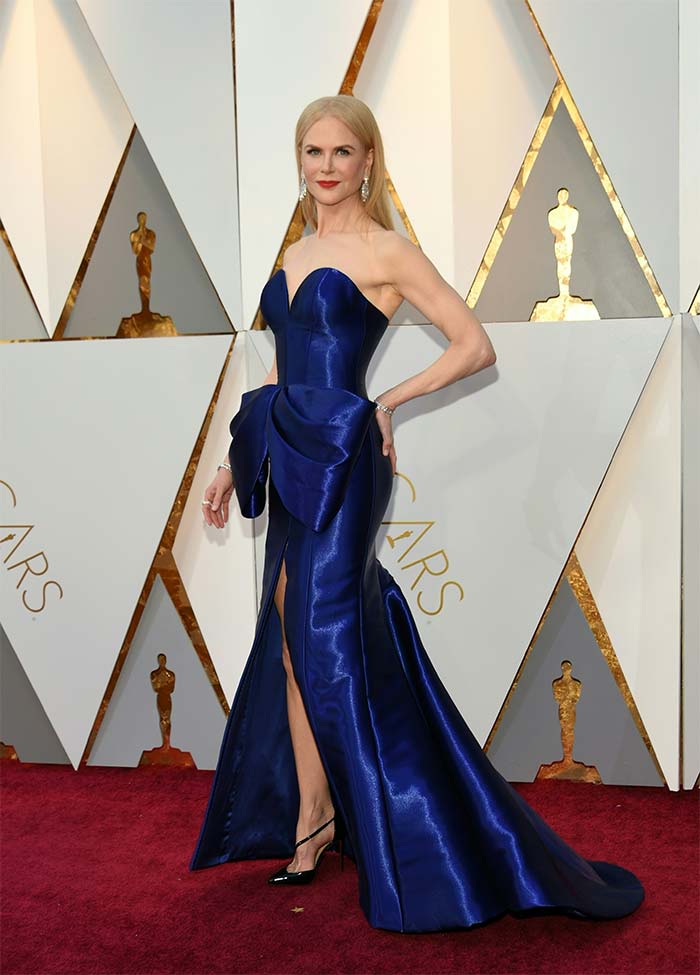 5. Gal Gadot

Israeli model and actress Gal Gadot is primarily known for portraying the role of Wonder Woman in the 2017 film. The Oscar red carpet seemed to be replete with metallic gowns and Gal was another actress who chose to wear one. Gal, who never really fails to impress with her style, stuck to a simple swept back bun with her sparking Givenchy gown. She also kept her makeup simple, but added some more sparkle with a stunning Tiffany & Co. diamond necklace.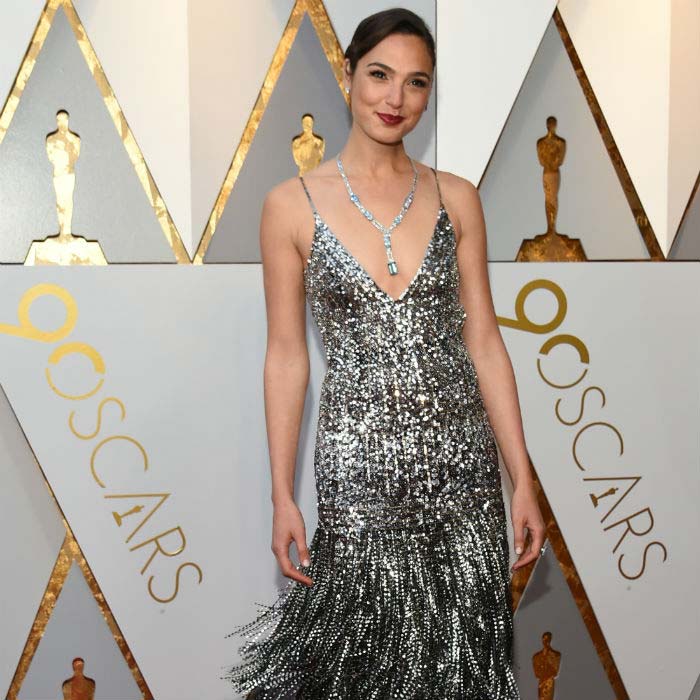 6. Meryl Streep

Meryl Streep has been seen at the forefront of the Time's Up movement since its inception. However, the actress, in accordance with the theme for the night, ditched the colour black along with her colleagues and went for a bright red gown instead. Meryl Streep in her quintessential style stuck to a classic look that consisted of minimal accessories and makeup and simple swept back hair.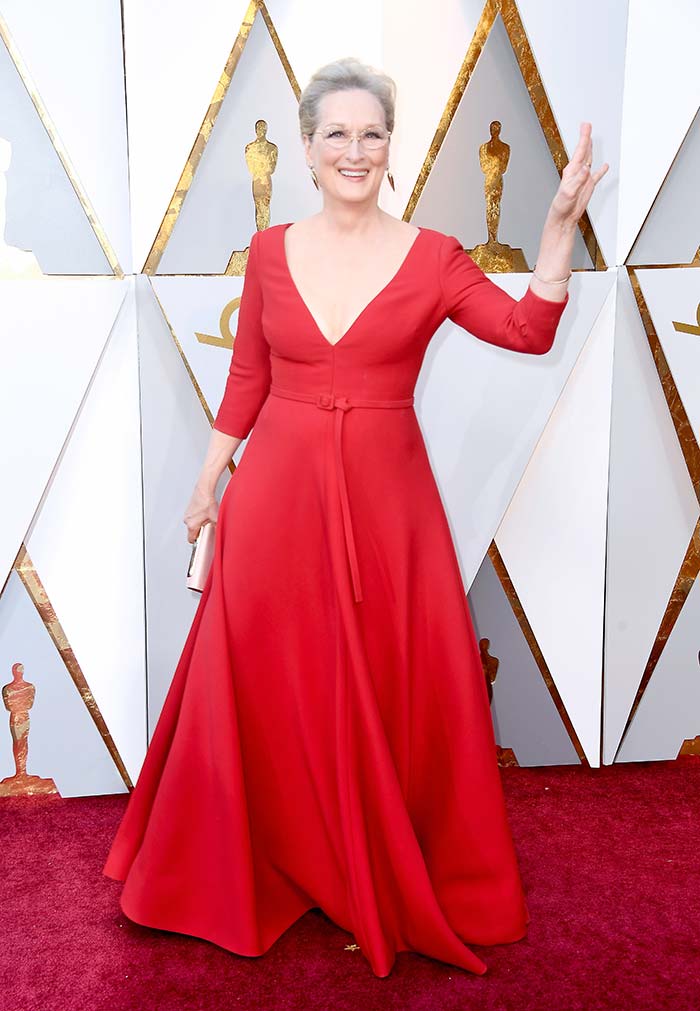 7. Whoopi Goldberg

Veteran American actor and comedian Whoopi Goldberg stood out like no other. Whoopi Goldberg slayed her red carpet look in a multi coloured floral ball gown and a pair of black sunglasses. That's not all, she also chose to wear combat boots under her gown. No matter what the occasion, comfort comes first, after all.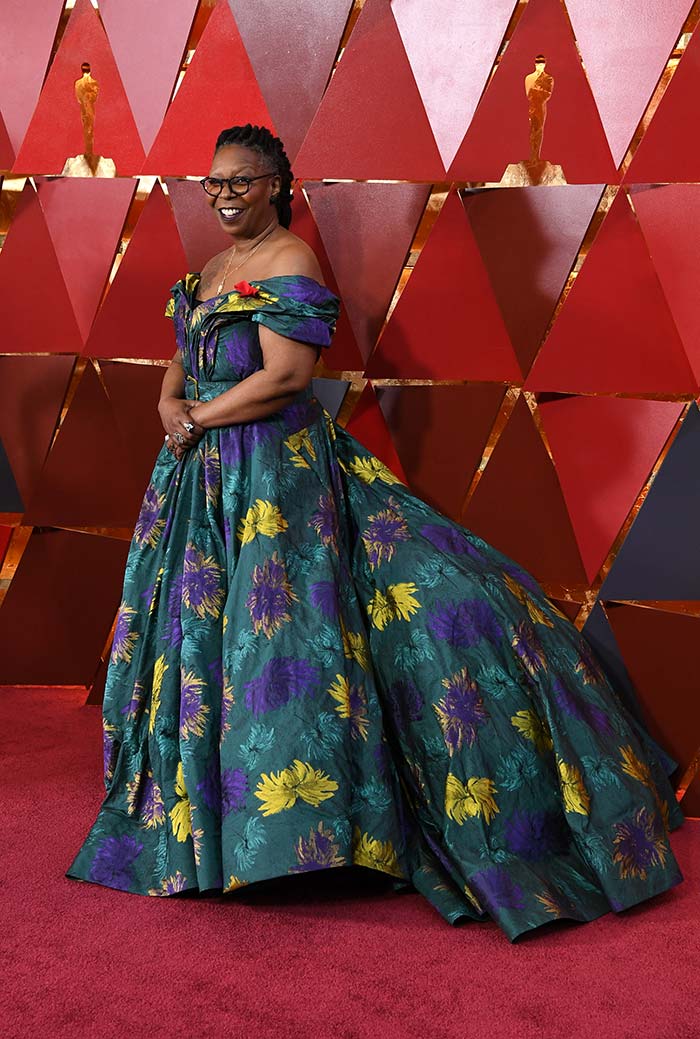 8. Sandra Bullock

Sandra Bullock is another one we can add to the list of actresses who chose to wear a metallic dress - and did it complete justice. Sandra Bullock made a return to the Oscar red carpet after four years of skipping the show, and we have to say, we couldn't be happier than we are with her gold sequin halter dress from Louis Vuitton.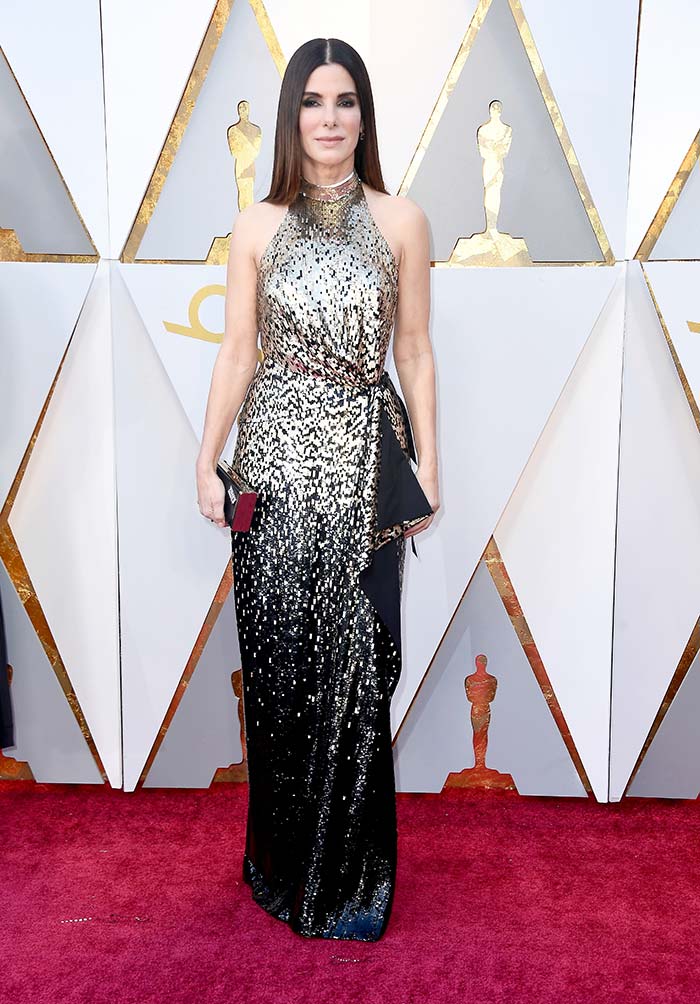 9. Zendaya

American actress and singer Zendaya is always making headlines for her bold and avant garde fashion choices. In her chocolate brown chiffon gown from Giambattista Valli Couture and her hair in a top knot bun at the Oscars this year, Zendaya did not disappoint. Zendaya stuck to perfectly contoured and clean makeup and chose to wear nothing but earrings and a bracelet for accessories.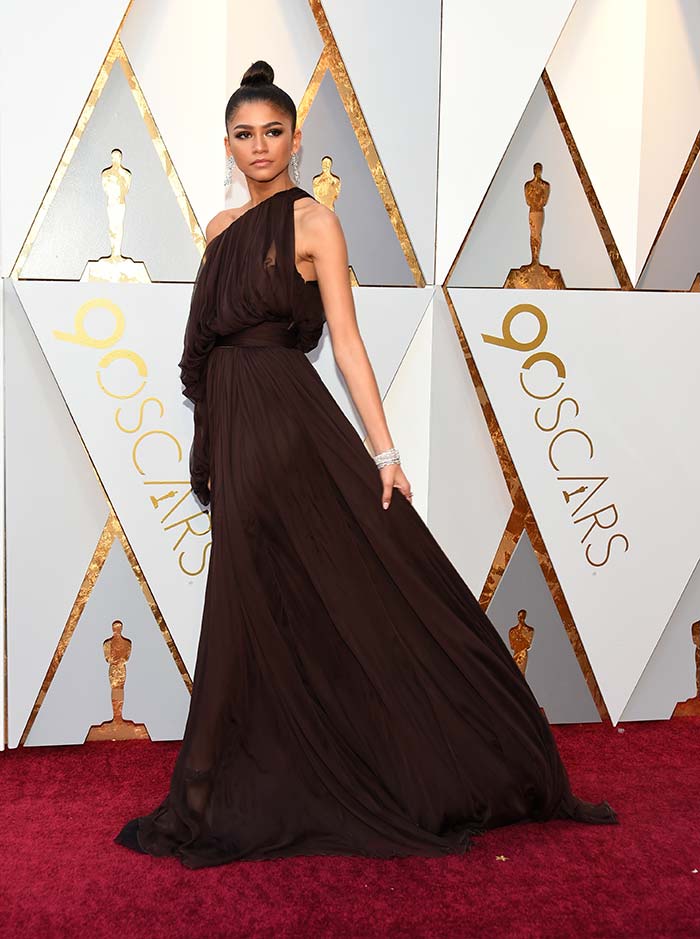 10. Margot Robbie

Margot Robbie walked the red carpet in a white Chanel Haute Couture gown with beaded off-the-shoulder straps. The Suicide Squad star made quite the statement with a short blunt hair cut and no accessories except for the diamond stud earrings she was seen wearing. Margot was also nominated for best actress in a Leading Role for her performance in I, Tonya.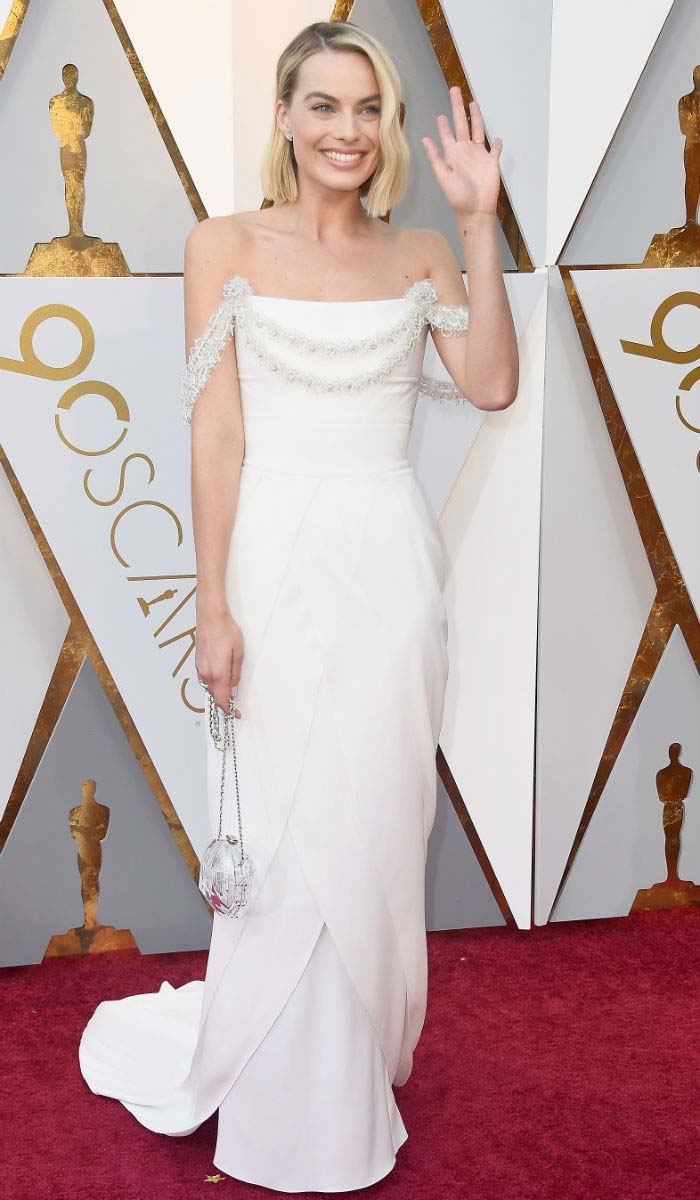 11. Emily Blunt

Emily Blunt looked nothing short of royalty in her powder blue gown. With tulle shoulders and frilly white bodice detailing, her gown also featured a long train. Emily completed her look with rain drop blue earrings and perfectly swept back hair.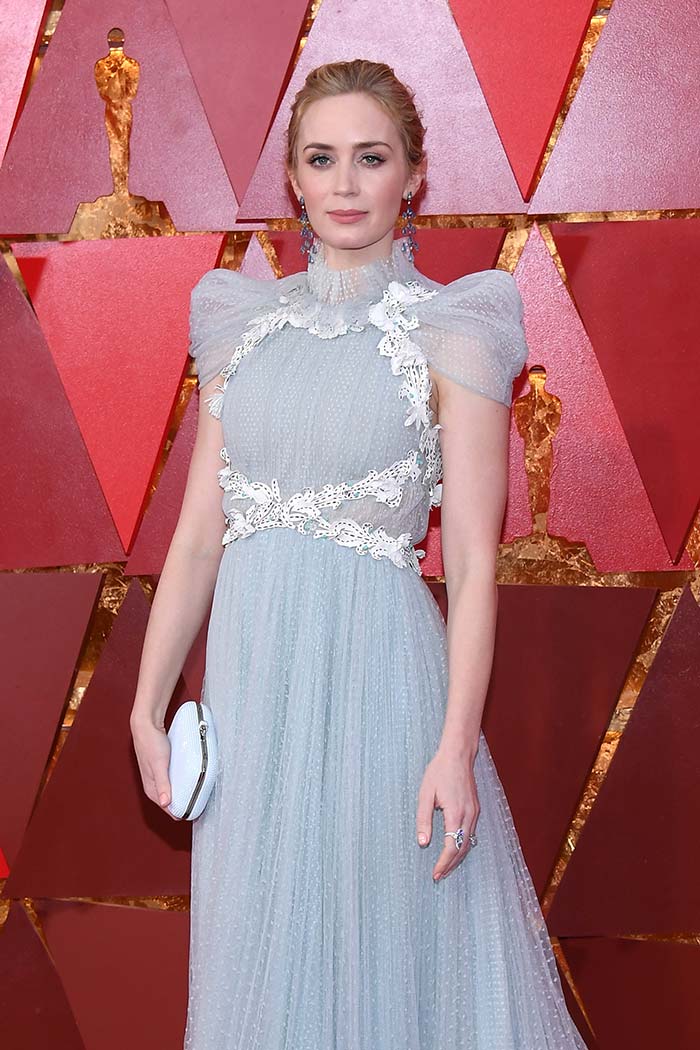 Comments
Which one of these is your favourite? Let us know in the comments section below.